»
Go to news main
Dr. Joni Guptill, Running in where everyone else is running out
Posted by
Colin Hodd
on August 14, 2018 in
News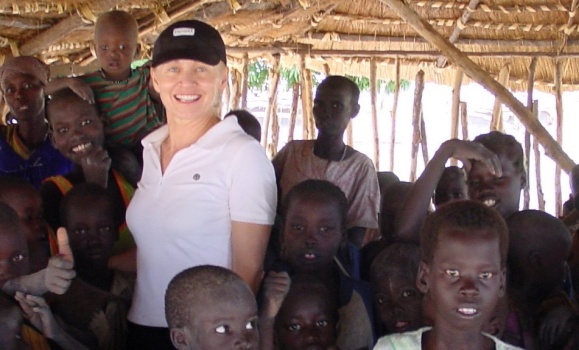 International news can be overwhelming. Famine, earthquakes, typhoons, floods. Desperate refugees. But most of us get to think "that's awful," before we put down the phone or turn off the TV and return to the relative peace and stability of Canada, separated from the turmoil by oceans and borders.
Dalhousie medical graduate Dr. Joni Guptill doesn't have that luxury, nor does she wish for it. After 29 years with Doctors Without Borders—from her early days as a frontline worker through her time as the head of MSF Canada, to her present role as co-ordinator of MSF's Atlantic Association group—those distant places are very close to her.
"Once you've been in that situation the news has a different impact on you," she says. "You know there are hundreds if not thousands of people suffering without medical attention. The news of people suffering makes you feel like you should be there."
Doctors Without Borders, better known internationally as Médecins Sans Frontières or MSF, was founded in 1971 by French doctors and journalists on the principle that people should have access to care regardless of nationality, race, religion or circumstance. Since 1971 they have made a reputation as the organization that goes in when everybody else is heading out.
"MSF is adamant about standing with people and preserving their dignity through very difficult times," says Dr. Guptill. "I know those people want to live just as much as I want to. They want their children to survive just as much as I want my child to survive. And people know when they're in dire straits. But it doesn't seem to take their humanity. They continue to help their neighbours, form communities."
The drive to help her neighbours was imparted to Guptill through her religious upbringing in Halifax in the 60s and 70s. Her parents were advocates of the tradition of Christianity as service.
"I grew up in a Christian home where service to humanity was a very important principle and so it was a natural thing for me to find a way to help those in need. My mother used to have a little saying, 'When you're feeling sad and blue, go out for someone else and do'," Dr. Guptill recalls.
After earning her undergraduate degree in biology from Acadia in 1976, Guptill went to medical school at Dalhousie. She began taking electives in Jamaica, which was uncommon for medical students at the time.
"Leaders with passion, commitment and an ethical framework are essential in all global health work," says Shawna O'Hearn, director of Dalhousie's Global Health Office, created in 2001 to create the kinds of opportunities Guptill sought during her days in training. "Dr. Guptill demonstrates these essential characteristics. Dalhousie is fortunate to have her in the global health community sharing her experiences and gently guiding learners to explore their role in serving society both locally and globally."
When she graduated from Dalhousie Medical School in 1981, Dr. Guptill decided she needed to find a way to get back to developing countries to help as much as she could.
"I spent the best part of two years travelling and working, coming home and working and then travelling again," she says. "I did an overland trip from Cairo to Cape Town in a Bedford truck, something you can't do anymore. Finding work in other countries wasn't easy. There wasn't any internet. You couldn't just Google and find places to work."
In pursuit of more opportunities in developing countries, Dr. Guptill worked in general practice for five years before undertaking a diploma in tropical medicine at the London School of Hygiene and Tropical Medicine. It was in London that she encountered MSF, an organization with a mission to match her own drive.
"MSF was recruiting at the school and so I signed up for an interview. After the interview they said, 'See you in the field next year,' and I thought, it can't be true, after all this trying to get to the field," she recalls. "And sure enough, I worked with the guy who interviewed me in the field the next year."
Dr. Guptill returned to Canada in 1990. In 1991, MSF established a Canadian arm. She took it upon herself to open an MSF office in Atlantic Canada, which was in actuality a phone in her Halifax home. In the years that followed, Dr. Guptill juggled a dizzying array of projects and roles. She worked in her practice in Halifax, which she ran for seven years before leaving to practice rural medicine in New Brunswick, returning to Nova Scotia in 2008. All the while she kept returning to the field with MSF. Five missions. All emergency actions.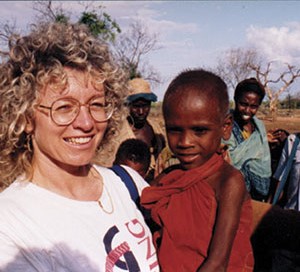 First was on the Turkish border with Iraq, where she worked in a refugee camp in Isikveren housing 60,000 Kurdish refugees fleeing the civil war in Iraq. Next she headed to Somalia during the famine, a situation chronicled in James Orbinsky's book "An Imperfect Offering," and then on to relief work in China. In 2003 she spent time in Syria and Iraq, trying to resupply hospitals along the Euphrates River as U.S. forces pushed into Bagdad. Her last field mission was in South Sudan in 2006, during a meningitis outbreak in a country struggling to rebuild after 20 years of civil war.
During her time with MSF, Dr. Guptill moved up the ranks—from local volunteer to field volunteer to board member to president of MSF in Canada—evidence of the organization's true grassroots nature. In 2017 alone, 163,000 Canadians donated $59 million, directly funding MSF projects in 33 countries, and 378 Canadians were involved in field missions overseas.
Even after decades of service, Dr. Guptill refuses to see anything exceptional in her contribution.
"I feel embarrassed to get a lot of credit for what I did because it was just a perfect fit for who I am and what I wanted in life," she says. "It's pretty exhilarating to go to a place that has no other medical help and be helping people that otherwise would be destitute. MSF is a group of like-minded people and if there's a place in the world where something horrific is happening, and there's a medical need that is where we try to be."