News
»
Go to news main
Dal working to support Saudi students in wake of potential withdrawal
Posted by
Staff
on August 10, 2018 in
News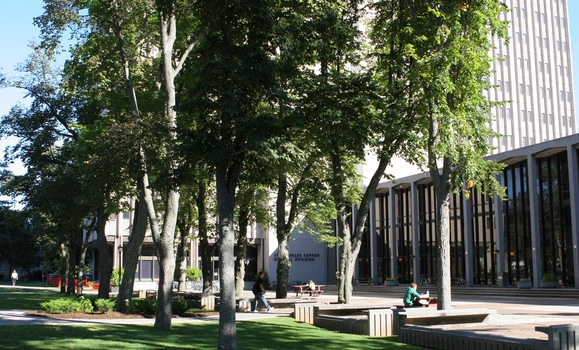 Dalhousie University is reaching out to its students from Saudi Arabia, following reports this week that the Saudi Arabian government intends to withdraw Saudi students at Canadian universities, colleges and other schools by the end of August.

"Dalhousie greatly values our Saudi students and their contributions to our community," says Chris Moore, acting provost for the university. "We are assessing the situation along with Universities Canada and our university colleagues across the country, and are working to support these students as best we can."

The reports of a withdrawal relate to the current dispute between the Canadian and Saudi governments, following Canada's call for the release of human rights activists. The Saudi government has also expelled Canada's ambassador as part of its response.

Although Dalhousie and its peer universities across Canada have limited information at this time, staff at Dal's International Centre have reached out to the university's students from Saudi Arabia to let them know of supports on campus they may want to access. The university is also committed to sharing any official information it receives with Saudi students as it becomes available.

As of March 2018, Dalhousie had 212 Saudi students studying in a variety of programs across the university. (Although the university doesn't report on enrolment numbers until December of each school year, based on current registration it is expecting similar numbers of Saudi students for the upcoming year.)

That number includes 59 Saudi physicians working to complete their residency with Dalhousie Medical School. These residency positions are funded by scholarships administered through the Saudi Arabian Cultural Bureau, which adds capacity to Nova Scotia's health-care system at no cost to the province and without displacing other residents. (This practice has been in place across Canada for more than 30 years.) The physicians do rotations in hospitals in the Nova Scotia Health Authority and the IWK Health Centre, as well as (less frequently) the Horizon Health District in New Brunswick.

"Dalhousie Medical School is committed to working with its partners in health care to continue to support all residents and to look at ways to mitigate any impacts should these residents have to return to their home," says David Anderson, dean of the Faculty of Medicine.

According to Universities Canada, there are approximately 2,000 Saudi students and medical residents who attend U15 universities (Canada's group of top research-intensive universities — of which Dal is a member).
Supports for students
International Centre: dal.ca/international
For matters relating to: immigration, study permits, visas
Halifax Campus - LeMarchant Place, First Floor, Suite 1200
Contact: 902-494-1566
Truro Campus - Student Success Centre, Dairy Building
Contact: 902-893-6672
 
Student Health and Wellness: dal.ca/campus_life/health-and-wellness.html
For matters relating to: health, well-being, and counselling
Halifax Campus - LeMarchant Place , Second Floor,
Contact: 902-494-2171
Truro Campus - Student Success Centre, Dairy Building
Contact: 902-893-6369
 
Registrar's Office: dal.ca/registrar
For matters relating to: transfer credits, academic regulations, degree requirements, etc.
Halifax Campus - Henry Hicks, First Floor
Contact: Nicole Douglas, nicole.douglas@dal.ca
Truro Campus - Student Success Centre, Dairy Building
Contact: Wayne Paquet, wayne.paquet@dal.ca
 
Office of Graduate Studies:
For all matters relating to graduate programs
Henry Hicks, Third Floor
Contact: 902-494-2485, Email: graduate.studies@dal.ca
Multi faith Centre:
Contact: Imam Dr. Jamal Badawi, 902-445-2494, jamalbadawi@hotmail.com
 
Dalhousie Muslim Student Association: facebook.com/DalMSA
 
Ombudsperson: Diane Hawco, 6136 University Ave, 902-494-2665, Email: ombuds@dal.ca
Community Support Services
Ummah Masjid and Community Centre: umcc.ca
Islamic Association of NS: islamnovascotia.ca