News
»
Go to news main
Four Psychiatry faculty members recognized at industry event
Posted by
Kenneth Conrad
on October 3, 2018 in
News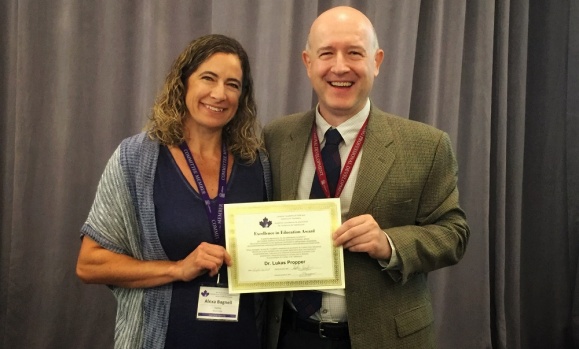 Four faculty members from Dalhousie Medical School's Department of Psychiatry were recently honoured by the Canadian Academy of Child and Adolescent Psychiatry (CACAP).
Dr. Lukas Propper (Excellence in Education Award), Dr. Stan Kutcher (Naomi Rae Grant Award), Dr. Sabina Abidi (Paul Steinhauer Award) and Dr. Herbert Orlik (Certificate of Special Recognition) were recognized during CACAP's 38th Annual Scientific Conference, held on September 16, 2018 in Halifax.
Dr. Alexa Bagnell, Chief of Psychiatry at the IWK, and Division Head, Child and Adolescent Psychiatry, nominated Dr. Propper and Dr. Abidi for their respective awards; Dr. Abidi nominated Dr. Kutcher and Dr. Orlik for their prizes.
A lesson in mental health


A Child and Adolescent Psychiatrist at the IWK Health Centre and the Director of Education at the Dalhousie Division of Child and Adolescent Psychiatry, Dr. Propper received the Excellence in Education Award, which is "presented to a psychiatric educator who has made a significant contribution in undergraduate, postgraduate, continuing professional education or public education in child and adolescent mental health."
Dr. Propper credited his fellow faculty members, and noted that the award will help with recruiting students into the field of child and adolescent psychiatry.
"I've always enjoyed working as part of a team and it's a real privilege to work with our faculty," he said. "They're very much dedicated to teaching. I wouldn't be getting this award without them."
"Dr. Propper has been an educational leader in child and adolescent psychiatry (CAP) for over ten years and has served as a role model for education leadership," said Dr. Bagnell. "He helped develop the Dalhousie subspecialty residency program in CAP, and through his leadership our division has become a highly valued rotation for trainees, attracting excellent residents to our subspecialty program."
Creative in his community

The Sun Life Financial Chair in Adolescent Mental Health, Dalhousie University and IWK Health Centre, Dr. Kutcher received the Naomi Rae Grant Award, which is "dedicated to the memory of Dr. Naomi Rae Grant and is presented annually to a member of the Academy who has done creative, innovative, seminal work on an aspect of community intervention, consultation or prevention."
"It is a privilege to have been chosen to receive this award," said Dr. Kutcher. "I had the good fortune of having Naomi as a teacher and a colleague. She showed us all the importance of addressing mental health promotion, prevention and care needs in the community. My work in mental health literacy in schools owes a great deal to her vision, wisdom and perseverance."
"Dr. Kutcher's work is renowned nationally and internationally," said Dr. Abidi. "He has contributed greatly to the field of child and adolescent psychiatry over the years in our communities, classrooms, physician's offices and homes."
Exceptional advocacy

The associate chief of the Division of Child and Adolescent Psychiatry and the Division Head of Outpatient Services for the IWK Mental Health and Addictions Program, Dr. Abidi received the Paul Steinhauer Award, which is "dedicated to the memory of Dr. Paul D. Steinhauer and presented annually to a member of the Academy who has been an exceptional advocate for children, adolescents and their families at the regional, national and international level."
"Dr. Steinhauer felt that advocacy was an integral component to providing excellent patient care," said Dr. Abidi. "To be recognized as a fellow clinician who strives to do just this is wonderful."
"Dr. Abidi's influence on the improvement in mental health care for youth has been exceptional," said Dr. Bagnell. "She has led program development, education initiatives, community outreach and system change that has had a positive impact nationally and within the Atlantic provinces in improving mental health care for children and youth."
A leader in his field

An associate professor in the Division of Child and Adolescent Psychiatry and a full-time staff member at the IWK Health Centre, Dr. Orlik received the Certificate of Special Recognition, awarded to a "person or an organization that has made outstanding contributions and provided important leadership in the field of children's mental health."
"It is a tremendous honour for me to be recognized by my peers and colleagues for the work I have done," said Dr. Orlik. "It is even more of a privilege for me to be able to serve our patients and families. I am very grateful and thank our Academy, an organization that I value very highly."
"Dr. Orlik's nomination for this award was supported by our entire division," said Dr. Abidi. "He has worked tirelessly to improve all aspects of care for children and youth with psychiatric disorders."
"I've had the privilege of working with Dr. Orlik as a medical student, psychiatry resident, subspecialty fellow and now colleague. I felt extremely proud to present this award to him on behalf of our division."