News
»
Go to news main
Dal Med appoints public health physician to "serving and engaging society" post
Posted by
Melanie Jollymore
on October 17, 2018 in
News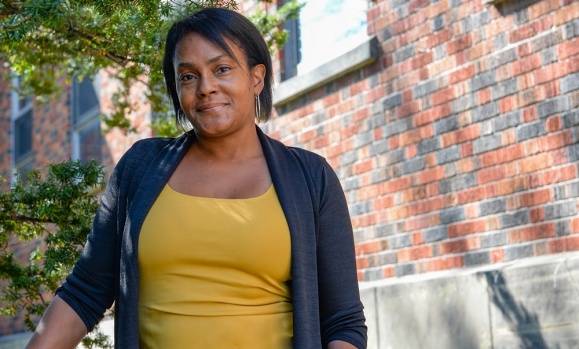 Public health physician Dr. Gaynor Watson-Creed is poised to play a much bigger role in promoting and protecting health in the Maritimes, as Dalhousie Medical School's first assistant dean in a brand new portfolio, "serving and engaging society."
Dr. Gaynor Watson-Creed will devote one day a week to leading the medical school in its efforts to serve and engage society in increasingly meaningful, high-impact ways, in keeping with key goals of the school's #DalMedForward strategic plan. The rest of the time, she will continue her mission of protecting and promoting the health of Nova Scotians as the province's deputy chief medical officer of health.
"The medical school has articulated a vision for improving health in the Maritimes that exceeds its traditional roles of educating physicians and conducting leading-edge research," says Dr. Watson-Creed, who was part of the working group that crafted this vision. "It's about asking, 'what is really driving poor health in our communities?' and, more importantly, 'what can we, as a medical school, do about it?' and, 'are we doing everything we can, to the best of our ability?'"
It's early days yet for her new role, but Dr. Watson-Creed is diving in with both feet, getting to know her new colleagues, learning about new and ongoing public-engagement and service initiatives, and charting a course for the future.
"It feels experimental, what Dal is doing," she says. "Not many medical schools are stepping into this space in such a serious way."
One of her first priorities is to examine the medical school's past and current involvements with communities that have long been marginalized in the Maritimes, such as the region's Black, Indigenous and immigrant communities, as well as the LGBTQ community, rural communities, and the seniors' community.
Dialogue based on mutual trust
"Community has many definitions and so does engagement," notes Dr. Watson-Creed, emphasizing that, "Engagement works best when attached to a promise that people trust will be kept. And, it has to be a two-way street between equals. Engagement is a dialogue, not a download."
Identifying and correcting any mistakes of the past, and celebrating achievements is another early priority, she says: "In our enthusiasm to push forward we may forget to mark what we've already done and the remarkable progress we can build upon."
Initiatives such as PLANS (Promoting Leadership in health for African Nova Scotians) and Indigenous programs that run summer camps and provide scholarships and support to students have resulted in more Black and Indigenous youth pursuing careers in the health professions, for example. The Service Learning Program, meanwhile, pairs medical students with community organizations to create and deliver new health-supporting programs.
Dr. Watson-Creed looks forward to building on these successes and creating new opportunities for the medical school to catalyze much-needed change in the health care system and partner with communities to improve outcomes in health.
A perfect fit with public health and engagement mandate
Her new role at Dal dovetails perfectly with her position as a public health leader and visionary change maker in Nova Scotia.
"As a family physician, I saw about 30 patients a day," says Dr. Watson-Creed, who earned her MD from Dalhousie in 1999 and completed residency training in family medicine and public health at McMaster University. "As a public health official, I'm responsible for the population as a whole."
Dr. Watson-Creed is most interested in unpacking those factors that affect the health of groups: smoking and drinking habits, infectious diseases, highway and community design, and social-political oppression that leads to health and economic disparities.
"My mission is to find out why. Why are these people having worse outcomes? And, what can we change to help them do better?" she says. "I spend a lot of time with government officials and communities, charting a way forward to change."
Dr. Watson-Creed is deeply involved in broad-based efforts to improve Nova Scotia's standing in Canada and the world. She is a former member of the One Nova Scotia Coalition and now chairs the board of Engage Nova Scotia, a non-profit citizen-led organization that's involving Nova Scotians in creating a better future for everyone in the province.