News
»
Go to news main
Dal Med NB researchers partner with tech companies to better treat vulnerable patients
Posted by
Cherise Letson, Huddle Today
on February 22, 2019 in
News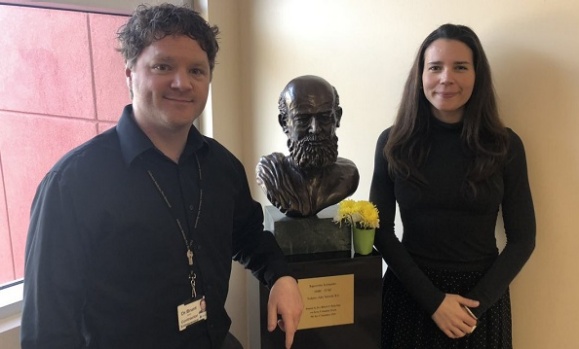 Impart, a research group at Dalhousie Medicine New Brunswick, is working with Innovatia, the provincial government, the New Brunswick Heart Centre, and Family Plus on the Vulnerability Index Project.
The goal of the index is to help doctors get a better understanding of their patient's social circumstances in order to better treat them.
"Often as physicians we assume, 'oh I think my patients is a refugee,' or 'I think my patient is unemployed,' or 'I think my patient is having trouble at home,' or 'I think my patient can't buy food.' But they don't have a number to work with," says Juliana Prestes, the researcher leading the project. "My supervisor Dr. Keith Brunt wanted to start a social medicine project to help clinical medicine and to figure out a way that we can measure a person's social vulnerability."
The Vulnerability Index Project is based on a questionnaire that's given through a mobile app that grades a patient's social determinants of health related to housing, food security, employment, social support, education/literacy, health habits and coping skills. The combination together can be a sophisticated indicator of poverty. Once they've completed the questionnaire, patients will be given a number to pass on to their doctor.
"What we did, based on the frailty index, we created the vulnerability index," says Prestes.
"Each patient will have a number. Once the physician has access to that number and their chart they can say, 'Oh, Juliana is having trouble with housing.' This takes time off the physician. The moment that the physician knows that you're having trouble with your house situation, the physician will say, 'Okay, you're having trouble with your house. Do
you have a leak? Maybe that's you're not healing from your pulmonary disease.'"
Through the app, the patient will also be directed to other community resources that could help them with their issues.
"Let's say I scored very low in housing, the mobile app will send me to housing agencies in the community. Then I can actually find a better place to live," says Prestes. "Then the physician can actually push the patient and say, 'so you're having trouble with housing, maybe you should move, or maybe we should get an advocate for you?' It's connecting these people and make sure that person will have a better place to live and therefore get healthier."
The project ultimately aims to fill the gaps between the healthcare system and the community. It will also help lay the groundwork for future research.
"We want to break this barrier between physicians, scientists and community," says Prestes.  "Health is a shared responsibility. It's not only the responsibility of the physician. We think the doctor is the ultimate person but the doctor is just a component of it. We're responsible for everybody's health, it's an ecosystem."
The Vulnerability Index Project will be starting as a pilot project next month, pending approval from Horizon Health's Research Ethics Board. The pilot will take place in two clinics: Clinic One at the Saint John Regional Hospital with Dr. Duncan Webster and at the New Brunswick Heart Centre with the head of cardiac surgery, Dr. Jean-François Légaré. Participating patients will access the questionnaire from the mobile app or through a tablet on site.
Innovatia is helping to develop the app free of charge using the ProcedureFlow software from its subsidiary company, Gemba. Co-CEO Dave Grebenc says if successful the project could change the way the province's healthcare system treats vulnerable citizens.
"If we can show this is successful and the medical community is accepting of it and sees the value, I think it could fundamentally change we approach and help people in need," says Grebenc. "I think it can help in terms of people slipping through the cracks. Giving people better continuity from one discipline to another discipline of health."
New Brunswick is known for its world-class multi-disciplinary treatment of cancer and heart conditions. Grebenc says it's time to bring that kind of approach to other areas of healthcare.
"Our goal is to emulate that world-class system using virtual technology to help people through this whole process and quicken people's access to it and help quicken access to other advanced approaches to solving their issues," he says.
"I think we could create a really novel approach here using Saint John as an incubator that could not only spread across the province but could be used across the country if it pans out. It's that type of social innovation I think can catch fire."