»
Go to news main
Dal Med NB welcomes tenth cohort into the study of medicine in New Brunswick with the annual First Light Ceremony
Posted by
Alexandra Fournier
on September 20, 2019 in
News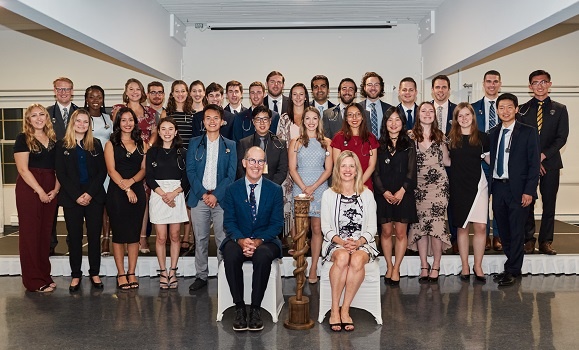 The start of a new academic year is always special here at Dalhousie Medicine New Brunswick (DMNB). Not only are we all happy to see the familiar faces of our returning students again, but we are also always thrilled to welcome a new cohort of students into the study of medicine in New Brunswick with one of our flagship events: the annual First Light Ceremony.
A tradition that began when DMNB first opened its doors in September 2009, this year's First Light Ceremony took place on September 6 and celebrated the arrival of our tenth cohort, the Class of 2023. Held at the picturesque Lily Lake Pavilion in Saint John, NB, the First Light Ceremony centres around the DMNB Asklepion Torch whose light symbolizes the incoming class's commitment to a lifelong journey in the practice of medicine.
Presided over by Dr. Lisa Sutherland (Director, Student & Resident Affairs, DMNB), this year's ceremony featured speeches by Dr. David Anderson (Dean, Faculty of Medicine) and Dr. Jennifer Hall (Associate Dean, DMNB) – two key individuals who will shape the Class of 2023's next four years of undergraduate medical education.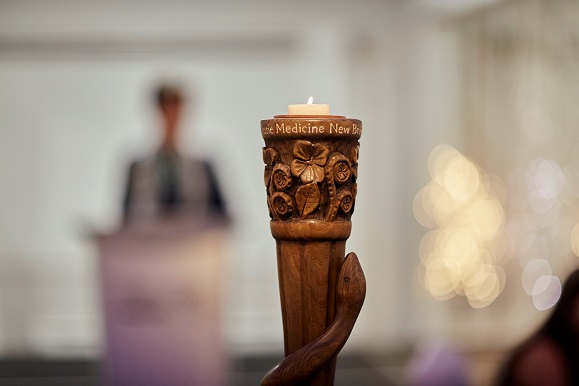 The crown of the DMNB Asklepion Torch, created by local sculptor Philip Savage. (Photo: Greg Knudson).
Dean Anderson, on his part, spoke to the unique advantage of attending Dalhousie Medicine New Brunswick. "Having a medical school with strong bases in two sites offers fantastic advantages and opportunities," he said, "For our students in New Brunswick, it is like having a class within a class. You will see the benefits of working with and getting to know your peers in Saint John. At the same time, you have access to the entire Dalhousie community. It is the best of both worlds."
When it came time for Dr. Hall to address the incoming class, she chose to draw attention to the people who helped the Class of 2023 get to where they are today. "Your family and friends who are with you this evening have likely supported you in many ways to get you to this point," she began, "You will continue to rely on them over the next four years through periods of excitement and accomplishments as well as periods of doubt and disappointment. I would personally like to thank all of the family and friends for their significant contribution."
Dr. Hall then invited Dean Anderson to join her in lighting the DMNB Asklepion Torch and, in so doing, begin the ceremonial portion of the evening. One by one, the Class of 2023 filed in with candles in-hand to have them lit by their Dean and Associate Dean. When every candle was lit, the DMNB choir, Heartbeat!, sang a rousing rendition of "Consider Yourself" from the 1960 musical Oliver! to welcome the new cohort into the DMNB family.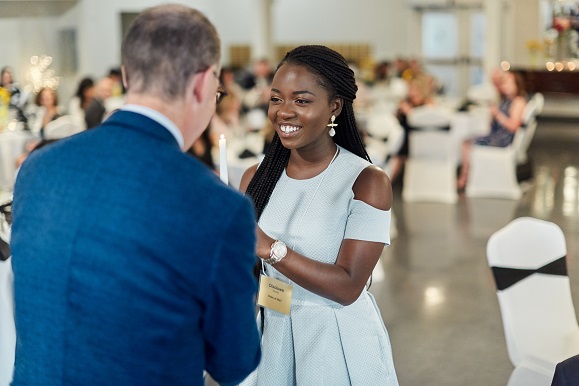 Dean David Anderson hands first-year student Olaoluwa Sobodu (DMNB Class of 2023) a candle lit by the DMNB Asklepion Torch. (Photo: Greg Knudson)
This year's keynote speaker was DMNB Class of 2016 alumna, Dr. Taryn O'Neill, and she took to the podium after dessert to share some of her well-earned wisdom with the incoming class. "My dad gave me some advice many years ago that I still tell myself today: '90% of life is just showing up,'" Dr. O'Neill told the incoming class, "To me, that means the most difficult part of your journey is the anticipation. Just show up and do your best. You got into med school – you have a certain level of proficiency – you are going to be okay."
All in all, it was another First Light Ceremony for the books that brought the Class of 2023's family and friends together with DMNB leadership, faculty, and staff to celebrate the beginning of our newest cohort's journey into the world of medicine in their home province.