»
Go to news main
Grad Profiles: Closing the curtains on a Euphoric four years
Posted by
Jason Bremner
on May 21, 2020 in
News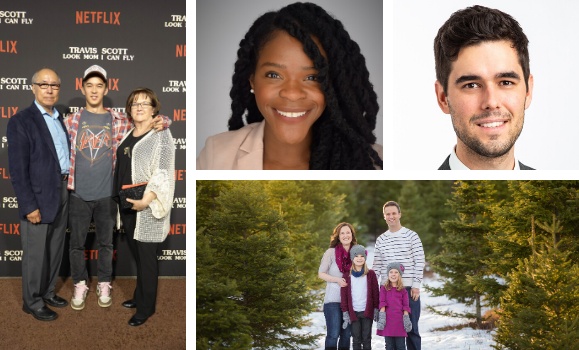 Convocation is a special time of year at Dalhousie Medical School; the culmination of so many journeys and experiences, a celebration of both time spent on campus and exciting new chapters set to begin.
Although convocation will be celebrated virtually this year, 118 medical students have earned the right to be called "doctor" and to join the profession of physicians. Here are the stories of just a few of them:
Family Medicine with a Community Focus
Tiffany Richard's mom has called her "Dr. Richards" since she was four years old. While growing up in the tight-knit, predominately Black, community of West Prince in Truro, it seemed like everyone around Tiffany had an inclination that she would graduate from medical school, saying things like "You should go to med school" or "You're going to be a doctor one day."
That day is Thursday, May 21st, 2020 – but her journey to convocation was one that was shared by her entire community.
"My community has been so supportive – every time that I went home someone would stop me to ask how medical school was going and to tell me they're proud of me," says Tiffany. "That constant encouragement made such a difference on the most challenging days. I would not be where I am today without them."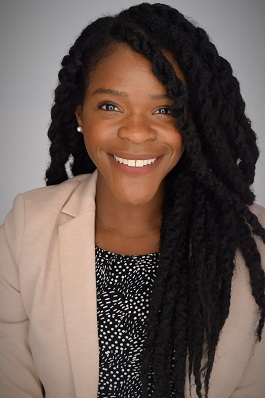 Because Tiffany credits this momentous accomplishment to the encouragement and support she received from her community, she has dedicated her time in medical school and her future career to giving back and inspiring others.
While at Dalhousie, Tiffany worked closely with the Health Association of African Canadians – Student Organization (HAAC-SO), an organization whose mandate is to improve the health of Black Nova Scotians, which allowed her to spend several evenings visiting predominantly Black communities and talk to youth about careers in health care. During the current COVID-19 pandemic, Tiffany has also been virtually tutoring kids from her hometown.
"It's very important to me that my example encourages other Black Nova Scotians to pursue careers in medicine," says Tiffany. "I want my community members to know that this is absolutely within our realm of possibilities – and I will be right there cheering them on – just as our community has done for me over the years!"
Tiffany's future career will also be community focused, as she has always had her sights on Family Medicine. Her interest is primarily in community level health and disease prevention.
"I want to support communities and individuals to eat well, exercise and ensure that they have access to medication and resources they need, like family doctors," says Tiffany. "Things that will help people delay chronic illness. Family medicine is the perfect place to do this kind of work.
As she sets off to Toronto to begin her residency in Family Medicine, she will undoubtedly continue to be a champion for her home community in Truro, and a welcome addition to any community in which she chooses to practice medicine.
Congratulations, Dr. Richards.
Graduation Day
David Hung was sitting in Kanye West's office when he learned he would be attending Dalhousie Medical School.
Born in Palo Alto, California, and raised in Halifax, David originally set his sights on becoming a skateboard video director. Armed with a camera at a young age, David and his friends started to make music videos, commercials, short films and even a feature film, in addition to medical education videos with his physician father.
"I feel like in film there's these really fast-paced and high-stake environments," says David. "That was where I thrived."
While working on filmmaking projects in Halifax, David completed a BA with Honours in Theatre at Dalhousie but decided to follow that need for high-stakes into a career as a paramedic.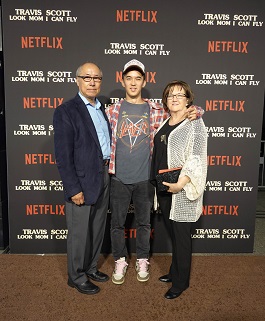 Although working as a paramedic allowed him to follow his passion for a fast-paced environment, combined with his inherent interest in medicine – filmmaking options in Halifax were limited.
David, and his friends Tyler and Jacob, made the incredible decision to move to Los Angeles to follow their filmmaking dreams. Over a span of two years, they made the right connections and began working with rap superstars such as Kanye West and Travis Scott, and celebrities like Kylie Jenner.
Tyler worked with Kanye West on tour, and then toured with Travis Scott, which eventually led to the Netflix original documentary, "Look Mom I can Fly", which David worked on as an editor and cinematographer.
Even with this burgeoning success in the industry, the pull to practice medicine remained. So with the support of mentors such as Dr. Ron Stewart, who was supportive of David's Arts career and passion for pre-hospital and emergency medicine, David finally decided to apply for medical school.
"He was a huge inspiration for me to not only pursue this as a career but also to keep rooted in my creative outlets and mediums," says David.
Fast-forward to sitting in Kanye West's office. At the time they were just finishing up work on the music video for the hit song "Famous", but uncertain what the next job would be and where the next paycheque would come from.
"When I got that letter, it was a huge relief," says David. "It was something that not only represented hard work and determination that everyone who applies puts in, but it represented stability which is something I think I was looking for at the time."
Four years later, and David is set to graduate from Dalhousie Medicine School as valedictorian of the Class of 2020 and preparing to start his residency in Emergency Medicine in Halifax.
He's travelled the world learning what makes a strong leader and observed the collaboration it takes to make a hit record– which is a nice correlation to working successfully in interprofessional teams.
While from the outside it seems that he has been chasing the thrill of filmmaking with stars, or the high-acuity world of emergency medicine, it's been those closest to him that have kept him grounded and helped him survive medical school.
"My wife-to-be, Meghan, was a huge part of my success. Being able to have a person to talk to, to go on adventures with and experience life together outside of the hospital was the key to my wellness," says David. "Now we have a beautiful daughter, Violet, and spending time with her is all that matters."
From St. John's to Saint John
"Looking back, we took it comically serious at times, but it certainly paid off in the end."

It's no surprise that the Class of 2020 won a historic four straight Euphoria competitions, especially considering the music background and preparation of Euphoria co-chair, and upcoming graduate from Dalhousie Medicine New Brunswick, Alexander Clark.
Born in St. John's, Newfoundland, and raised in Riverview, New Brunswick, the thought of pursuing a career in medicine never crossed Alex's mind. As a serious trombone player, his undergraduate and master's degrees were in music, but after tearing a muscle in his lip, which required surgery, he was forced to switch his focus to singing.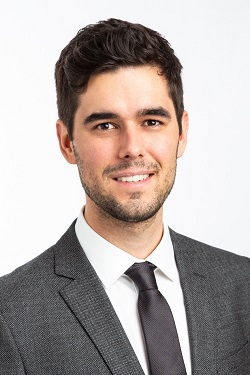 Alex went on to perform in over a dozen operas with different companies in Canada and the United States, all while studying singing. During this time, he had the opportunity to learn about the science of singing and to work one-on-one with people, teaching them to sing and helping them with their voice issues.
After presenting his master's thesis at a laryngology (the study of the larynx, also known as the "voice box") conference, he decided pursuing a career in medicine would be the next challenge ahead.
As a music major, the sudden switch to a scientific field presented initial challenges, but it also uniquely equipped him for certain aspects of becoming a physician.
"I think the largest influences towards my medical studies was towards communication and knowing how to work with patients to figure out problems with their health," says Alex. "Through my studies, I could see lots of parallels between teaching voice lessons and the patient/physician interactions."
The highlight of Alex's medical school career was participating in the student-run variety show/competition, Euphoria. What makes this experience even better, is the Class of 2020 is the only medical school class to win the competition for four straight years.
"While it was tough at times collaborating with Halifax, working through disputes, and juggling rehearsing with studying, everyone in the class was so grateful for it in the end," says Alex. "I think it really taught us how to work as a team, how to communicate and problem solve as a group, and we enjoyed being pushed beyond our comfort zones."
If Euphoria was one of Alex's most memorable experiences at Dalhousie, the overall educational environment at DMNB building was the most impactful. From the small class sizes, to the hands-on and independent approach to clerkships, Alex hopes to return to New Brunswick once he completes his residency in otolaryngology in Halifax.
Wherever his career takes him, there is no doubt that Alex will be practicing medicine with a smile and a song.
From Teacher to Student
Ten years into a career as a high school math teacher, Christian Digout was inspired to change professions after experiencing first-hand the profound impact and difference a physician could have.
A career in medicine was something he had considered during his undergraduate degree, but it was merely an idea, one that he had pushed aside to pursue a career in education. However, it was a personal experience with the medical system and the support of a physician that renewed that interest from years ago and sparked the difficult decision to apply to medical school.
"Switching careers was scary because I was married with family and I knew it would have a significant impact on them," says Christian. "It wasn't easy, but my wife and I sat down and we worked out a plan."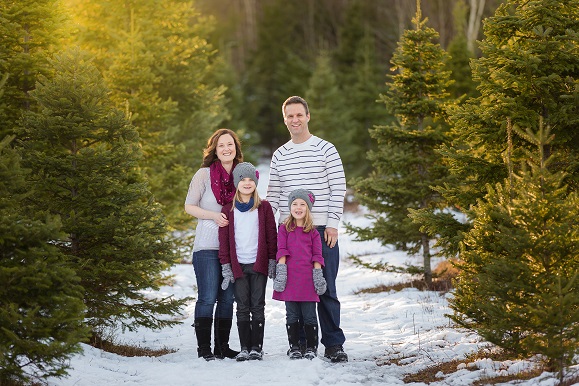 Having been out of school for several years, the transition to medical school wasn't easy, and he found that having young children meant having to plan ahead. The first four months of medical school were overwhelming and thoughts of if he had made the correct decision crept into his head.
Switching careers and returning to school with a young family presented challenges. Finding a work/life balance can be difficult under normal circumstances, but with two young daughters, it was important for Christian to stay involved in his children's lives. By making detailed study schedules, he managed to find the time to coach t-ball, go kayaking and biking as a family.
Sometimes his classmates would question how he managed to study with a young family, but Christian attributes his success to his wife and two daughters making things easier.
"Anytime I needed a break, they were there to do something with which, made me more focused and productive," says Christian. "Coming home to hugs from my girls after a busy and tiring call shift helped me switch focus."
Despite planning and scheduling, sometimes medical school took precedent, causing him to miss weddings, social gatherings, and even birthdays.
"Two of my first call shifts were on my kids' birthdays, and since I was in the emergency department, I snuck away briefly to the ambulance bay to sing them a happy birthday," says Christian. "I'm sure the paramedic was wondering what I was doing in the ambulance bay until she heard me singing."
With medical school now complete, he was relieved to learn that he matched to Family Medicine in Halifax, meaning he won't have to uproot his young family.
Christian looks back on his time as a teacher not as a hinderance to his medical career, but a valuable learning experience that helped him better appreciate the importance and responsibility that practicing medicine represents.