»
Go to news main
DMNB welcomes 11th cohort into study of medicine with physically distanced First Light Ceremony
Posted by
Allie Fournier
on September 30, 2020 in
News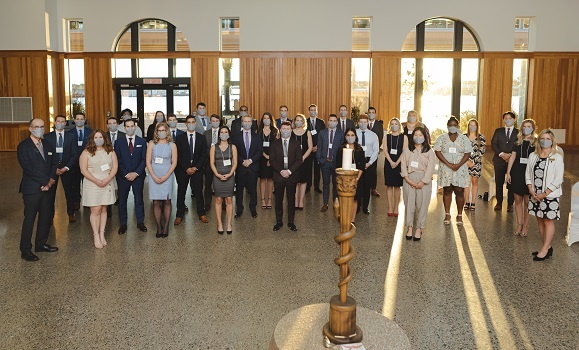 The start of a new academic year is always a special time at Dalhousie Medicine New Brunswick (DMNB) and the ongoing pandemic did nothing to change that. Despite things looking a little different than they have in years previous, DMNB was still able to welcome a new cohort of students into the study of medicine with one of its flagship events: the annual First Light Ceremony.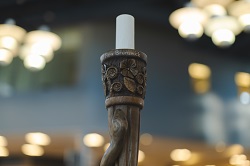 A tradition that began a decade ago when DMNB first opened its doors in September 2010, this year's First Light Ceremony took place on September 11 and celebrated the arrival of DMNB's 11th cohort, the Class of 2024. Held at the spacious Marco Polo Cruise Terminal on the Saint John Harbour, the First Light Ceremony centres around the DMNB Asklepion Torch, whose light symbolizes the incoming class' commitment to a lifelong journey in the practice of medicine.  
While the First Light Ceremonies of years past have always included DMNB staff, faculty, and special guests (along with the new cohort and their family and friends) for a total of nearly 130 attendees, the 2020 event was reduced to a gathering of under 50 people in accordance with provincial Public Health measures. This year's First Light Ceremony also changed venues to help promote physical distancing, moving from the more intimate Lily Lake Pavilion to the Marco Polo Cruise Terminal to make use of its roomy facility to place all 50 seats six feet apart.  
"You are beginning your medical career at a most interesting time," said Dr. Jennifer Hall (Associate Dean, DMNB) in her remarks. "The COVID-19 pandemic has challenged us all to adapt, innovate, and support each other and this will also be the case with your medical education. Your family and friends who, in pre-COVID years, would have been with you this evening, have likely supported you in many ways to get you to this point. I would ask you to extend my thanks to all your family and friends for their significant contribution as this journey begins."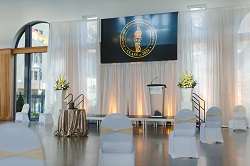 Dr. David Anderson (Dean, Faculty of Medicine) also touched on the impacts of COVID-19. "As the incoming class, you have already experienced first-hand how quickly things and society can change," he observed. "Your medical education will be somewhat different this year as we move forward amidst a pandemic. I hope you are enjoying yourselves so far and, despite the unexpected challenges related to COVID-19, I have every confidence you will have excellent educational and life experiences over the next four years at DMNB."  
For the ceremonial portion of the evening, Dr. Hall and Dr. Anderson lit the DMNB Asklepion Torch and looked on as the Class of 2024 came up, one by one, to light their candles on the torch. When every candle was lit, a video of the DMNB choir Heartbeat! singing the song "Consider Yourself" from the 1960 musical Oliver! played on a large video screen to welcome the new cohort into the DMNB family.  
Heartbeat! was not the only DMNB group to record and send in a video message to the Class of 2024. All five Dalhousie Medicine New Brunswick clinical sites sent greetings from around the province – including Saint John, Miramichi, Moncton, Waterville, and Fredericton – in a new welcome segment for this year's First Light Ceremony.  
Another new addition to this year's event was a gift bag for every new student featuring donations from New Brunswick-based companies such as Bueteaful (Sackville, NB), Cobbler's Lane Fudge (Sussex, NB), Covered Bridge Chips (Waterville, NB), Crosby's Molasses (Saint John, NB), Down East Coffee (Moncton, NB), Goose Lane Editions (Fredericton, NB), Holdfast Ink (St. Stephen, NB) and Sussex Craft Distillery (Sussex, NB).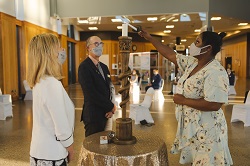 This year's keynote speaker was DMNB Class of 2017 alumna, Dr. Elyse Doiron, who took the podium to share comforting words with the incoming class: "Periods of transition are always a bit stressful and I can imagine that tension is heightened now by the circumstances created by the COVID-19 pandemic. But while the beginning of your medical education is likely off to a slightly different start than you might have anticipated, I can tell you from experience that you are in good hands with the folks at Dalhousie Medicine New Brunswick."  
"I am just grateful that we were able to attend the First Light Ceremony in-person," said Krystal Stewart, a student from the DMNB Class of 2024. "With these unprecedented times, it is a rather difficult feat to be able to put on an event such as this one. I greatly appreciate the effort that DMNB made to put together this successful event, while also respecting social distancing, for the first-year medical students."