News
»
Go to news main
Program provides solution for keeping doctors in rural areas
Posted by
April MacDonald, The Inverness Oran
on October 6, 2020 in
News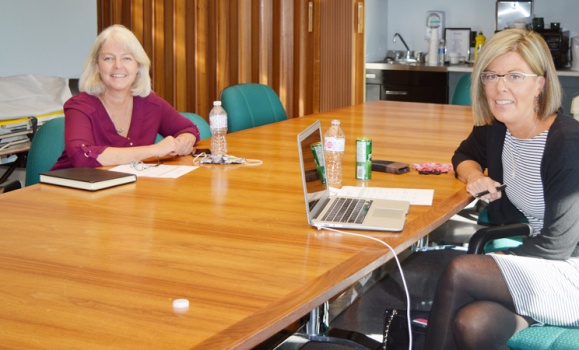 It's pretty easy to point out a problem. Finding a solution is where the real work is done.
One problem: Rural areas need more family physicians. The solution: Train med-school residents in these rural communities, so they live, work, connect with the community and, in turn, become a part of that community themselves. The result: They choose to stay.
Those who live the rural life, especially in our picturesque coastal Cape Breton communities, know how special the people and places are. That's been happening in North Sydney for a couple of decades now, and much more recently, right here in Inverness County.
Dr. Stephanie Langley, medical education site director and assistant professor in the Department of Family Medicine at Dalhousie, and Professor/ Department Head Katherine Stringer, invited The Oran to the Inverness Consolidated Memorial Hospital for a public awareness info session. A way to spread some good news.
Data proves that the Family Medicine Residency Program has been an incredible successful in recruiting, training, and retaining family doctors.
"We see a long history of success when resident doctors do their whole training here, the feedback has been excellent and the data proves that it is working," explained Stringer.
The program began through a teaching partnership with the Dalhousie University School of Medicine. The program gives residents a broad range of experiences in their two years here. Residents are supported by local family physicians as well as specialists who participate in the program, residents practice in hospitals, community clinics, rural sites, and physician offices.
Dr. Langley is responsible for getting the program up and running and is also the preceptor teaching the residents. For two years now the satellite program has been up and running in Inverness. Two years ago, in July, two residents arrived to do their training. This July past, two more arrived for a total of four residents now completing their Family Medicine Training Program.
Why the program is so successful, says Stringer, is because of community involvement.
"Programs like this work best when they grow out of community need," said Stringer. She said that when residents feel connected to the community, they tend to stay. "We are seeing such positive benefits from this program; the residents feel connected, welcomed, and supported by the communities they are serving," said Dr. Langley.
The more residents are connected, the easier it is to retain them. Dr. Langley noted that another important piece to this is letting the public know that not everything is being done solely in Halifax.
"Right now, there are three [participating hospitals] in New Brunswick, one in PEI, and six in Nova Scotia, with Inverness being one of them," said Dr. Langley. "When training is based in communities, the data shows residents stay where they spend time," said Stringer. She added that the data from Sydney is evidence of this.
This past weekend, they held the Family Medicine Residency Education Weekend, which usually brings together about 150 residents from across the region, an event that has been taking place for 23 years now. This year, due to COVID-19 restrictions, there were only 16 residents getting together for a social event in Inverness at Route 19 Brewery.
In 2023, the plan is to have the Family Medicine Residency Education Weekend, for the entire region, in Baddeck. What's also important about the program is the connection made with the local hospital.
"You get to find out what the community's needs are," said Stringer. "We can't solve all the problems but we are working on solutions to some of the challenges facing rural areas," added Stringer.
An example of just one of the positive benefits created from this program was hatched by a young resident assigned to Inverness. Indi Noel, who is training at the ICMH, noticed while working in the ER how many people were without a family doctor. Noel came up with the idea for a resident run clinic, open on Tuesdays and Thursdays for people without a family doctor. The clinic is supported from Health Authority with oversight by a local family physician.
This is the essence of family medicine, said Langley and Stringer, how to better connect hospitals to their communities.
"It's a classic example of identifying a need and finding a solution," said Stringer. It proves that family doctors can do the job. "These residents also have the opportunity to be trained by specialists and all the training is done on-site," added Dr. Langley.
Two new sites were added last year for a total of 10 sites across the region, with Inverness being one of them, the other new site was North Nova (Truro, Tatamagouche, and Amherst). Those who are aware of the program call it one of the best-kept secrets as well as one of the region's greatest successes.
To date, the program has successfully retained a large number of physicians, which is an incredible benefit to rural communities. This program is also essential to the ongoing long-term health care plan to grow and improve access to primary health care and family physicians.