News
»
Go to news main
Dal contributes to first ever Lancet Child and Adolescent Health Commission
Posted by
Michele Charlton
on October 26, 2020 in
News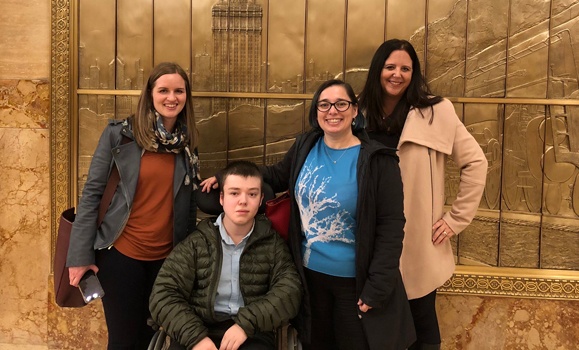 When 12-year-old Caitriona Roberts went to her doctor because she was experiencing pain and swelling in her ankle, no one knew exactly what was causing it.
Initially written off as "just a sprain" which would go away, she would spend the next six months living in constant pain until interventions from a diligent doctor referred her to a specialist who diagnosed juvenile idiopathic arthritis — an autoimmune condition the now 28-year-old has lived with and managed ever since.
Caitriona, a resident of Belfast, Ireland, is not alone is experiencing chronic pain in childhood. Up to 10 per cent of young people experience disabling chronic pain into early adulthood, with conditions including arthritis, other types of musculoskeletal pain, recurrent abdominal pain, and headaches.
Yet, according to the authors of a major new report released earlier this month (Oct. 13), the way that pediatric pain is recognised, assessed and treated has gone under the radar for too long.
Key Dal contributions
Findings from the Lancet Child and Adolescent Health Commission suggest that much more needs to be done to help young people by making pain matter across society. The research was led by the Centre for Pain Research at the University of Bath, and supported by Versus Arthritis and the Mayday Fund.
It also included key contributors and authors with a Dalhousie connection, including Dr. Christine Chambers, Canada Research Chair in Pain and Child Health, and a Killam Professor in the Departments of Psychology & Neuroscience and Pediatrics, Dr. Katie Birnie,a nd Dr. Paula Forgeron (who are both Dal alumni).
"It was an honour to be invited to participate as a key contributor to this important international initiative," says Dr. Chambers. "I was one of five Canadian contributors, who interestingly all have links to Dalhousie!"
Drs. Birnie (now in Calgary) and Forgeron (now in Ottawa) both completed their PhDs in the area of pediatric pain at Dalhousie, and Isabel Jordan and her son Zach, who were engaged in the Commission as patient partners, are part of Dr. Chambers' Solutions for Kids in Pain (SKIP) NCE-funded national knowledge mobilization network based at Dalhousie.
"At Dalhousie, we have been international leaders in research and practice in children's pain management for over 30 years, so it's not a surprise to see the strong links," says Dr. Chambers.
Helping better understand childhood pain
Being involved in the Commission was a year-long process for Dr. Chambers that involved both in-person and digital engagement with a range of international stakeholders and the editorial leadership team at the Lancet.
The report suggests that change in pediatric services over the past 40 years in terms of pain recognition, diagnosis, assessment and management is slow. The last major intervention in the field came in the 1980s, when, remarkably, for the first time, it was recognized that babies experience pain. Up until that point, a number of routine and major operations, including heart surgery, were carried out without anaesthetics. The authors speculate that much of what we do (or fail to do) for children in pain today might come to be seen as unwise, unacceptable, or unethical in the next 40 years.
In calling for four key goals — to make childhood pain matter, to make it understood, to make it visible and to make it better — the authors argue that there must be a widespread recognition that too many children live with pain and that not enough is being done to support them from diagnosis through to management of long-term conditions. These goals range from "biological (e.g. medication) to psychological treatment/management (e.g. CBT) and to social support (e.g. better support for parents, schools and careers). Achieving these goals would transform the lives of children for they better.
"The science of children's pain has evolved at a very rapid pace over the last 30 years. We now know that managing children's pain isn't just a nice thing to do," says Dr. Chambers. "Children experience a range of immediate and long-term negative effects as a result of poorly managed pain in childhood – it can change the way children's brains and bodies respond to pain, can result in healthcare avoidance, and puts children at risk for later chronic pain and addiction"
Bringing knowledge directly to clinicians and families
But it takes more than just great science to make a difference for children. Dr. Chambers notes that it's been estimated that it can take on average 17 years for the results of research to find their way to being put into practice — which equals a whole generation of children who miss out on the benefits of science that are already in place.
"The reality is that, just like science requires highly trained experts to advance discovery, the process of transferring knowledge to those who can put it into practice also requires special expertise – it doesn't just magically happen," continues Dr. Chambers. "At Dalhousie, we are fortunate to have the Solutions for Kids in Pain network, which is supporting collaborations between academia, industry, government and not-for-profit organizations across many sectors and disciplines to facilitate the uptake and application of world-class pediatric pain research. SKIP is featured in the Commission as an innovative approach to improving pain care for children."
Among its many recommendations, the Lancet Child and Adolescent Health Commission calls for an end to children experiencing pain when receiving routine vaccinations, drawing on the findings and recommendations from a study published in 2015.
"Vaccination pain management is a great example of an area where we have tons of proven science on how to make needles hurt less, but most parents and many health professionals are unaware of that science," says Dr. Chambers. "For example, for school-aged children, applying a topical anesthetic cream before the procedure, as well as simple distraction and relaxation, are proven pain control methods for children."
These strategies are in a YouTube video Dr. Chambers and her team created for parents back in 2013 that has now been viewed over 250,000 times. For babies, other proven pain control strategies such as breastfeeding or using sucrose (sugar water) have been shown to significantly reduce pain. You can find more resources and tips for parents and others on procedure pain management at the team's website, www.itdoesnthavetohurt.ca.
"While fear of needles/pain isn't the only reason why people avoid vaccines, it is something we have simple strategies to address. And with the anticipated COVID vaccine, we'll want to make sure that we are doing everything possible to reduce the pain associated with needles," says Dr. Chambers. "One of the current projects we are leading out of my research lab, in collaboration with SKIP, is the development of an app for parents that will help them personalize and implement pain management strategies for procedures like vaccinations."
Shedding light on children's experiences
Twelve-year-old Caitriona has been working with the researchers from Bath, the USA, Canada, Europe and New Zealand on this report, adding her voice on behalf of a community of young people who are living with pain.
"I think this issue has been swept under the carpet for too long," she says. "Still today, over 15 years on from my diagnosis with arthritis, I find people, including medical professionals, unaware of the condition or its effects on my day-to-day life. And when I speak to other young people, I find that sadly, very little seems to have changed in terms of how they experience pain or the support they receive."
Dr. Chambers says these Lancet Commissions serve as real change catalysts for a field, and the fact that the area of children's pain management was selected for focus at this time reinforces that the field is at a transformative tipping point in the field.
"Children's pain management is finally getting the attention it deserves — children's pain matters, needs to be understood, made visible, and made better," she says.