News
»
Go to news main
James R. Johnston Chair Launches Black Analysis Lecture Series
Posted by
Jason Bremner
on November 20, 2020 in
News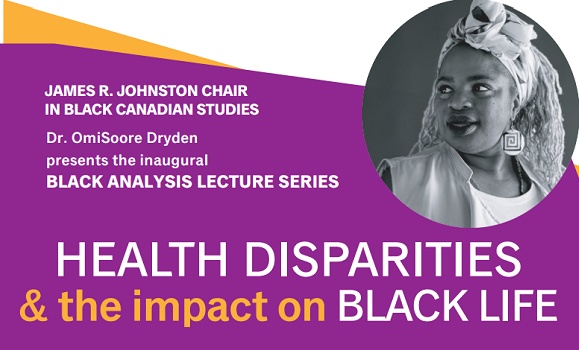 Since the COVID-19 pandemic began, there has been a greater understanding and focus on how systemic racism and police brutality has caused health disparities that are harming Black, Indigenous, and other racialized communities.
With the launch of the inaugural Black Analysis Lecture Series on November 26th, Dr. OmiSoore Dryden, the James R. Johnston Chair in Black Canadian Studies, is taking a closer look at these health disparities and how they impact Black lives.
With a celebration to commemorate Mr. Johnston's birthday already planned for March 12, 2021, Dr. Dryden was looking for a signature event for the fall that could help raise the profile and importance of Black studies in non-traditional disciplines and fields. Importantly, the series will act as a forum for knowledge translation and mobilization and highlight the perspective of scholars who have developed their scholarship through community work.
"Black scholarship comes in many forms," says Dr. Dryden. "This Includes community workers and activists who are developing scholarship and knowledge while on the ground."
Health disparities have been extensively documented in societies with racially diverse populations. Such disparities may result from direct effects of systemic racism, racial discrimination and unequal treatment by healthcare providers, or indirectly through the effects of race-related socioeconomic inequalities. However, without the collection of desegregated race-based data, Dr. Dryden contends that the process to make important policy decisions is slowed and can be misguided.
"To say that identifying race when collecting data would equate to racism is not true," says Dr. Dryden. "The data that we do have, clearly identifies that racialized communities are having a different experience. The current 'colour-blind' approach has resulted in increased health inequities and poorer health outcomes for Black and Indigenous people."
The first panel discussion of the series, Health Disparities and the Impact on Black Life, will feature panelists Sharon Davis-Murdoch, Co-President of the Health Association of African Canadians, and Sané Dube, Manager of Community and Policy, University Health Network.
"They don't just bring knowledge of Black communities, but also a critical race theory and an Afrocentric understanding of health disparities and the tools of collecting desegregated race-based data," says Dr. Dryden. "They bring the Black analysis."
Join Dr. Dryden and the panelists via zoom (passcode: 178910) on Thursday, November 26th at 5:00 p.m. AST.
About the Panelists
Sharon Davis-Murdoch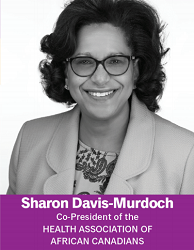 Sharon Davis-Murdoch is an award-winning social justice champion whose political science background and public policy experience informs her work in community.
She is a founding member and the Co-President of the Health Association of African Canadians and the Co-Manager to the Association of Black Social Workers and Health Association of African Canadians, COVID-19 Response and Impact Team. She is also an Advisor to the Halifax Immigrant Partnership, Secretary of the Dartmouth General Hospital Foundation Board and President of Shamardavon Consulting. Sharon is a proud member of the Dartmouth Community and an even prouder Nana of two grandbaby boys.
Sané Dube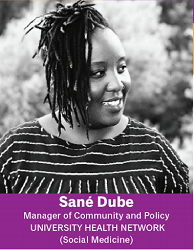 Sané Dube is a policy analyst and knowledge broker. Sané is committed to reducing disparities in health access experienced by marginalized communities.
Her professional background is varied; she has worked in community development, health promotion, and strategic communications. Sané's people are the Ndebele of what is now called Zimbabwe. She currently lives in Toronto.