»
Go to news main
Dal Med launches francophone simulated patient initiative
Posted by
Melanie Starr
on March 2, 2021 in
News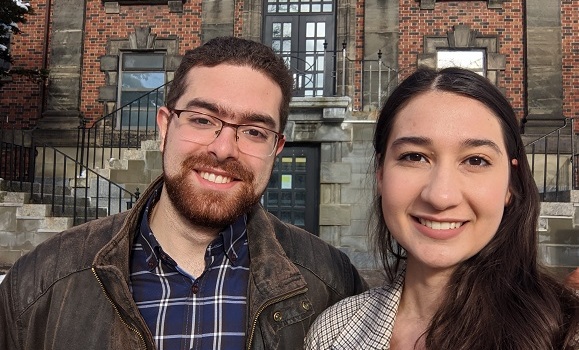 Last November and for the first time ever, Dalhousie medical students took histories and spoke with their patients in French, in a simulated patient exercise conducted online.
"Simulated patients" are trained actors (amateur or professional) who play the part of the patient in clinical learning situations with medical students, to help the students prepare for working with real patients in their clerkship years.
The event was such a success, a second francophone simulated patient experience is already planned for medical students this March, with support from Dalhousie's Global Health Office, the Nova Scotia Department of Labour and Advanced Education, and Réseau Santé. The organizers are also talking about involving Dalhousie's other health faculties in creating interprofessional learning opportunities in French. And, other universities may soon follow suit, thanks to Dalhousie's example.
"To the best of our knowledge, this is the first time an anglophone university in Canada has conducted a clinical learning session in French," says one of the event's organizers, Michel Nader, a second-year medical student and member of Dalhousie Medical Students' Society (DMSS) French in Medicine Interest Group. "It brings a lot of satisfaction to improve health care for this population by interacting with them in their first language, and to see how grateful patients are for the opportunity."
An identified need
According to 2016 Census of Canada data, the Maritimes is home to some 270,000 francophones, defined as those for whom French was the first official language spoken. While the Université de Sherbrooke operates a satellite francophone medical school in Moncton, there are still many francophone Maritimers who do not have the opportunity to receive care in French.
The French in Medicine Interest Group promotes the provision of health care services in French in a variety of ways, including sessions where members learn the French translation of common medical terms. The idea to connect bilingual medical students with French-speaking simulated patients gathered steam in the group last year. Logistical and financial support from le Réseau Santé Nouvelle-Écosse, a non-governmental organization dedicated to improving health services for Acadians and francophones, gave the project legs.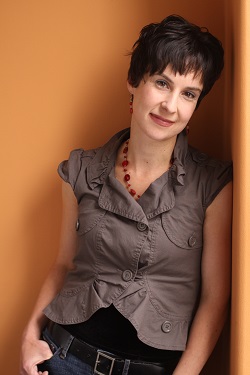 "The students were very keen to go ahead with a French simulated patient learning event," says Benjamin Chevenement, a project coordinator with Réseau Santé Nouvelle-Écosse who sits in on the French in Medicine Interest Group meetings. "So we contacted Dalhousie Medical School's Centre for Collaborative Clinical Learning and Research, the C3LR, about a possible training exercise."
Karen Bassett, a simulated patient educator with the C3LR, jumped on board with enthusiasm. "I love a pilot," she says. "I love to make something new. And I also speak French fluently so I thought, I can do this!"
Bassett immediately set to work identifying case studies to use in the planned exercise, as well as recruiting and training French-speakers from the medical school's simulated patient database.
"Réseau Santé looked after translating the case studies, and then I was able to train the eight simulated patients on the specifics of those cases, especially the vocabulary," says Bassett. "They were all experienced simulated patients who had done a lot of work with our medical students in English, so they were really excited by the opportunity to do similar exercises in French."
Creating meaningful doctor-patient relationships
The original intent was to host an in-person event in March 2020, but the pandemic swept those plans away. Determined to follow through, the organizers quickly put together Plan B, an online event, rescheduled to November. Fourteen bilingual medical students signed up, and 11 bilingual residents offered to observe the students in action and provide feedback on their clinical and communication skills.
"The simulated patients were so happy to see this initiative and the students thoroughly enjoyed it," says Juliana Ali, a bilingual second-year medical student who helped organize the event. A member of the French in Medicine Interest Group, she sits on Dalhousie Medical School's Francophone Health Advisory Committee with fellow student organizer, Michel Nader. "As soon as the event was over, people were asking, 'When can we do this again?'"
While Arabic is Nader's first language, he is fluent in his second language of French. He became acutely aware of the value of providing service to people in their first language after an eye-opening experience on rotation at the Newcomer Health Clinic in Halifax. He encountered a family of immigrants from the Middle East who must have been struggling, because they were so happy and relieved when he walked into the room and spoke to them in their own language.
"It clearly meant so much to them, which made quite an impression on me," recalls Nader, who later stoked his peers' enthusiasm to get involved in the francophone simulated patient training exercise. "It's so important to be able to communicate directly with people in their own language, to avoid misinterpretation of important medical information and also to develop that trusting, meaningful doctor-patient relationship. Especially when you need to have difficult conversations or share sensitive information."

Moving forward
The new francophone simulated patient initiative is one piece of a broader effort that supports Dalhousie Medical School's strategic-plan pillar, Serving and Engaging Society, by finding pathways to improve health services to a significant sub-population in the region. Like the medical school's ongoing work to connect with African Nova Scotian and Indigenous communities in the Maritimes, led by Dalhousie's Global Health Office, it aims to ensure these communities receive culturally appropriate care.
"This work fits in with our larger efforts to ensure equitable access to high-quality health services," says Angela Day, a program manager in Dalhousie's Global Health Office who oversees international partnerships and francophone programs and co-chairs the Francophone Health Advisory Committee. "It ties in beautifully with our broader partnerships with the Nova Scotia Department of Labour and Advanced Education, Réseau Santé, and l'Université Sainte-Anne, to improve health services for our Acadian and francophone communities. This includes efforts to recruit more francophone students into the health professions."
For Chevenement and Réseau Santé, the simulated patient event -- and the interest and momentum it has generated -- was a clear win. "We are very proud and happy to see the caring and enthusiasm of the students, the residents, all the organizers at Dalhousie," he says. "It went without a hitch and everyone wants to do it again. We are really pleased."
To register for the second French simulated patient event coming up in March, click here.