»
Go to news main
Doctor for a Day at DMNB workshops go virtual for New Brunswick March break
Posted by
Allie Fournier
on March 29, 2021 in
News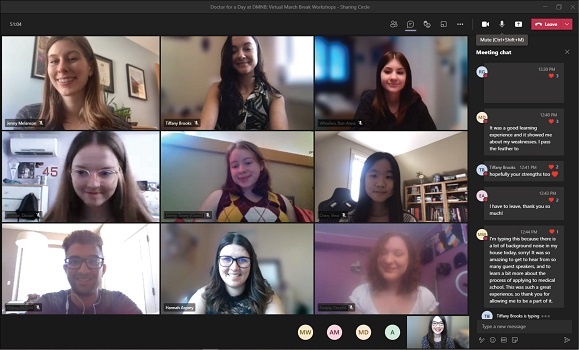 Going into 2020, Dalhousie Medicine New Brunswick (DMNB) and the Under One Sky Friendship Centre were keen to to expand upon their partnership with plans for a spring tour of the Dr. Everett Chalmers Hospital in Fredericton for interested middle- to high school-age students in the region and a third Doctor for a Day at DMNB event slated for the fall.
Unfortunately, COVID-19 forced DMNB and the Under One Sky Friendship Centre to shelve those plans as they weathered the storm of the pandemic's early months.
Talks between the two partners, however, resumed in November 2020 and the idea for a virtual event quickly took shape. They were pleased to welcome Dalhousie University's recently appointed Indigenous Health in Medicine Program Manager, Hannah Asprey, to their planning committee and, together, they adapted the popular Doctor for a Day at DMNB event into a five-part series of online workshops hosted on Microsoft Teams for a group of 10 interested students that ran during the week of their March break.
With the help of two dedicated medical student leads, Tiffany Brooks and Jenny Melanson (DMNB Class of 2022), the planning committee developed a week of programming that gave those interested in pursuing a career in medicine a behind-the-scenes look at the admissions process, the medical student experience, and the importance of integrating Indigenous voices into the study of medicine.
The Indigenous Health in Medicine Program, under Hannah Asprey's direction, kicked off the week of workshops with Med School 101, a presentation that took the students through the opportunities and supports the program has to offer. Asprey also highlighted the Bachelor of Medical Science degree and its September 2022 cohort that will offer 10 seats for Indigenous students. Medical Admissions followed by speaking to the Faculty of Medicine equitable admission policy and the requirements to be offered a seat the NS or NB campuses.
"This event was a great way to continue to build our relationship with students and community to ensure we can support them throughout their academic career – wherever they may be," says Asprey. "It means a lot to me to see other departments and community members, along with volunteering medical students, organize and participate in such events that create awareness and mentorship opportunities for Indigenous students to pursue a career in medicine."
During the Mock MMI day, volunteer medical students and community members were paired up with the workshop participants to ask them questions and simulate the Multiple Mini Interview experience in their own virtual breakout rooms. Once done, the group reconvened in the main virtual meeting room to share their experiences.
"The interview was unexpected, but it really felt real!" notes one of the participants.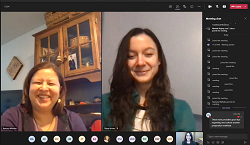 The next day, Ramona Nicholas, former Elder-in-Residence at the University of New Brunswick (UNB), joined the group from her home. She began the workshop by singing the "Wolastoq River Song" and performing a virtual smudge ceremony before imparting her knowledge of traditional medicines and healing practices, taking the time to share a selection of her medicine collection and take questions from the participants.
"The traditional medicine workshop was enjoyable because, as a future person going into the medical field, we must accept and embrace these traditions," says one participant in a feedback email.
Third-year medical students, Tiffany Brooks and Jenny Melanson, took the reins for the At-Home Skills Session workshop with a medical school-style lecture on lung and heart physiology, which led the participants through the process of taking their pulse and a series of breathing exercises.
For the fifth and final workshop, Amanda Myran, Nursing Instructor and Piluwitahasuwin (AVP Indigenous Engagement) at UNB, joined DMNB student leads, Brooks and Melanson, for a virtual sharing circle on their perspectives and experiences in the health sciences field. Participants were encouraged to ask questions and a rewarding discussion followed.
"It was so amazing to get to hear from so many guest speakers, and to learn a bit more about the process of applying to medical school," wrote one of the participants in the chat during the final workshop. "This was such a great experience. Thank you for allowing me to be a part of it."
Brooks and Melanson have been involved with the Doctor for a Day at DMNB events since the first one in 2019. "I am so grateful to be involved," says Melanson. "We hope to encourage and inspire these middle and high school students to pursue a career in health care. Indigenous voices are important and matter in medicine."
"To me, planning this workshop was a way to inspire the community that had first sparked my own interest in medicine," adds Brooks. "It was a way of using an Indigenous way of knowing, Two-Eyed Seeing (working from the strengths of medicine and culture), to inspire students to see themselves in medicine."
Communications and Outreach Coordinator at the Under One Sky Friendship Centre, Alyse Duffney, echoes Brooks' sentiments. "The Doctor for a Day event is not just about building knowledge and skills – it's also an experience which builds confidence and excites students about the prospect of a future in medicine," says Duffney who has been a key player in the Doctor for a Day at DMNB events since the very beginning. "It fosters Indigenous knowledge and perspectives and empowers Indigenous youth.
"What resonates with me is the hope of providing future generations with Indigenous health care workers who will care for them for years to come."