News
»
Go to news main
Dal Health researcher part of largest vaccine safety study in Canadian history
Posted by
Dawn Morrison With files from the BC Provincial Health Services Authority
on March 30, 2021 in
News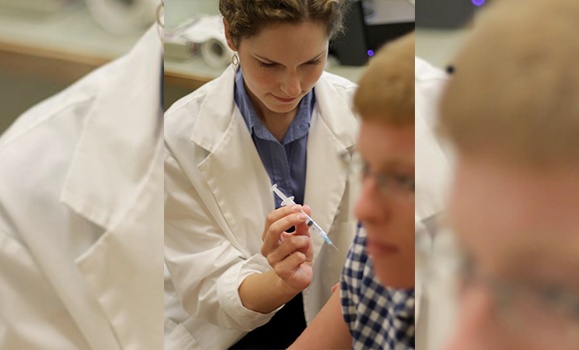 Members of the public are being asked to play an important role in completing the largest study of vaccine safety in Canadian history.
Dalhousie Faculty of Health researcher, Dr. Jennifer Isenor, is a regional investigator on the study examining adverse reactions to COVID-19 vaccines. The project is being coordinated by investigators with the Canadian National Vaccine Safety (CANVAS) Network. The CANVAS Network is seeking hundreds of thousands of participants (both vaccinated and unvaccinated) to take part in a web-based survey to document potential adverse reactions to the vaccines. Tracking vaccine safety is important and will determine whether and how often any adverse reactions occur after COVID-19 vaccinations. The results will be released regularly and may be reassuring in providing additional data on the safety of the vaccines and helping those who are still unsure about vaccination to decide to be vaccinated.
Dr. Isenor is an associate professor in the College of Pharmacy (Faculty of Health), and the Department of Community Health and Epidemiology (Faculty of Medicine) at Dalhousie. She is an investigator with the Canadian Center for Vaccinology and a founding member of the Pharmacists as Immunizers (PAI) Research Team. Her research focuses on a variety of immunization-related topics, including various studies assessing the role and impact of pharmacists as immunizers; pain mitigation strategies during adult immunization; the knowledge, attitudes, beliefs, and behaviours of immunization providers and the public, including vaccine hesitancy; and network surveillance of adverse events following immunization.
Her role is engaging pharmacists and pharmacy technicians in recruiting people they vaccinate to participate in the study. Since 2014, she has been involved with engaging pharmacist involvement annually for a similar study involving flu shots.
"We know that pharmacists and pharmacy technicians are going to play a key role in the phased roll-out of the COVID-19 vaccination, so it is critical they are on board with this project," she says. "Once again, this shows the value pharmacy teams bring as important members of the healthcare system."
Safety surveillance for pandemic vaccines
Investigators want to enrol 400,000 participants per vaccine across Canada, in B.C., Yukon, Alberta, Ontario, Quebec, Nova Scotia and P.E.I. They also aim to register a control group of approximately 50,000 unvaccinated participants to determine how often events similar to the adverse reactions reported amongst vaccinated people occur in the unvaccinated group.
Study participants will be asked to complete online surveys eight days after they receive the first COVID-19 vaccine, another eight days after the second dose–if they receive one–and then a final survey six months after that.
To learn more about the study or to register, please visit: www.canvas-covid.ca