»
Go to news main
"All hands on deck" hits a whole new level: Learners and staff pitch in to process COVID backlog, stay ahead of third wave
Posted by
Melanie Starr
on May 11, 2021 in
News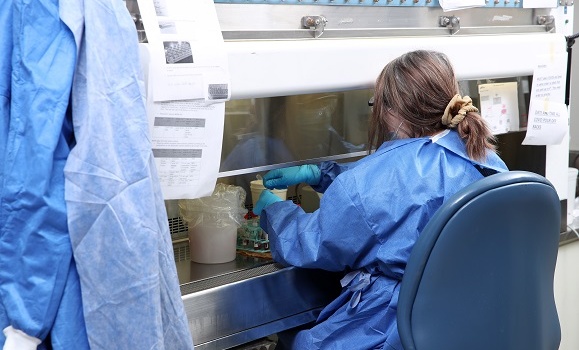 The speed and magnitude of the third wave of the COVID-19 pandemic to hit Nova Scotia's shores has prompted an extraordinary response.

In the last week of April, as droves of Nova Scotians chose to get tested, more than 80 Dalhousie Medical School residents, graduate students, medical students, and physicians on faculty, pitched in to help laboratory staff process the growing backlog of tests. And, they're sticking around in their new roles as much as they are needed, to ensure the province stays on top of the daily volume of tests to be processed over the coming weeks.
"The backlog was breaking our hearts," says Dr. Irene Sadek, head of Dalhousie's Department of Pathology, which works hand-in-glove with Nova Scotia Health to operate the province's clinical testing laboratories. "Testing is the first line of defence against the spread of COVID, because this is what allows us to trace and isolate contacts of infected individuals so we can contain the virus. We needed to eliminate the backlog of some 45,000 tests, so we could get Public Health the information they needed and to trace the contacts and track the numbers accurately."
To put an end to the backlog, Dr. Sadek sent an email to all residents in the Department of Pathology and to colleagues in the Faculty of Medicine on April 26, calling for reinforcements to assist staff members already working around the clock in the Microbiology Lab at the QEII Health Sciences Centre.
A quick response

People were quick to respond, jumping in to be trained in test-processing and data-entry procedures and to report to their stations.

"Everybody in the MacKenzie Building was already working on processing the tests--we had re-deployed staff from the other labs--but still we had a bottleneck in data entry and other parts of the process," notes Dr. Sadek. "So, with the influx of volunteers from Dalhousie, we had physicians doing data entry, residents labelling tests, graduate students prepping the vials."
Because of their laboratory experience, graduate students were able to quickly step in to safely perform the procedure of pouring the liquid medium from the vials that the swabs are immersed in at the testing sites, into smaller vials for molecular testing.
"I easily poured off a thousand tests during my last evening shift," says Jordan Lukacs, a second-year graduate student pursuing a PhD in cancer immunotherapy in the Department of Microbiology & Immunology. "I work with viruses all the time in Dr. Brent Johnston's lab in the Tupper Building, so I'm comfortable with the procedure."
As Lukacs explains, he wears gloves, a mask, a face shield and a gown to transfer the potentially virus-containing liquid from the larger collection vial to the smaller testing vials. The whole procedure is done in a fully ventilated biosafety cabinet that captures and contains any stray virus.
"It feels great to be part of this," says Lukacs of his sudden new volunteer role in helping put a halt to the pandemic's third wave. "I'm from Ontario, so I'm really glad to be in Nova Scotia, they are handling it so well."
Resident physicians lend their support

Pathology residents played a huge role in addressing the backlog and will remain on deck as needed in the coming weeks.

"I saw the email from Dr. Sadek and knew I wanted to pitch in," says Dr. Ola Kajetanowicz, a first-year resident in the Department of Pathology who has been working night shifts organizing vials and validating the accuracy of patient information. "There are so many volunteers out there at the rapid testing sites collecting specimens. This seemed like a relatively easy way to help my community through this third wave."
Even though she and many other residents are working extra night shifts to help the province keep up with the brisk demand for COVID testing, Dr. Kajetanowicz says that the associate dean of postgraduate medical education, Dr. Andrew Warren, has reassured residents that they will not suffer academically as a result of being re-deployed to COVID-related duties outside of their normal schedule.
"It's a really supportive environment and we are not expected to do our regular rotations the day after an overnight shift," she says, adding that the pace has slowed down a bit now that the backlog of 45,000 tests has been cleared.
Clearing the backlog has allowed the province to quickly identify and advise close contacts of infected people to self-isolate, reducing the chances of further spread. It has also revealed the true upward trend of COVID-19 infections in the province, making it a pivotal achievement in efforts to subdue the pandemics's third wave.
Miracle Workers
"To put this effort into context, over the past week to ten days we have tested more people per capita than anywhere in the country," says Dr. Todd Hatchette, Dal pathology professor and chief of the Division of Microbiology at Nova Scotia Health. "In fact, on May 3 we tested more people than B.C., Saskatchewan, Manitoba, Yukon, Northwest Territories, Nunavut, New Brunswick, P.E.I. and Newfoundland combined, with 19,185 tests completed."

Dr. Hatchette calls the no-holds-barred effort to conquer the backlog "an unbelievable feat." As he noted in an email to all those who helped and continue to help out, "It has been a challenging week with volumes we would never have predicted and without your hard work and support as a volunteer, this could not be possible. You all should take great pride in how we have come together as a team to make this possible."
Dr. Robert Strang called the lab staff, learner volunteers and re-deployed residents and medical staff "miracle workers" at a press conference on Wednesday, May 5. One week earlier, the staff had hit an all-time high of more than 22,000 tests processed in one day.
"When you consider that our typical volume of tests per day in the Microbiology Lab before the pandemic was 800, you really get a sense of the magnitude of this effort," says Dr. Sadek. "These are truly heroic efforts to limit the spread of the COVID variants that are now circulating in our community. This is critically important, because the variants spread faster, they're attacking younger people, and they're causing more serious, rapidly progressing disease."
With such high testing capacity, the sure guidance of Dr. Strang, and leaders who do not hesitate to act swiftly to initiate restrictions, Dr. Sadek is confident Nova Scotia will soon see a downtrend in the number of new cases.

"I have faith in Nova Scotians to follow the rules and do their best to help bring this new wave under control," she says. "As the vaccine program rolls out to more and more of the population, we will finally be able to look forward to opening back up again."