News
»
Go to news main
Grad Profiles ‑ Class of 2021 ready for what comes next: Perseverance on the path to graduation
Posted by
Melanie Starr and Jason Bremner
on May 21, 2021 in
News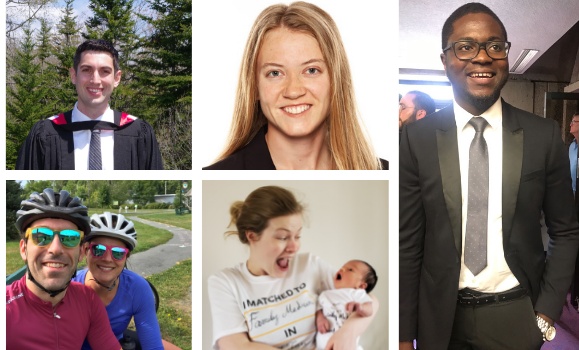 Convocation is a special time of year at Dalhousie Medical School; the culmination of so many journeys and experiences, a celebration of both time spent on campus and exciting new chapters set to begin.
Although convocation will once again be celebrated virtually, 106 medical students have earned the right to be called "doctor" and to join the profession of physicians. Here are the stories of just a few of them:
From Russian to medicine, with love:
Kelsey Holt brings passion and compassion to her work
Kelsey Holt has taken a somewhat unusual path to a career in medicine, with many different experiences along the way--such as completing a combined honours degree in Neuroscience and Russian Studies, working in long-term care since age 16, and competing in equestrian sports. As diverse as her experiences have been, compassion is the common thread.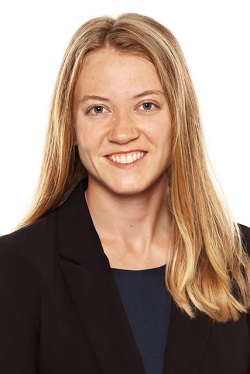 "I had always wanted to learn a second language and when my Dal advisor mentioned Russian, I thought 'wow that's really unique'," she recounts. "I had been interested in neuroscience from high school and became fascinated with the neuroscience of language learning since I was experiencing it first-hand. I ended up doing an exchange in St. Petersburg, Russia for a whole summer. It was challenging as I was not confident speaking the language and not familiar with the culture. I empathize with the challenges facing people who are the minority in a community, and I will carry this forward in my efforts to provide culturally competent care to my future patients."
When the first wave of the pandemic hit, not only was Kelsey's education disrupted, she also found herself up to her elbows providing personal care to the residents of Northwood, hard hit by the virus.
"It was honestly a very sad experience, because it was obvious how much the residents were being affected by the isolation," says Kelsey, who did her best to provide residents with a sense of human connection. "What was impressive was how quick people were to step up and help."
She was struck, too, by how physically taxing it is to provide personal care, and says, "Long-term care homes need to protect and cherish every single one of these employees because they are absolutely essential given our growing aging population in Nova Scotia."  
There was no one defining moment that crystallized Kelsey's decision to enter medicine. It was rather the accumulation of her exposure to health care through her nurse practitioner mother, her own work in long-term care, and learning about the social determinants of health in an undergrad sociology course.
"If anything, that course pushed me to pursue medicine because I learned how people's health is so often not in their full control," she says. "I wanted to be in a position to advocate for society-level changes to address that."
After graduation, Kelsey will begin her residency training in family medicine at Dalhousie's North Nova site, based out of Truro.
"I loved every single thing I did during clerkship and so I chose this residency because I see family doctors as the ultimate generalists," she says. "Especially in rural areas, they often end up managing very sick patients of any age, with any illness, and doing lots of procedures. The 'swiss army knife' of doctors, if you will."
The person she says has been most critical to her success is her riding coach. "She taught me the importance of hard work, resilience and the ability to take constructive feedback that isn't sugar-coated," explains Kelsey. "She used to say: Proper Preparation Prevents Poor Performance. This learning has been crucial to my success in medical school."
And when she's not pouring her heart and soul into her patients, Kelsey can be found on the dance floor, performing and teaching the lindy hop and other swing dances she first discovered at a Dalhousie society fair. "I fell in love with the energy of the dance, the history of its creators--Black dancers in Harlem--and the group choreographies. It was easy to continue teaching while in medical school. I felt a similarity between connecting with other dancers and connecting with patients. I even had the pleasure of teaching several classmates who came to my lessons!"
Sibling inspiration:
Brother's ordeal prompts Deji Ologbenla to choose pediatric path
Growing up in Lagos, Nigeria, Deji Ologbenla's innate compassion was stirred by the pain he saw his younger brother suffer as the result of sickle cell anemia.
"Witnessing him deal with pain crises as a child shaped my sense of empathy for sick children, and my compassion for their families," Deji explains. "His ordeal kindled my interest in pediatric medicine."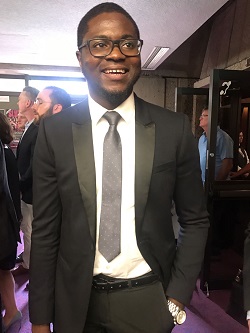 Deji's interest in working with children was reinforced by many positive experiences as a young person. "Whether I was volunteering in mentorship programs or with the children in my local church, I have always enjoyed working with kids," he explains. "They are not just little adults, they are inquisitive, resilient, fun to be around and have so much potential to grow and learn."
These early experiences inspired Deji to embark on the path to a career in medicine, with an eye on pediatrics.
In 2011, he moved to Canada to pursue an MSc in Biochemistry at the University of Toronto, before moving to Halifax to embark on his medical training. Now that he's here, he doesn't want to leave: "My family and I have fallen in love with the city and hope to make this our home long-term!"
Deji is delighted he will be able to stay in Halifax to complete his pediatric residency training with Dalhousie.
"I enjoy working in a team and using clinical reasoning to untangle and solve complex cases, and I know a career in pediatrics will avail me of these," he says. "The program is great and the IWK is such a warm and collegial environment to work and learn in."
For Deji, the most challenging aspect of medical school was juggling his multiple responsibilities as a student, husband, new father, son, and sibling.
"There never seemed to be enough time, as schoolwork was relentless," he says. "I had to learn to prioritize tasks and get better at communicating with my spouse. I had to find a balance that worked for me and my family. I am still learning to gracefully say no, without feeling guilty, so I can juggle other responsibilities outside of medicine."
The uncertainty that came with the COVID-19 crisis and the pausing of the third-year clerkship was also stressful. The Class of 2021 pulled together with such resilience to help out with the pandemic response, however, that Deji was reassured: "I learned that it is possible to make the best of difficult situations if you have friends or colleagues who are pulling together in the same direction."
The PLANS team also provided Deji with invaluable support during his time in medical school, as well as opportunities to pay his support forward.
"I'm passionate about Black representation in medicine," he says. "I have mentored high school kids as well as undergraduate students in the past and look forward to finding ways to advocate for more African Canadians in medicine and health care."
As he prepares to embark on his residency, Deji is keeping an open mind about his eventual career path.
"General pediatrics offers a little bit of everything, and neonatology and hematology-oncology fascinate me," he says. "I'm not sure if I will pursue community or academic practice yet. Having experienced my brother's ordeal with sickle cell pain, pediatric pain research is also something I am thinking of exploring."
From the bar to the clinic:
David Faour makes the leap from law to medicine
It's not often you will find a physician who also has a background in law, but that's the perspective Class of 2021 graduate David Faour will be bringing into his future medical practice.
"Medical school had never been on the radar for me," says Newfoundland native David, who begins his family medicine residency training with Dalhousie in Halifax on July 1. "I'd always considered myself more of an 'arts' person than a 'science' person, so I never even thought about medical school. I enjoyed writing, I was on the debate team, I followed politics; law school just seemed like a natural choice for me."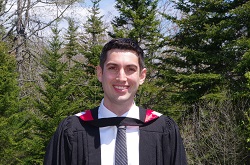 But David is married to a family doctor, Dr. Sarah Faour, who completed her family medicine residency with Dalhousie in Kentville while he was articling with a law firm in the area. One day when they were out hiking, and he was expressing his misgivings about his career choice, she jokingly suggested he apply for med school. He didn't jump on the idea at the time, but the seed had been planted.
"Back at the law firm, I was doing a lot of personal injury work, and a big part of that was reading physicians' reports outlining assessments, management plans, and prognoses for injured clients. The more I read those reports after that fateful conversation, the more interested I became in the medical aspect of the cases," he recalls. "In particular, I was intrigued by the relationships that physicians had with their patients. Medicine struck me as a very social profession, where relationships are fundamental. After that, there was really no way out of it."
While it was terrifying to leave the path he'd been travelling for so many years, David has no regrets and says, "Medicine is the right fit for me."
Surprisingly, David was able to bring his law experience to bear on his medical studies, with his Research in Medicine project and a subsequent project he completed under the supervision of former Dean of Medicine and vaccine policy researcher, Dr. Noni MacDonald. His RIM project examined the legal implications of "over-warning" by vaccine manufacturers, while his second project examined, compared and contrasted vaccination laws of 28 different countries, in order to provide recommendations to countries looking to reform their immunization policies.
"My work with Dr. MacDonald on these projects has really helped me foster my own personal interest in and passion for vaccine law and policy," he says, "something I'm hoping to continue advocating for in residency and beyond."
Completing his last two years of medical school under pandemic conditions has been difficult but not overwhelming, thanks to Nova Scotia's relatively low caseload and the support of the university and his classmates.
"I was impressed with how well-connected our class stayed during COVID," says David. "We had regular video chats, socials, Jeopardy night, and even twice-weekly 'Isolation Grand Rounds' where students created presentations, from scratch, on medical topics and taught them to the class."
For David, the most challenging aspect of medical school has been time away from his two young children, Harriet, 5, and Arthur, 21 months. On the other hand, it has been incredibly helpful to be married to a fellow physician. "I feel fortunate to have a partner who understands what I'm going through, because she's gone through it herself," he says. "Her support for me has been unwavering, whether I've been on call or studying all weekend. I couldn't ask for a kinder, more generous, or understanding partner."
Grace under pressure:
Grace Dao manages motherhood and medical school with purposeful intention
The final year of medical school is incredibly challenging for students. Managing electives and conducting CaRMS interviews is stressful enough. Factor in the added difficulties of the COVID-19 pandemic, and it's almost impossible to comprehend how much the Class of 2021 has accomplished.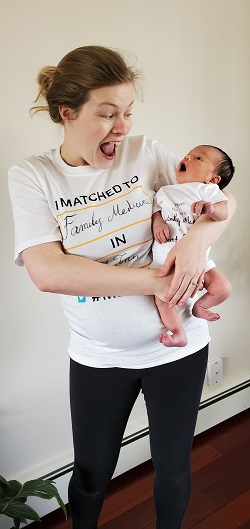 Yet Grace Dao, in keeping with her name, managed these responsibilities with aplomb, all while preparing to welcome the newest member of her family--her infant son, Ernie.
"It was definitely a bit chaotic and plans changed multiple times," says Grace. "It was hard being pregnant and not knowing where I would end up for residency, but I found my preceptors were very understanding and supportive. I tried to focus on one day at a time, with varying success, but because of that, I was able to have a positive fourth-year experience."
While intently focused on completing her medical education, Grace made the purposeful decision to prioritize her life goals and relationships outside of medicine. As a result of this courageous decision, she and her husband made the equally courageous decision to grow their family in the midst of a pandemic.
"I have definitely grown in terms of knowing how to better integrate these things," says Dr. Dao. "I have learned that I study more efficiently and provide better patient care when my relationships are healthy and when my day-to-day activities and choices align with what is important to me."
Her holistic approach to life also drew Grace to pursue residency training in family medicine in her home province of New Brunswick.
"I wanted to pursue primary care because, more than any other field of medicine I have encountered, it values the patient relationship," she says. "Family Medicine combines my love of education and preventative medicine, my passion for communication, and the opportunity to walk alongside the most vulnerable and build relationships."
Her desire to pursue medicine was ignited by her experiences in Guatemala, first on a church mission and later on medical trips where she worked alongside her physician father in community clinics. She found that learning Spanish was the key that unlocked a deeper understanding of the power of communication.
"I was amazed at how a few words allowed me the privilege to show care and honour to people who are often oppressed and undervalued," she recalls. "I was humbled by how knowing Spanish allowed me to communicate a diagnosis and speak to people in a way they could understand and appreciate. There was something about the learning of a new language that allowed me to grasp how grateful I am to be able to communicate in general, and how applicable and rewarding it is to use this skill in medicine."
As Grace  prepares to set off on two very profound journeys in her life--motherhood and medicine--she is quick to acknowledge that her accomplishments to date would not have been possible without the support of her husband, family, faith, friends, and community.
"They have all been so supportive throughout my medical journey," says. "They have provided everything from timely words of wisdom, much needed laughter, help around the house, prayers, shared tears and so much more."
She also recognizes that her four years in medical school were much different than her peers' – and that's okay.
"My career trajectory, the way I study or prioritize, doesn't have to look like my peers," says Grace. "Accepting this helps me to be able to genuinely celebrate my peer's successes without insecurity and adapt my learning to my own unique needs."
And now, with graduation upon her and her residency placement secured, she says, "I am beyond excited to practice as a family physician. I plan on staying in New Brunswick and setting up my practice here."
Renaissance Man:
Louis Martin proves you CAN do it all and get your medical degree too
After 10 years of educational exploits at Dalhousie, Louis Martin is set to graduate from medical school with a clearer picture of who he is and what he is meant to be doing. And that seems to involve a little bit of everything and a lot of human connection.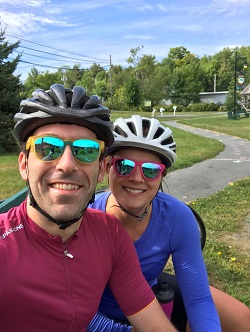 Growing up with a mother who is a family doctor, it might seem like a foregone conclusion that Louis would pursue a career in medicine.  But this was not his original plan. It was only when he was knee deep in sequencing the genomes of single-celled algae for his honours in biochemistry and molecular biology, that he realized something was missing. The work, while interesting, lacked an immediate connection to helping people.
Louis then turned his attention to a pharmacology degree, focusing on chemotherapeutic agents for ovarian and prostate cancers. Although this pursuit proved closer to what he was looking for, he couldn't shake that nagging feeling that something was missing. His work was helping people, but it lacked human interaction. So, he made the plunge and applied to medical school.
Now that he is on the brink of holding that MD degree in his hand, Louis has made human interaction his priority, choosing residency training in family medicine in Halifax. A former freestyle skier and coach of Nova Scotia's provincial freestyle ski team, he plans to pursue additional training in his subspecialty interests of sports medicine and emergency medicine.
"I think what really drew me to these areas, particularly family and emergency medicine, was the scope of presentations that you get to see in the run of a day," he says. "I found my time in specialized fields less enjoyable, as I would always be thinking about the types of patient presentations I would be missing. I think that I come from a fairly multi-faceted background and that is partially responsible for me choosing these fields."
The most challenging part of the pandemic year for Louis was being pulled from the clinical setting for the first three months of the 2020 lockdown, and not seeing his classmates in person. But his spirits were buoyed by the efforts of the Class of 2021 to keep everyone in touch and to seize and create as many new educational opportunities as possible. "I think a big lesson that I learned throughout COVID is that embracing the unknown and leaning into those feelings of uncertainty can build resilience in the long term," he observes.
An avid athlete and long-time participant and later coach in the Kids Run Club, one of the highlights of Louis' time in medical school was taking part in the Heartland Tour, a campaign to promote physical activity. "Myself, Dr. Nick Giacomantonio and other medical students provided free diabetes screenings to identify people who may not have known their prediabetes and diabetes risk," he says. "I actually had so much fun on the Tour and grew to enjoy cycling so much that my wife and I joined the Tour the next year for our honeymoon!"
He admits that one of the keys to his success in medical school was to stay connected to his passions outside of medical education, and he thus spent countless hours running, cycling and staying physically active.
Music is another passion that carried him through. "I come from a very musical family and can play around a dozen instruments. I came into medical school thinking that my musical life would have to be put on hold, however I was sorely mistaken," Louis says. "Some of the best times I had in medical school were participating in the yearly Euphoria variety show in the class band, as well as playing trumpet in the Tupper Band."
Another highlight for Louis has been his involvement in the Dalhousie Medical Students' Society's French in Medicine Interest Group.
"My family is Acadian, and I grew up speaking French, but as an undergraduate in a predominantly English-speaking school, I felt like I lost my roots with my French-speaking abilities," he recalls. "I started going to the French in Medicine events to rekindle my fluency, but after several patient encounters where I was the only one available on the service to communicate with Francophone patients, I knew I wanted to play a role in highlighting the importance of incorporating French language skills in medicine."
In second year, he stepped into the role of leader of the French in Medicine group, and travelled to Ottawa to participate in L'Association des facultés de médecine du Canada's annual Ambassadocteurs de la santé en français meeting. "Strengthening my French-language skills in the medical context has proven useful and is something I hope to carry forward and share with others throughout my professional career, he says. "I'm proud to say that the French in Medicine Interest Group continues to put on student-led activities for Dalhousie students in all years of medicine."