News
»
Go to news main
It's time you knew: Dal alumna urges women to be their own best advocates
Posted by
Jennifer Lewandowski
on July 14, 2021 in
News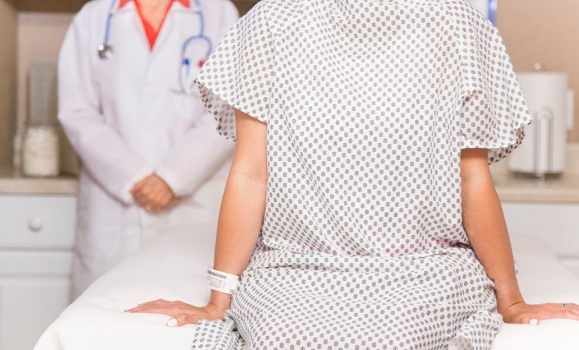 As a gynecologic oncologist with more than 25 years of experience, Dr. Valena Wright (MD '87) sees the potential to stop women's cancers.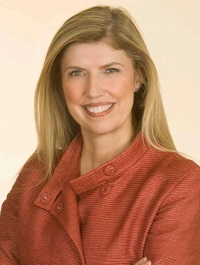 This lifesaving goal is possible through comprehensive screening, early interventions, immunizations, and riskreducing surgery, says Dr. Wright in her new book, It's Time You Knew: The Power of Your Choices to Prevent Women's Cancer.
Tragically, she has witnessed the impact of women's cancers far too close to home, with the loss of her sister, Debbie, to ovarian cancer in 2015. As Dr. Wright describes in her book, Debbie's initial symptoms seemed so subtle she didn't even mention them to her gynecologist sister as she went about her busy life.
After Debbie's diagnosis, Dr. Wright carefully reviewed her sister's medical records, pathology report and genetic test results. Based on her analysis, she recommended her other two sisters undergo risk-reducing surgery, and she opted for the same course of action for herself. This type of surgery can be done in a minimally invasive fashion by most gynecologists. As it turns out, Dr. Wright's recommendations saved her youngest sister's life. As a result of surgery, a silent precancerous lesion was detected and cured—thanks entirely to the risk-reducing surgery.
In addition to protecting herself and her family, Dr. Wright was determined to send a powerful message to women everywhere about the vital importance of paying close attention to signals from their bodies and seeking care immediately when they notice something unusual.
"Many women still believe that cancer is either going to get them or it isn't and they can do nothing about such an expectation and this is such a disempowering belief."
"The truth I've learned from my practice as a gynecologic cancer surgeon is that cancer is easier to prevent than treat and the earlier a diagnosis is made, the better," says Dr. Wright.
To drive home this point, Dr. Wright decided to write a book that is equal parts call to action and cautionary tale. With great sensitivity, she shares stories of women in her practice who experienced dramatically different results based on their access to cancer screening, HPV immunizations, genetic testing and riskreducing surgeries. Decisions to seek timely medical care for symptoms was one of the most important choices women made.
"Some of the stories are simply heartbreaking, such as a woman who died just as she and her husband were on the verge of being able to go on the trip they had dreamed of and saved for their entire lives," she recounts. "Others are just so encouraging, when you see first-hand the impact of new technology, such as robotic surgery, when the cancers are caught early."
From her deep experience, Dr. Wright has four key pieces of advice for women:
Do not deny your symptoms— get them checked out right away. Symptoms are your body's nudge to pay attention.
Do not tolerate your pain—be your own best advocate when something hurts.
Learn to communicate with your doctor to get the best health care possible.
Incorporate risk-reducing actions as part of your health care.
"I've seen too many women suffer with cancer because our medical system is not designed to prevent women's cancer," asserts Dr. Wright, noting that of the five gynecologic cancers, there is only a screening test for one: cervical cancer. "These women lacked access to medical care or, despite access, failed to act when symptoms first showed up. They didn't realize how their lives would have changed if they had paid attention to their bodies, addressed their concerns when something felt off, and known how to talk to their doctors to get the tests they needed."
Dr. Wright's message to her peers in medicine is equally clear: "Listen closely to your patients' symptoms, as this is the key to diagnosis in the absence of effective screening tests. Take women's concerns seriously and act promptly to order tests and request referrals. And make sure to be proactive in obtaining and acting on risk derived from the family history."
Even though gynecologic cancers are deadly, Dr. Wright is not a fan of scare tactics and dire warnings.
"People make better choices when they have the necessary knowledge. As health care providers we have to inspire them to make healthier choices that will allow them to enjoy their life and the gift of good health," she says.
As Dr. Wright explains in It's Time You Knew, obesity is the number one risk factor for most uterine cancer as well as some types of endocervical and ovarian cancers. It is also the most difficult risk factor for physicians to address with patients, due to stigma, embarrassment and the fear of offending a patient. Nonetheless, physicians must address obesity as a disease and work more closely and effectively with partners in the community to connect women to nutritional counselling and other wellness supports.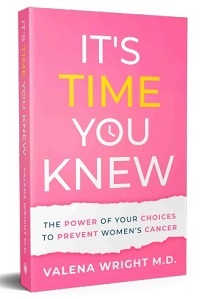 She says that the focus on exercising to lose weight takes the fun out of physical activity and turns it into yet another chore for women, who are often overloaded already with too much on their plates. And, she adds, many women suffer from martyr syndrome and its attendant and very unhealthy emotions of resentment and bitterness: "The message to women must be 'not only do you need to put yourself first, but they need you to put yourself first.'"
As a native of PEI, Dr. Wright grew up cross-country skiing, skating, and doing watersports. "I was so fortunate to grow up with a love of sports and moving my body for the sheer enjoyment of it," she says. "I am encouraged by the fact that some doctors are now writing prescriptions for exercise, this is a great step in the right direction."
After completing her medical degree at Dalhousie, Dr. Wright did a rotating internship at McGill University. She then moved to Boston for training in obstetrics and gynecology, and gynecologic oncology, at Brigham and Women's Hospital and Harvard Medical School. She feels a strong sense of mission now to share her message not just with her fellow physicians, but with women directly. As she notes, "The thing is, what a woman does every day of her life, the lifestyle choices she makes, are a lot more important to her health and cancer prevention than what happens during an annual check-up at the doctor's office."
This story is also available in the Spring 2021 edition of VoxMeDal. Dr. Wright's book is available on Amazon.