»
Go to news main
Researchers study best approaches to possible adverse events following COVID‑19 vaccination
Posted by
Michele Charlton and Jennifer Lewandowski
on August 12, 2021 in
News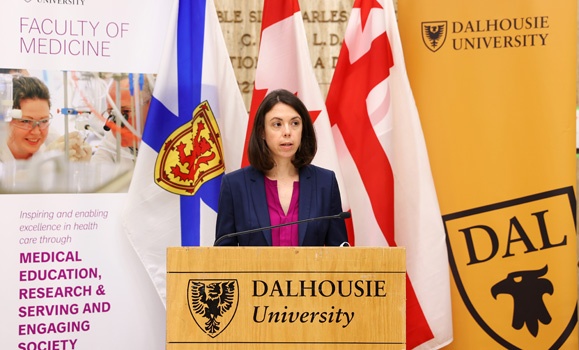 An $800,000 investment has been made in a study that aims to further improve Canada's identification and response to adverse events people may experience following COVID-19 vaccination across 10 provinces.

On Thursday (August 12), on behalf of the Honourable Patty Hajdu, Minister of Health, Andy Fillmore, Member of Parliament for Halifax, highlighted the Government of Canada's commitment to research on COVID-19, and a project led by Dr. Karina Top (shown left) from Dal's Faculty of Medicine and lead investigator of the Canadian Immunization Research Network's (CIRN) Special Immunization Clinic (SIC) Network.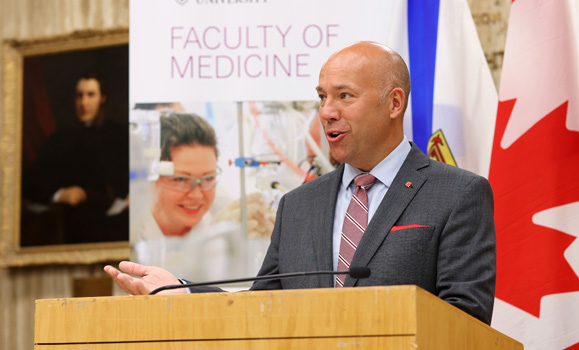 Andy Fillmore at the funding announcement event.
The study, which was announced in July 2021, is an extension of an existing vaccine safety program that provides important public health information about adverse events following immunization (AEFI) for all vaccines authorized for use in adults and children.
"While the benefits of the COVID-19 vaccination continue to outweigh the risks, when a person develops an unexpected or serious adverse event that requires medical attention, it is important to determine the possible role of the vaccine and the safety of giving future vaccine doses to this specific person or to people with similar adverse events," says Dr. Top.
Rapid response

Researchers like Dr. Top have been able to take advantage of rapid response funding opportunities announced by federal and local agencies to develop better diagnostics, therapeutics, and preventative measures to address the pandemic.
"The COVID-19 pandemic has had a profound effect on research like most of our other daily activities in our region over the past 18 months," says Dr. David Anderson, dean of the Faculty of Medicine at Dalhousie. "Nonetheless, throughout the ups and downs of this year, our scientists have made the most of unforeseen opportunities and have demonstrated a sustained resolve to serve and engage society and inspire and enable excellence in health and healthcare through medical education and research programs."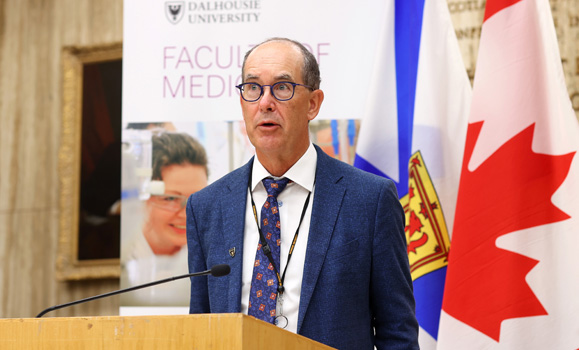 Dr. David Anderson.

The SIC Network was established in 2013, and now has 17 sites covering 10 provinces. The network also has international links to align with international standards, and to incorporate global evidence into the Canadian context. To be included in the study, patients who experience an adverse event following COVID-19 vaccination must be referred to the SIC Network by a healthcare provider for further assessment. This may include a detailed medical history, additional investigations such as allergy skin testing, and treatment such as supervised re-vaccination for any allergic reactions. The SIC Network may also coordinate referrals to other specialists to help confirm the diagnosis.
"The COVID-19 vaccines authorized by Health Canada have been incredibly safe, especially considering the billions of people worldwide who have received a vaccine and the small number of adverse events to date," says Vaccine Surveillance Reference Group (VSRG) Co-Chair Dr. Scott Halperin, who is also a co-investigator on the study and Nominated Principle Investigator of CIRN. "That said, vaccine safety surveillance is extremely important. We must systematically document and follow up with patients who experience a medically significant or unexpected adverse event. This information is needed to ensure patients receive appropriate care and recommendations on future vaccinations. The findings also help public health officials make important decisions regarding vaccines, when necessary."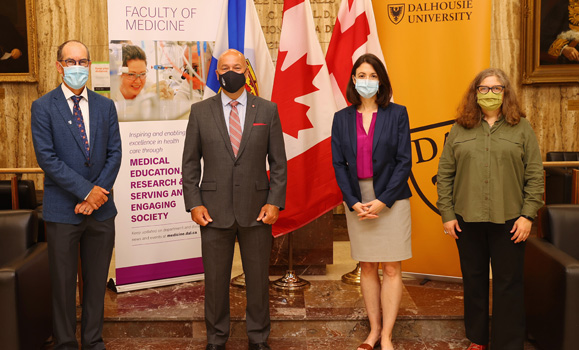 Strengthened partnerships

The Canadian Center for Vaccinology — a collaboration of IWK Health, Nova Scotia Health and Dalhousie University — where much of Dr. Top's work will take place is a great example of how COVID-19 has benefitted research activity and strengthened Dalhousie's healthcare partnerships.
"We are so very proud of our researchers who are serving our country at this time. The important work being done by Dr. Karina Top is ensuring that the COVID-19 vaccines we are using are both effective and safe."
The results of this research will be reported on a regular basis to federal and provincial/territorial public health authorities and advisory committees.
For more information, visit SIC Network website.