News
»
Go to news main
Showing up: Physicians brave another weekend snowstorm to administer vaccines
Posted by
Jane Gaffney
on February 11, 2022 in
News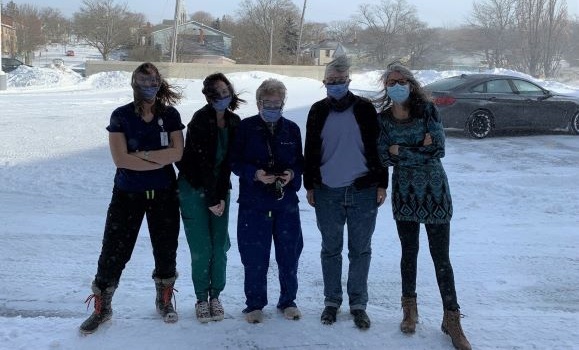 Department of Family Medicine (DFM) physicians showed up on the weekend to administer COVID-19 vaccines to Nova Scotians despite a powerful storm that left thousands without power. Many appointments were canceled due to the inclement weather, but that did not stop the rate of immunizations. "Some people couldn't make their appointments, but those appointments were backfilled because people were so eager to get the vaccine," says Dr. Joanna Zed. In the face of another messy snowstorm, showing up is a testament to the fortitude and dedication of the DFM team.
Beyond the call
Though compensated, the clinics are in addition to the already tremendous physician workload. The DFM responded to a request from the Nova Scotia Department of Health and Wellness (NSDHW) and Nova Scotia Health (NSH) who were exploring the option of having community-based collaborative primary care clinics support COVID-19 vaccine administration. "This is a strong team who wants to be helpful to the health of Nova Scotians," says Dr. Zed. "I am just so proud to be part of a team that is dedicated to being of service to the community, and that will step up when asked to be of assistance."
Last spring, DFM staff held multiple mass vaccine clinics to administer both the first and second round doses of COVID-19 vaccine. "This time it is different," explains Dr. Zed, "this is every day, one to four of us are administering vaccines for anywhere from two to six hours, even on weekends." This effort has contributed to increased immunizations, with 2,420 vaccines administered at their clinics since January 14, 2022.
The DFM faculty members are not the only ones contributing to this ongoing effort. Several community-based physicians and nurse practitioners have also stepped up to support the initiative. The unsung heroes however, are the clerical and administrative staff, says Dr. Zed, "I can't count the hours they have worked above and beyond to input information in the system, order vaccines, and to maintain the cold chain. They show up with upmost professionalism, making it an efficient, well-oiled machine."
A team effort

With a mass collaborative effort across organizations and roles, the dedication to ensuring the health and safety of Nova Scotians through the vaccine program keeps the momentum and motivation for DFM physicians to keep showing up.
The Department of Family Medicine would like the thank and acknowledge all the physicians, nurses, nurse practitioners, and NSH and DFM staff who have contributed to this important work.
The DFM vaccine clinics will run through the end of February.