News
»
Go to news main
Institute empowers next generation of Dal researchers training to tackle cancer
Posted by
Carla Ross
on February 15, 2022 in
News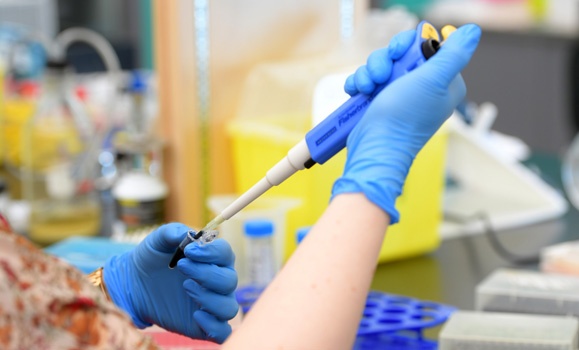 Ten Dal students have been selected by one of the university's leading-edge research institutes to receive funding for training that will help them launch their careers in cancer research.
The Beatrice Hunter Cancer Research Institute (BHCRI) — a Dal-based institute that facilitates the training with funding from partner organizations —  has awarded $338,000 to the students, which will provide stipend support over the next two years as they pursue key research priorities.
"Research is essential to improve cancer treatment and benefit cancer patients and those at risk of developing cancer," says Dr. Gerry Johnston, scientific director with BHCRI.
This year's trainees will pursue research encompassing a variety of key areas, including:
molecular changes causing cancer
exploration of novel, targeted therapies
improved diagnostic approaches
innovations in health-care delivery
strategies to decrease the risk of cancer
Funds supporting the trainees have been provided by the Canadian Cancer Society's JD Irving Limited - Excellence in Cancer Research Fund and the CCS's Carol Ann Cole Comfort Heart Studentship, Dalhousie Medical Research Foundation, GIVETOLIVE, Saunders Matthey Cancer Prevention Foundation, and the Terry Fox Research Institute's Marathon of Hope Atlantic Cancer Consortium.
Related reading: Student researcher wins Research Impact Canada award for engaged work with childhood cancer survivors

Collaborate and connect

The students are part of the institute's Cancer Research Training Program (CRTP), which enables participants to take part in collaborative discussions and establish connections in the cancer field.
"CRTP supports the training of the next generation of cancer researchers and provides bright, young trainees with the opportunity to launch their cancer research careers," says Dr. Johnston.
Over the past decade, BHCRI has awarded nearly $6 million to more than 160 trainees at Dal.
Further reading From concept to cancer treatment: Dal Medical Physics researchers license new technology with Brainlab
Many CRTP alumni are now leaders in their fields and have gone on to hold prestigious positions at academic institutions (including one Canada Research Chair), industry and health care centres around the world.
BHCRI was formed in 2009 with a gift provided to the Dalhousie Medical Research Foundation and provides a venue for collaboration and training to bolster the cancer research effort in Atlantic Canada. BHCRI became a formal Dalhousie institute in 2017.
Here are Dal's 2022 recipients:
Raj Pranap Arun, Department of Pathology
Farideh Badichi Aker, Department of Biochemistry and Molecular Biology
Elias Habib, Department of Pathology
Jae Ho Han, Department of Surgery
Naeimeh Jafari, Applied Oral Sciences
Michaela Kember, Department of Microbiology and Immunology
Stephanie Kendall, School of Health and Human Performance
Jodi Langley, Faculty of Health
Rhea Nickerson, Department of Microbiology and Immunology
Learn more about this year's recipients from other institutions and about BHCRI alumni.