News
»
Go to news main
Faculty of Medicine invites visiting scholars to guide anti‑oppressive practice
Posted by
Kate Rogers
on March 21, 2022 in
News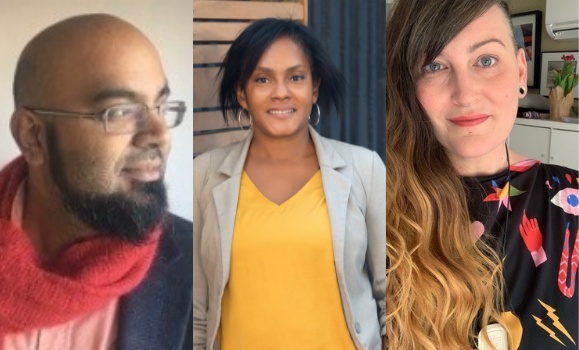 Dalhousie's Faculty of Medicine is changing the way it addresses racism in its programs and practices and, in turn, asking itself some tough questions.

"How can we run a medical school where policies and practices are designed with an anti-oppression lens? How can we challenge ourselves to reframe programs to follow this path?"

Thanks in large part to the efforts of Dr. Gaynor Watson-Creed, the Faculty's associate dean of serving and engaging society, and her recruitment of visiting scholars, the medical school is uncovering some answers.

The Visiting Scholar for Equity Diversity Inclusion and Accessibility (EDIA) program, initially unnamed, evolved organically beginning in January 2020 when Dr. Watson-Creed joined a panel on confronting structural white supremacy in public institutions organized by MacEachen Institute fellow, Ajay Parasram, an interdisciplinary political scientist in the Faculty of Arts and Social Sciences. The session led to further discussions between Drs. Watson-Creed and Parasram who began preliminary talks about a possible White Fragility Clinic. The idea would be to host an online seminar series providing a safe and non-judgmental space to explore issues such as the concept of whiteness and its role in racism, and to build and practice racial resilience in attendees.

"He was excited about it, I was excited about it, and we discussed that the best way for that to happen would be for him to have some dedicated time with the Faculty of Medicine to help us develop the clinic," Dr. Watson-Creed recalls of the initial planning. Once Dr. Parasram was on board, it suddenly became a question of: "How have we come this far in our EDIA work without having somebody like him with us?"

Dr. Parasram, though he lacked the formal title, was the first visiting scholar working with Dr. Watson-Creed. In January 2022, Eli Manning began her term as the second visiting scholar in the Faculty. Like Dr. Parasram before her, Dr. Manning will share her time between the medical school and the Faculty of Health where she works in the School of Social Work.
A safe space for questions
 
Dr. Watson-Creed and Dr. Parasram, who holds appointments with the departments of International Development Studies, History, and Political Science, decided on a combination communication model for the White Fragility Clinic. Dr. Watson-Creed would be the established medical professional in the room and Dr. Parasram the social scientist, answering technical medical questions and discussing the broader structural analysis of society or history, respectively.

"It's almost like it was a dance," says Dr. Parasram. "We've been able to dance together around this really effectively, and I think it was our ability to interact with one another that helped to create a space where people felt really comfortable to talk about things that they have never had an open space to talk about before."

The White Fragility Clinic, which is currently offered to Dalhousie Medical School faculty and staff, as well as local healthcare partners, has welcomed more than 150 attendees into the safe and confidential space since its initiation in fall 2021, and uncovered some truths for both participants and organizers.

"We have been stymied in our EDIA efforts around anti-racism by trying to have a conversation about racism without talking about the central role that whiteness plays," says Dr. Watson-Creed. "Racism is organized around whiteness and around structural white supremacy, so we kind of had this 'aha' moment that we insist on talking about racism without ever talking about whiteness. What is the point of that?"

And so, from the White Fragility Clinics emerged the crucial need for the Faculty of Medicine to discuss whiteness as a construct. For those participating in the clinic, particularly those who have attended multiple sessions, the positive changes are already evident.

"What I have seen is a sophistication of people's racial resilience," says Dr. Parasram. "We're starting in one place, which is almost devastating racial fragility as a result of never having to talk about these things, and when people come repeatedly and participate in the conversation we give them the tools, give them confidence, and give them practice space so that they start leading conversations."
Guiding anti-oppressive practice

As Dr. Parasram neared the completion of his time as visiting scholar, Dr. Watson-Creed had already been searching for the next: an individual who could help guide the Medical School on an anti-oppressive practice path.

"We were looking for folks who understand the clinical environment that we practice in, the professional practice environment that we practice in, and anti-oppression, and that's a fairly small group of people who can navigate all of those things," says Dr. Watson-Creed.

Dr. Manning's experience fit the bill, she says, noting she is a scholar in anti-oppressive practice but also somebody who could easily understand the clinical context that medicine operates in.

When Dr. Manning, whose background is in Indigenous studies, gender and sexuality studies, community health social work, and disability activism, received a call from Dr. Watson-Creed, she was intrigued by the Faculty's plan of incorporating an anti-oppressive framework. Although they had never met, the two shared a similar view on how the Medical School is looking to revise and had the same understanding of critical race theory as the central point of anti-oppressive frameworks.

"It was exciting," says Dr. Manning of being part of the Faculty of Medicine's anti-oppressive practice path. "I think it's really critical that medicine is taking the bull by the horns and trying to make some impactful structural change rather than just superficial."

In addition to co-leading the White Fragility Clinic, Dr. Manning will collaborate on initiatives to reframe undergraduate medical curriculum under an anti-oppressive framework. She is also involved with the Medical Education Institute, an annual day-long faculty development event in June that focused on disrupting oppression in the learning environment.

Beyond this, both Drs. Manning and Parasram are part of the medical school's anti-oppression subcommittee, whose focus is to develop the overarching framework of anti-oppression to guide curriculum development and suggest content through which the framework can be shared with undergraduate medical learners. Because of the work of this committee and others such as the Priority Communities Working Group, along with key medical scholars like Drs. OmiSoore Dryden (James R. Johnston Chair in Black Canadian Studies), Brent Young (Academic Director of Indigenous Health), and Amy Bombay (Indigenous Health), and with the support of leadership, the work of the visiting scholars can take root.

This is no small undertaking for Dr. Manning, or the Medical School, but she is confident in their commitment to change.

"I said yes to this because I actually think that change is possible," says Dr. Manning. "It's a lot of learning and people being open to uncomfortable conversations and being challenged, but I think there's certainly been a willingness that I've seen amongst the people in the Faculty of Medicine that I've been meeting with. I think with that willingness and with the leadership of Dr. Watson-Creed, we're set up for things to actually change."
Changing how we practice and teach

More than three years into her appointment, Dr. Watson-Creed is pleased with the path the medical school is following.

"When it comes to anti-oppressive practice in general, I would say there's a new readiness to engage in conversations about discrimination and oppression that wasn't there when I started and certainly wasn't there in my past interactions with Dalhousie, including as a student," she says. "And what's really exciting is that I think we're on the cusp of turning on its ear the way that we teach the relationship between race and clinical outcomes in medicine."

Dr. Watson-Creed admits what comes next could be complicated, challenging and even messy, but it will certainly be exciting.