News
»
Go to news main
Trainee funding wins big at Dalhousie Medicine New Brunswick (DMNB)
Posted by
Allie Fournier
on March 31, 2022 in
News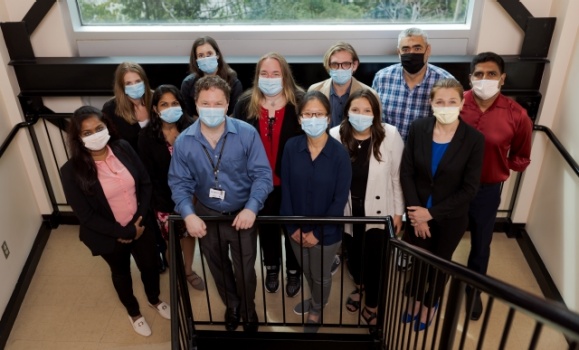 Preparing trainees for the future of research in Canada

On March 31, 2022, the Canadian Institutes of Health Research (CIHR) announced the results of the Health Research Training Platforms (HRTP) pilot funding opportunity, an innovative, pan-national initiative that will embed early career researchers and trainees in collaborative health research teams with the goal of setting them up for success in careers that span academia and beyond. With this funding, 13 interdisciplinary teams will be set up across the country, where researchers will receive training and development opportunities to build Canada's research capacity in a wide range of areas.
Among these interdisciplinary teams is MyROaD (Maximize your Research on Obesity and Diabetes): a training and mentoring platform focused on diabetes, obesity, and cardiometabolic health that includes Dr. Keith Brunt, Associate Professor in the Department of Pharmacology at DMNB, as one of the team's principal applicants and mentors.
"Interested trainees can come to the MyROaD program directly and the MyROaD program will help facilitate their path to graduate training and experiential learning," Dr. Brunt explains. "In this knowledge-based economy, group collaborative research enterprises are the way of the future. So, fundamentally what this does, is prepare these trainees for that change in research culture."
Finding a place within the MyROaD network
Dr. Brunt is a founder and financial director of the IMPART team, which will represent Dalhousie University in the Health Research Training Platforms program. Headquartered at Dalhousie Medicine New Brunswick, the IMPART investigator team is a national, virtual research institute composed of 45 academic and clinical partners across 8 universities and 6 provinces as well as 25 community service non-profit and funding agency members, 15 private sector for-profit company partners, and two provincial government departments (Health and Social Development). The IMPART team works to identify gaps in healthcare and social systems and has collaborated on extensive research, biobanking, digital health innovations aimed at improving supports for diabetic, obese, and cardiometabolically impaired population. Trainees feature large in these initiatives.
Within the MyROaD network, the IMPART team will offer trainees:
Multi-institutional laboratory exchanges for skills and professional development, and Equity, Diversity, and Inclusiveness (EDI) training with community organizations.
Multi-institutional programming for workshops around market commercialization of minimal viable products and services aligned with HRTP goals like those offered by Dal Innovates, Science to Business Network, Tech Stars, Spring-Board, or other IMPART affiliates to be harmonized with sites across Canada.
Micro-credentialing, certification, and training in anti-racism action, Indigenous cultural safety, unconscious bias, sex and gender workshops, industry certifications, data informatics, innovation, and intellectual property development.
Internships amongst for-profit and non-profit industrial partners will aid in experiential learning and preparation on how to navigate and secure industry-partnered funding opportunities with Economic Development Agencies, Superclusters, National Research Council, NSERC Alliance, or Mitacs grants/fellowships/scholarships.
Awards and supports in addition to covering the costs for equity-seeking individuals to travel and attend IMPART events or undergo lab exchanges, seminars, or workshops as part of the HRTP program.
As evidenced by the pandemic, Canada relies on its scientists to respond to and recover from health emergencies and uncover the scientific evidence we need to tackle other health challenges. That is why the Canadian Institutes of Health Research is investing in the next generation of Canada's health researchers with the Health Research Training Platforms program.
"I'm jazzed by this initiative because it's the kind of stuff I wish was there when I was a trainee coming in," Dr. Brunt shares. "That's what you want as a mentor: you want to create the things that weren't there when you were a trainee that you know could have helped you get to where you are now, but faster."
Opportunity creates opportunity
In addition to CIHR funding, Dr. Brunt was also recently approved for two national research cluster grants through Mitacs Accelerate projects. Entitled "Determining the prevalence and outcomes of transthyretin amyloidosis cardiomyopathy-aortic stenosis patients undergoing valve intervention in New Brunswick," and "Evaluation and characterization of pharmacological nanobioparticles from proprietary botanical biomass processing to elicit entourage cytoprotective and antioxidant properties," this funding will be utilized as trainee fellowships, stipends, and industry engagement for experiential learning and innovation development.
Mitacs is a national not-for-profit organization that fosters growth and innovation in Canada by solving business challenges with research solutions from academic institutions. In this case, DMNB trainees working on Dr. Brunt's project will be partnering with industry giant Pfizer Inc. and new venture Pivotal Health Inc. based in Moncton, New Brunswick.
"So many of our trainees are not destined to emulate our career paths," notes Dr. Brunt. "Only about 15-20 per cent of them might pursue an academic career, so we must be conscientious in preparing trainees – not to service our needs, or our egos, but to service the country that's funding them and the industries and institutions that they are going to go work for, be it public, non-profit, or private sectors."