News
»
Go to news main
DPMG award winners embody leadership and excellence with impact
Posted by
Staff
on June 22, 2022 in
News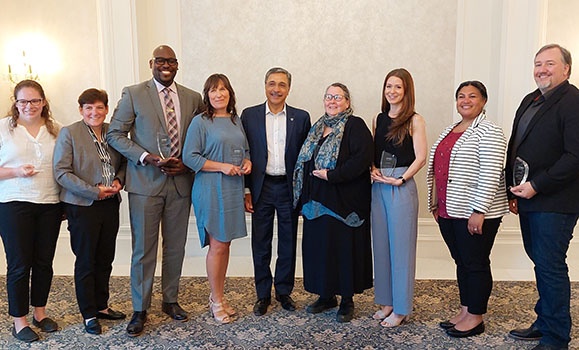 High and consistent performance. New approaches and initiatives. Impact on the university community. Alignment with organizational missions, vision and values. Positive influence and leadership.
These are just a few of the qualities the Dalhousie Professional & Managerial Group (DPMG) — the association that includes the university's managers and professional employees — looks for in selecting its award winners each year.
This year, 10 individuals received awards across four categories: Outstanding Achievement Award; Early Career Outstanding Achievement Award; COVID-19 Outstanding Achievement Award; and the IDDEA (Inclusion, Diversity, Decolonization, Equity, and Accessibility) Outstanding Achievement Award, which is a new category this year.
Seven of the recipients were able to attend a luncheon in Halifax earlier this month to receive their awards, with recognition of all recipients at the annual DPMG conference held virtually this year on June 9.
Below are excerpts from the citations for each of the recipients.
Outstanding Achievement Award

Ian Taylor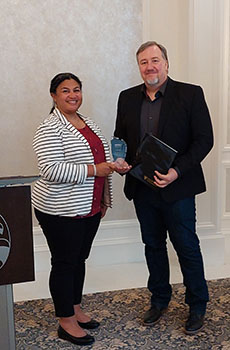 Ian Taylor, director of MedIT (Medical Information Technology) in the Faculty of Medicine, is well know for his exemplary service, consistent high performance and for having a collaborative and inclusive approach to leadership. His advocacy for technology to support learning and his ability to deliver large-scale projects goes back to when he started his journey at Dal in 2008 as an audio-visual technician with Information Technology Services (ITS).   

Ian  has  always  been  a  champion  for  technology  and  innovation,  but  it  is  his  people-centred approach that speaks  to  an  individual  who  has  made a  significant contribution to the Dalhousie community.

A few highlights from Ian's career at Dal so far to illustrate:
In 2009, Ian achieved the implementation of required technology in temporary spaces for Dalhousie Medicine New Brunswick (DMNB) in preparation for the launch of the DMNB distributed-learning  program.
In 2011, as technical operations manager, he oversaw the complete roll-out of  Dalhousie  Medicine's  distributed learning throughout Atlantic Canada.
In 2016, he advanced to the position of co-director of MedIT, he collaborated with the late Ryan Clow to create the departmental vision 'OneMedIT' and a mission statement that aligned with strategic initiatives in the Faculty of Medicine and at Dal more broadly.
In 2021, he stepped into the role of Director and demonstrated mindful leadership following the pandemic and the loss of MedIT's co-director.
"One of Ian's most notable achievements was his leadership in the Faculty's response to the COVID-19 pandemic. Through tremendous determination and effort, the MedIT team was able to compress all four years of undergraduate medical education curriculum online in a matter of weeks," says Linda Penny, chief operating officer, in the Faculty of Medicine.
"Ian's calm and thoughtful approach was key in reassuring students, faculty, and staff during a period of great uncertainty. He continues to be a role model to all in how to deal with stressful situations."


Julie Hallett

Julie Hallett, associate director of brand and marketing with Communications, Marketing and Creative Services (CMC), has been integral in building and leading CMC's brand recruitment marketing team, demonstrating consistent high performance while maintaining relationships through meaningul engagement across campus.
She played a leading role in Dalhousie's recently unveiled brand refresh, successfully onboarding an agency partner, engaging with stakeholders and creating a project advisory team to guide the project. She is currently working with both the Indigenous and African Nova Scotian communities to commission art pieces to be used as a part of the university's brand. 
Prior to this, Julie was a key member supporting the Faculty of Computer Science and led vital elements of a campaign that surpassed media targets on behalf of the 'Here We Code' project. Julie played a key role in the video creation and strategic plan by working with NATIONAL PR and a cross-campus advisory committee. 
"Julie's contributions to Dalhousie's brand and recruitment strategies are highlighted through her critical thinking, innovative ideas, and active listening," says Matt Proctor, assistant vice-president, Communications, Marketing & Creative Services. "She effortlessly understands the institution's various audiences, such that she's able to deliver ideas and rationale in a confident, reassuring, and inspiring manner."
Julie's leadership, hard work, dedication, and strategic nature is what makes her an incredible asset to CMC and to the university. As articulated by her nominator, Keri Irwin, director of marketing in CMC, "Julie has consistently considered the big picture." 
Lesley Brechin

Few individuals are as well acquainted with the halls, stages, and classrooms of the Fountain School of Performing Arts as Lesley Brechin. Lesley has provided integral support to the school from its founding in 2014, but her history at Dal stretches back far further than that — to 2001 with the Department of Music and in other roles back to 1983. 
Now, as she gets set to retire after a nearly 40-year career at Dal, she does so just as the Fountain School's newest space — the Joesph Strug Concert Hall — is being inaugurated. As usual, she was a linchpin every step of the way to this historic moment.
"Lesley has been the heart, soul, and engine that has kept the Fountain School of Performing Arts running since its founding in 2014 and the Department of Music before that, since becoming the Administrative Officer for our unit," says Steven Baur, a Dal musicology professor.
Jerome Blais, director of the Fountain School, nominated Lesley for an Outstanding Achievement Award in recognition of her administrative rigour, energy and joviality.
Early Career Outstanding Achievement award

Stephanie Bernier

Stephanie Bernier has helped to shift the pedagogical landscape in the Faculty of Computer Science (FCS) since joining as an educational developer in 2019. Leading a highly productive team, she's carved out a reputation for spearheading innovations that have translated into better student and faculty experience.  
"Stephanie's contributions to FCS have been immeasurable," wrote a group of FCS instructors in a statement of support. "Her work has been the main reason why we have now become a much more collaborative group of teachers. She built collaborative relationships with everyone and opened our eyes to teaching best practices and evidence-based methods that has resulted in our teaching in the Faculty to reach much higher standards."
Among her many accomplishments, Stephanie led the development of a course template now used by most FCS instructors to structure courses on Brightspace. She also recently co-authored a paper on how educators are adopting technology in teaching and learning. While the paper drew on a dataset from a previous employer, FCS has felt the impact of the work and its lessons, according to nominator Alexander Brodsky, academic teaching fellow and associate dean (acting) in FCS.  
Stephanie is also an active member of the Educational Developers of Halifax, an informal group that meets regularly and creates local and regional connections, and a member of Dal's eLearning community of practice — the Academic Quality Team (AQT). Her participation in the AQT is considered strategically important by FCS and benefits the university by sharing lessons learned.
Brooke Edwards

When Brooke Edwards joined the Faculty of Engineering, the Melda Murray Student Centre (MMSC) was only a proposal in the Dean John Newhook's mind after a generous gift from a donor to establish a means to support struggling students. With Brooke's tremendous leadership skills, it became a reality and is now one of the "flagship" elements in the Faculty of Engineering's student support programs.
"Brooke has been a champion of students on Sexton Campus and has been a tireless advocate to assemble an array of supports to help Engineering students be successful in what is known to be a challenging academic program," noted David J. Pilon, a psychologist with Dalhousie Student Health & Wellness, in a statement of support.
Add in Brooke's inclusive and welcoming spirit, and it's clear that students on Sexton Campus are lucky indeed to have her around.
COVID-19 Outstanding Achievement Award

Said Msabaha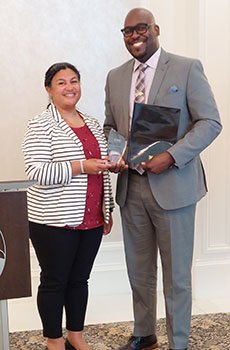 Said Msabaha exhibited unconditional care and compassion for students and staff during the pandemic, according to his nominator. In 2021, when many international students suffered significant financial and emotional burdens while attempting to make their way back to Halifax and a 14-day quarantine and testing requirements, Msabaha's professionalism, leadership and guidance afforded students and staff at the International Center (IC) hope and motivation to persevere.
During this period, Msabaha — who is now associate director of community engagement and diversity programs and immigration advisor with the Office of Community Partnerships & Global Health — led a team of eight colleagues at the IC in accommodating a safe return for 5,000 international students. Nominator Jessica Kerr, an admin assistant for A Black People's History of Canada (in the Faculty of Arts and Social Sciences), explained that Msabaha would also often step into various roles away from his managerial position. These included administrative, advisory, coordination, food service and "check in clerk" responsibilities. 
"Without Said's overall leadership and guidance, our international students and the IC staff would not have achieved the level of success that we did," wrote Kerr in nominating Msabaha.   
Qiuling Wu, an international student advisor with the International Centre, explains how Said worked in collaboration with partners both on and off campus to assist with port of entry, finding hotel rooms in Halifax, airport pick-ups and student frustrations. "He would even volunteer to go to the airport to spend 12 to 18 hours a day to greet students at the airport and make sure their taxi and hotel arrangements were in place. It was a true demonstration of leadership through compassion and grace," wrote Wu in a statement of support.
Emma Whitley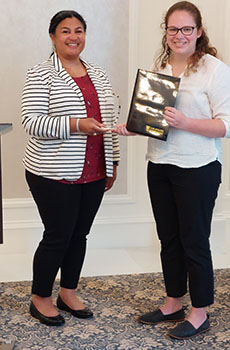 Emma Whitley's leadership and problem-solving skills, along with her resilience and ability to adapt, made her an invaluable asset with the School of Health Sciences during the pandemic, according to her nominator.  
As the clinical coordinator with the school, Whitley consistently demonstrated an aptitude at finding solutions to the many sudden and unique problems that arose and was instrumental in ensuring students had access to vaccines prior to rescheduled spring placements at clinical sites all over Atlantic Canada. She provided timely and clear communications for students and their parents about isolation requirements related to interprovincial travel for placements. 
"Emma is a guiding light at the School of Health Sciences. She goes above and beyond for students, faculty, and staff, and does so with a tirelessly positive attitude," wrote Meaghan Mamye, an adjunct lecturer in the School of Health Sciences, in a statement of support. "During the global pandemic, it was integral for Emma to stay abreast of all the changes and policies not just within our organizations but with all our clinical partners, such as IWK Health, and many organizations in PEI, NB, and NL. And when knowing that our students would be actively practicing aerosol-generating medical procedures within inpatient care environments with COVID-1 9, she worked nights, weekends, and holidays to ensure that HHS students received appropriate mask fit tests for N-95 masks to ensure their safety."
As described by her nominator, Catherine Gunn, director of the School of Health Sciences, "Emma joined us when we needed her most, and I'm certain we would not have been so successful in navigating the pandemic without her." 
Jean Lynds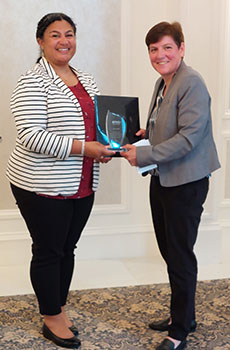 As the operations manager of farms on Dal's Agricultural Campus in Truro, Jean Lynds faced many tough day-to-day decisions during the pandemic. Throughout it all, she remained a composed leader, keeping staff and animal safety top of mind, according to her nominator. 
Lynds led the Faculty of Agriculture group through several projects and renovations during the past few years, such as the completion of the new feed facility for the Ruminant Animal Centre and the consultation process to design a new dairy facility. She was successful in working through new internal hiring processes for essential services and on-site positions, keepin five distinct work units informed and engaged in the day-to-day operations and linking them into the larger farm goals. 
"Jean Lynds is the personification of everything good and positive in modern agriculture, and we could not ask for a better role model and example of leadership for our students and campus community," wrote David Gray, dean of the Faculty of Agriculture and campus principal, in a statement of support. "Jean and her team have worked tirelessly with faculty members throughout the pandemic to create videos and online teaching activities and created two separate staff teams to minimize potential cross-infection while keeping an operating farm running."
As stated in summary by her nominator, Michael McConkey, programs and finance manager of farms, "Jean has displayed exemplary leadership and resilience, and I believe that the Faculty is coming out the end of the pandemic as a much stronger team because of it."
IDDEA (Inclusion, Diversity, Decolonization, Equity, and Accessibility) Outstanding Achievement Award

Karyn Hemsworth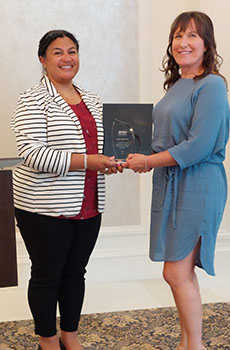 In her role as coordinator of student engagement in Dal's Faculty of Engineering, Karyn Hemsworth has emerged as a strong voice for diversity of thought and representation in the field of engineering.
Hemsworth supports the organization of Dal's annual December 6 memorial of the Ecole Polytechnique tragedy, assists with 'Go Eng Girl' outreach activities, and has shown great commitment to Indigenous and African Nova Scotian students through various outreach efforts. She has also been a leading force in Dal's efforts to assist Engineers Nova Scotia in its strategic goal of increasing the number of licensed women engineers (the 30 by 30 campaign). 
In addition, Hemsworth has become a leader in the Faculty of Engineering's mental initiatives. She is a "train the trainer" for mental health first responders and holds a strong seat in the newly formed mental health working committee. She was a thoroughly engaged, significant contributor in the recent mental health audit and currently heads up the student facing working group on mental health awareness. 
Hemsworth is also the driving force and organizer of 'ENGage', a Faculty of Engineering outreach program where junior high school girls visit our campus and conduct hands-on workshops and meet with women professionals. She also heads up the Engineers NS Women in Engineering subcommittee on outreach to high school students.
"Anywhere there are IDDEA activities or education taking place, Karyn is not only involved but is a valued leader," wrote Amyl Ghanem, who is assistant dean of diversity and inclusion in the Faculty of Engineering, in a statement of support.
According to nominator Timothy A. Little, associate dean of undergraduate studies in the Faculty of Engineering, " Karyn has a great work ethic and an open and upbeat attitude that lifts those who she works with. She leads the faculty in EDIA activities and makes the faculty a better place because of her efforts."
Michele Graveline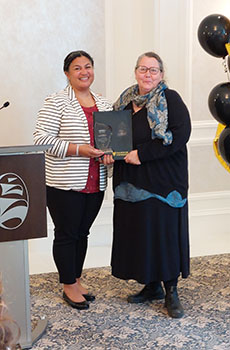 Michele Graveline, Dalhousie's Indigenous student advisor, fosters inclusion, diversity, decolonization, equity, and accessibility for Indigenous students and non-Indigenous students, staff, faculty, and community members alike, according to her nominator. 
Graveline approaches support from a holistic Indigenous perspective, assisting students in navigating resources and systems. Her culturally relevant educational programs — from monthly brunches and feasts to celebrations and traditional craft making — provide a warm, welcoming and safe landing place for Dal's 600 Indigenous students. 
Graveline further lends her expertise to many committees across campus and has served as co-lead of the Student Affairs EDIA committee and on the tuition waiver for former children in care committee. She's also organized unique and inclusive initiatives, such as a collective reading of Reclaiming Power and Place: The Final Report of the National Inquiry into Missing and Murdered Indigenous Women and Girls and the annual Mawio'mi on campus.
"Michele's work is grounded in respect and a shared responsibility for equitable access. She, by nature, is an educator who endeavours to teach and model what true reconciliation looks like," says Quenta Adams, director of Student Service Academic Success in Student Affairs. "True reconciliation, as a start, recognizes and addresses barriers related to access across the institution. Michele is a champion in identifying and offering solutions for systems, policies and practices that exclude Indigenous students from participation." 
According to Hazel Ling, social worker/case manager with Student Health & Wellness/Student Affairs, "Michele embodies and teaches reconciliation daily, not only by sharing her many areas of expertise, but in her warm, accepting, and compassionate approach to students, staff, and faculty."