Innovator
»
Go to news main
Third year medical student David Hodgson and his partner (and spouse) Sara Fedullo (BEng '21) are helping kids breathe easier.
Posted by
Andrew Riley with files from Kate Rogers
on July 6, 2022 in
News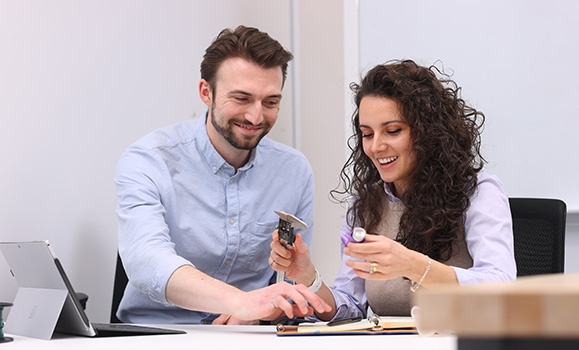 Third year medical student David Hodgson and his partner (and spouse) Sara Fedullo (BEng '21) are breathing new life into the asthma inhaler market through their start-up, HOLLO Medical.
The pair recently took home first prize at EO (Entrepreneurs' Organization) Canada GSEA's National Championship. Judges chose a final five winners to share a national prize purse of $100,000 cash. The top two, including Hodgson and Fedullo, will represent Canada at the Global Student Entrepreneur Awards (GSEA) Global finals happening in spring 2023. There, they will compete with the most accomplished student entrepreneurs from over 50 countries around the globe.
INNOVATION: When you see someone take a puff on an asthma inhaler there's a good chance the medication isn't getting to their lungs. The medicine releases quickly, making it difficult to time exactly when to inhale it. This can be especially hard for kids, which is why they are supposed to use spacers, chambers that briefly suspend the medicated mist to give them time to inhale it. But spacers are bulky, awkward, and often left at home—not where they're needed when an attack strikes. HOLLO Medical has created a spacer prototype that makes it easier for kids to get the lifesaving medication they need.
FOUNDATION: With their market defined and a functioning prototype in hand, the pair are now working with Dalhousie's Emera ideaHUB and Halifax-based innovation hub, Volta, and are raising funds to scale up their enterprise. "The next step for our development is to seek regulatory clearance," says Hodgson. "We're almost ready to get the stamp of approval to test our device and eventually sell it across North America and beyond."
"Dalhousie has been huge in terms of getting us started. Dal's Office of Commercialization and Industry Engagement connected us with numerous Dal Innovates resources and programs that have truly set us up for success," says Hodgson.
INSPIRATION: After learning about the problems with inhalers in a workshop with a respiratory therapist at a Halifax hospital, Hodgson was vexed by the thought of kids gasping for breath and not getting the medicine they need. He saw an opportunity for innovation and knew exactly where to turn tomake it a reality. "I was studying for finals and Dave came bursting in and said, 'I have this is great idea and you are the perfect person to helpme,'" said Fedullo, whose background in 3D printing made her the ideal collaborator.
WHY IT MATTERS: "You can't just stuff a spacer in your pocket. We want to empower kids by giving thema spacer they will want to use and show their friends," says Fedullo. "Our spacer will be themost portable valved holding chamber ever produced and made in such a way that itmatches the performance of industry-leading chambers," adds Hodgson.
This story appeared in the DAL Magazine Spring 2022 issue. It has been amended to include Hodgson's and Fedullo's first place prize at the EO Canada GSEA's National Championship, which ocurred after the time the DAL Magazine publication date.