News
»
Go to news main
Second World War top gun reinvented himself as Dal‑trained doctor
Posted by
Alison DeLory
on November 10, 2022 in
News
Eighty years ago, a young fighter pilot named George Urquhart Hill from Pictou, N.S. — who, after the war, would study medicine at Dalhousie — made a name for himself in the Battle of Dieppe.
After receiving his Bachelor of Arts degree from Mount Allison University in 1939, 21-year-old Hill, an academic achiever and featherweight boxing champion, joined the Royal Canadian Air Force (RCAF) as a pilot officer at the outbreak of the war. He got his wings in 1940 and on Aug. 19, 1942, was one of 80 Allied squadrons in the skies over Dieppe, France, on what's considered the single-worst day for casualties for Canada in the Second World War.
According to the Canadian War Museum, about 70 per cent of the approximately 6,000 Allies didn't survive that battle, but Hill was part of the minority who did. After the raid, he wrote in a letter to his mother, "Contrary to what the papers said, I shot down two Focke Wulfs (confirmed) and damaged another, but I may have to share one of them with my number 2 man." He called it, "A very good start."
'Pictou's hero of the air'
 
He went on to serve in Tunisia and Malta, then England. A month before his 25th birthday he was recognizably depleted and sent home to Pictou to rest, where he received a hero's welcome. The press called him "Nova Scotia's ace of aces" and "Pictou's hero of the air." Children were given a day off school. The Town of Pictou reportedly presented him with an engraved wristwatch. After convalescing and regaining strength, he returned to England and active duty, eventually being credited with destroying 14 enemy aircraft, probably destroying three others and damaging nine.
In April 1944, he was captured by the Gestapo after boarding a train out of Paris. A Dec. 11, 1958, newspaper article from Carleton Place, Ont., described his time as a prisoner of war as such:
"A determined try by the French underground to smuggle him [Hill] to Spain failed and he would up in the hands of the Nazis. From then until war's end, he was imprisoned. As commander of RCAF's 441st squadron he was questioned and beaten again and again. He spent six months in solitary confinement."
Realizing medical school dream

It was said his hair turned completely white during his time as a prisoner of war (POW), and he nearly starved to death. But the fighting spirit of the boxer in him prevailed, and he survived to war's end when he and his fellow POWs were liberated and returned to their various homes.

He enrolled in Dalhousie Medical School and realized his dream of becoming adoctor, graduating in 1950. He interned at the Victoria General Hospital in Halifax. By then known as Dr. George Hill (MD'50), he practiced in New Brunswick before settling in Orangeville, Ont. where he practiced medicine for close to two decades.
Shown above, a class photo courtesy of Dal Libraries.
He was married twice and had 10 children. Then,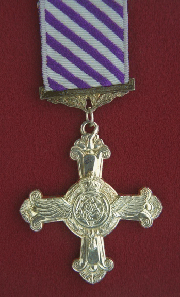 one day in 1969, after a busy shift at the hospital, Dr. Hill was involved in a fatal car crash while turning into his own driveway. He was 51.
Dr. Hill was buried in Pictou, N.S. per his wishes, and a Neptune aircraft from CFB Greenwood made a low pass over Haliburton Cemetery in salute. He died the first RCAF personnel to be awarded the Distinguished Flying Cross three times — an award "given to officers and Warrant Officers for an act or acts of valour, courage or devotion to duty performed whilst flying in active operations against the enemy," according to Veterans Canada.
Right: The Distinguished Flying Cross. (Govt of Canada photo)
With files from CBC and Saltscapes. Learn more about George Urquhart Hill's two Distinguished Flying Crosses and read the citations that accompanied them on Traces of War.