News
»
Go to news main
Euphoria! 2023: Supporting Camp Triumph
Posted by
Katherine Higgins
on March 15, 2023 in
News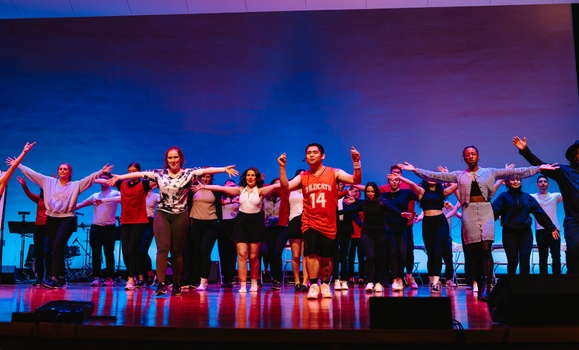 EUPHORIA! was back for its 53rd year featuring a Cady Heron look-a-like, two High School Musical renditions, James Bond, and an unlikely setting for The Wiz. Eager guests filled the Rebecca Cohn auditorium on February 18, 2023, for an evening of laughs, school spirit, and creative skits. 
The annual variety show, which has been running since 1969, is a time-honoured tradition pitting med classes against each other in the name of charity. This year, over $14,000 was raised for Camp Triumph, a PEI-based charity that provides opportunities for children and youth affected by chronic illness or disability to attend camp experiences on the island. 
The audience was treated to creative retellings of classic movies and musicals, all with a med school spin. The Class of 2026 sang their way through new school jitters with the help of High School Musical tracks. The Class of 2025 worked through 'imposter syndrome' in a Med 2 version of The Wiz. The struggle to find a med specialty fit perfectly into the Class of 2024's version of Mean Girls while the Class of 2023 battled through their own Mission Impossible – CaRMS.
Judges praised each performance but ultimately declared the Class of 2023 the winners based on their elaborate storytelling and fundraising success!