News
»
Go to news main
Grad Profiles ‑ Celebrating the Class of 2023
Posted by
Kate Rogers and Katherine Higgins
on May 30, 2023 in
News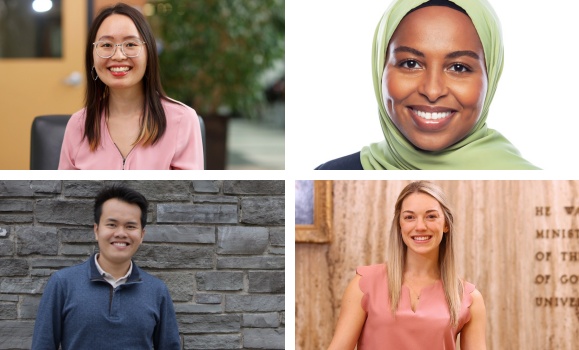 It's time to celebrate here at Dalhousie. Convocation has arrived—a symbolic bridge between the past and the future, honoring the achievements of students while instilling a sense of excitement and anticipation for the opportunities that lie ahead. It is a time to recognize years of hard work, dedication, and intellectual growth. This moment marks the farewell to years spent as an undergraduate student and paves the way for future training and careers.
Soon, another graduating class will join the distinguished ranks of those deserving the esteemed title of 'doctor.' Armed with the knowledge acquired during their medical school journey, they will venture into the realm of patient care, initially through residencies and subsequently in their own medical practices and medical departments. The class of 2023 came together today, May 30, to celebrate this momentous occasion in person. Each graduate's unique story represents the culmination of years of hard work and dedication. Here are just a few of the graduates making us proud.
From introverted to inspiring:  Kristin Ko opens up to medicine
Kristin Ko didn't always want to be a doctor. 
Introverted and shy as a teenager, she was content to operate behind the scenes. She planned a career in neuroscience as a basic researcher, following her undergraduate degree, and her subsequent master's in biomedical engineering. But with more than seven years of lab work under her belt Kristin felt that something was missing.
"I started exploring more around my community, stumbling into things that felt interesting, simply by chance," recalls Kristin. "I came to learn I actually really like working with people and helping others."
Despite her introversion, Kristin volunteered extensively throughout her undergraduate training. She was a board member at the Loaded Ladle at Dalhousie, where she advocated for food security and community care; a volunteer at the Veteran's Memorial Hospital; a vision mate through the Canadian Institute for the Blind (CNIB); and a high school math tutor for students completing their GED. Though she admits no single experience motivated her decision to apply to medical school, her realization that she enjoys helping others, combined with her volunteering and interest in neuroscience and physiology, ignited her curiosity for a career in medicine.
If she had any doubt she had made the wrong career choice, that was eliminated on her first day of pre-clerkship elective in neurology in Med 1.
"There is something so interesting and fulfilling about interacting with patients, synthesizing all the information you obtain, and troubleshooting through diagnoses and management with the ultimate goal of doing your best for another person," she says. "At that point, I knew I made the right decision pursing medicine and am so happy I gave this path a chance."
And not only did Kristin give it a chance—she gave it her all. She got involved in the student society; worked on projects such as the Atlantic Task Force, where she co-led research into physician recruitment and retention efforts in the Atlantic Provinces across different stages of a physician's path to practice; and was class treasurer. What she's most proud of however, is her work with the Dal Students for Healthcare Providers (DSHP) initiative.  
"We essentially organized a volunteer organization in NS in the span of one week, which was quickly spread to NB through fellow med student Kathleen MacMillan, and then expanded to PEI by collaborating with the nursing student leaders there."
During the early days of the pandemic, as the demand for healthcare professionals increased, so did the need for childcare and other supports for these frontline workers. Student volunteers working with DSHP volunteered to alleviate pressure by offering anything from childcare, walking pets, to running errands and picking up grocery orders. Long after the DSHP ceased operations, Kristin learned just how impactful the work had been.
"Around two years after everything happened, I had a conversation with a healthcare provider," she recalls. "They spoke of the isolation and difficulty of COVID-19 but said knowing DSHP was there for support was uplifting and made them feel less alone."
Come July, Kristin will enter residency in anesthesiology here at Dalhousie. The specialty, like a career in medicine, wasn't where she expected to land. In her early medical school years, she applied for a pre-clerkship elective, and to her surprise, was swept away. 
"I was very lucky to have an amazing attending, so I at first attributed my interests to simply having a good teacher," says Kristin. "However, I had to re-evaluate when I willingly walked 1.5 hours through a blizzard that closed the entire city just to avoid missing a half day of a pre-clerk elective."
What solidified her decision to pursue the specialty came not in the clinical environment however, but while out running errands. When someone suddenly collapsed right in front of her, she performed a quick assessment, obtained a history, and completed an abbreviated physical exam, determining the patient was fine. Kristin, however, was forever changed.
"I couldn't help but think of what would have happened if the patient was more acutely and critically ill, and in all the futures I envisioned for myself, anesthesiology came to the forefront," she says. "I essentially really wanted to be the doctor who would be helpful on a plane."
Kristin plans to explore all facets of anesthesiology and notes she will remain openminded to all paths given how her career aspirations changed over the course of her training.  
"You never know where life may take you."
Solving the mystery: Khoi Dao finds community, family, and an enriching career
For many, the undergraduate education experience is an exciting opportunity to encounter new subjects and discover interests previously unknown. It is a time to further delve into areas of interest and determine what studies engage you most. Some, like Class of 2023 graduate Khoi Dao, find a great deal of interests and have the daunting task of searching for a rewarding career that encapsulates them all.
Khoi who discovered a love of core sciences while completing his Bachelor of Science at the University of New Brunswick in Saint John, also developed an appreciation of how societal changes like policy, movements, and the COVID pandemic, can impact an individual's quality of life. For Khoi, medicine is the thread that links a passion for advocacy, science, and wellness together. 
"Although complex, medicine is one of the careers where I can integrate all these interests into a career. It is a rewarding challenge to be able to use my passions to help improve others' well-being." 
Choosing this career path seemed like a natural decision for Khoi, though he did find inspiration from a classic literary character. 
"As a kid, I loved Sherlock Holmes by Sir Arthur Conan Doyle," says Khoi. "I read it in Vietnamese and then, later, in English. I loved the character's ability of observational skills, critical thinking, as well as problem solving; all thanks to Doyle's crafty ways."
As Khoi learned more about the titular character's famed methods of observation and deduction, he noticed the iconic methodology of Sherlock was parallel to the diagnostic process studied by both he and Doyle.  
Khoi's inspired journey to medicine has not been without challenges. Like many recent graduates, he has faced the unknown and unexpected landscape of healthcare in a global pandemic. With much of the in-person curriculum disrupted, Khoi and the Class of 2023 learned to adapt and accept the educational norms remarking with "new problems come with new solutions." It is with this cheery determination that Khoi tackled the challenges of clerkship and fatherhood throughout a pandemic.   
When reflecting on the ups and downs of the last four years Khoi joked, "It takes a village to raise a child, but it takes villages to 'raise' a doctor." Both phrases uniquely apply to Khoi and his wife Dr. Grace Dao, graduate of the Class of 2021 and second year family medicine resident. The pair welcomed Ernest shortly after Dr. Dao's graduation in 2021 and Howard in the Fall of 2022. Though there were lots of bumps in the road Khoi is grateful for the support of his family, DMNB faculty, and peers. 
Looking to the future, Khoi is excited to begin a family medicine residency in Saint John where he will be a co-resident with his wife. The pair hope to pursue family medicine practice in Grace's hometown of Sussex, New Brunswick. 
Inspiring advocate: Maisoon Yousif empowers peers and patients 
When Maisoon Yousif began medical school at Dalhousie, she was looking for a way to make a positive change for her Black medical student peers, and those who would follow in her footsteps. 
Born in Sudan, but raised in Ontario, Maisoon is one of two students who founded the Black Medical Students' Association (BMSA) at Dalhousie. From a modest five trainees four years ago, the BMSA has grown to more than 30 members and was recently awarded the President's Award for the Advancement of Equity, Diversity, Inclusion, and Accessibility (EDIA) recognizing their work to promote an inclusive campus community and their understanding of EDIA. The group, founded along with Adrianna Broussard and Ola Sobodu, was borne from a goal to create a space for Black students to build community and a group to advocate on Black medical students' interests within the institution. 
"Coming into medical school, Adrianna and I were excited to make positive change for present and future Black medical students," recalls Maisoon. "It's been a beautiful space for peers to connect, and authentic exchange of knowledge and support to occur."
BMSA members now sit on various committees, representing the Black medical student voice.  
In addition to co-founding and serving as an executive member of the BMSA, Maisoon was also co-chair of the Muslim Medical Students' Association and sat on the Student Diversity and Inclusion Committee. And while these positions provided her with the opportunity to advocate for her peers, she believes she has had the most impact as a mentor to students from minoritized backgrounds that are underrepresented in the medical student and physician populations. 
"Each year of medical school I had at least five mentees who I helped with some part of the medical school admission process," says Maisoon. "I shared my experience with them, helped plan and prepare their applications, practiced for interviews, and provided a safe place for them to share their highs and lows and learn from others' experiences."
Her role as a mentor is not Maisoon's only foray into medical school admissions assistance. She co-founded Price of Dream (PoD), a group of medical students, residents, and staff across Canada and the United States who are passionate about eliminating the financial barriers to medical school admissions. Today, medical students are facing upwards of $150,000 in debt upon completion of their medical education. PoD received funding from the Council of Ontario Faculties of Medicine (COFM) to advise and support the implementation of a national strategy, which included the new fee waiver. In the two years since it was implemented, the Ontario Medical School Application Fee Waiver has saved applicants to Ontario medical schools approximately $100,000 annually.
"My idea of a legacy is creating positive change that will benefit others far beyond my involvement," says Maisoon. "The Ontario Medical School Application Fee Waiver is the perfect example of that."  
Maisoon will begin her Obstetrics and Gynaecology (ObGyn) residency at Western University this summer, having previously completed both her undergraduate and master's degrees at the university. She has had a longstanding interest in reproductive health, from both a surgical and advocacy perspective.  
"Reproductive health has long been used as a tool of oppression," says Maisoon. "Turning that around to empower my patients is part of what attracts me to the field. And I've always loved working with my hands and learning new skills."
Unsure where her career will take her after training, Maisoon is keeping an open mind. Motivated to be both a strong surgeon and passionate advocate, she is poised to make a difference for both her patients and the communities she serves.  
Shifting Perspectives: how Victoria Mercer reprioritized an identity outside of medicine
Over the last five years the term burnout became as common as unprecedented and new normal. 
In the wake of the COVID-19 pandemic a cultural shift has started which prioritizes lifestyle, wellness, and balance. In the field of healthcare this wellness initiative has ushered in a new approach to medical education. The idea of building health for the healer has been advocated for by both Canadian and American Medical Associations to equip leaners and protect them from the symptoms of burnout. 
For many, the pandemic necessitated a perspective shift. For Victoria Mercer, Class of 2023 graduate, that meant rediscovering a life outside school.
Like countless other first-year medical students, Victoria began her journey in medicine with incredibly high expectations of herself and rather ambitiously thought: "I can't wait to work 60-80 hours a week." 
After working so hard to be accepted and being surrounded by likeminded peers, this excitement is natural. Unfortunately for Victoria and others in her cohort, the transition to online learning dampened the enthusiasm. For the Class of 2023, lockdowns occurred during the difficult Med 2 year. This meant that not only were students tackling a heavy workload, but they were unable to take part in stress-relieving leisure activities. 
"Like nearly everyone else on this planet, I missed many activities that bring joy into my life," remarks Victoria. "Activities such as travelling, hiking with friends, trips to the ski hill, among many others were set aside. It was an entire year of very hard work and absolutely no play, and my mental health had never been in a worse condition."
The prioritization of medicine as a lifestyle without incorporating other interests can be extremely isolating and negatively impact a learner's career satisfaction.
"The contrast between my second and third year was enormous."
Once in-person learning began to safely resume, Victoria was able to rediscover the people, places and activities that resulted in a complete shift of priorities. 
"I could no longer imagine a life where all I did was work. Medicine shifted from a lifestyle to a career in my perspective. COVID showed me that although I love working in the medical field and I am incredibly excited for my career, there is nothing my important in my life than my family, my friends and the parts of my life that make life worth living." 
With this realization, Victoria has joined a growing movement in the medical community to mitigate chronic stress in physicians.
As she begins her family residency program in Halifax, she does so with a new perspective. 
"There is no world in which one person can know it all, and that is okay when you are working with a well-functioning team," she says. "The most important lesson outside of the classroom that I have learned is that medicine is a team effort and utilizing and appreciating each member of your team and their scope of knowledge will always produce the best outcome for your patient. Use your team members, learn from them, laugh with them and the medicine will come easier."