New Dal‑trained doctor wins top prize in global startup competition
»
Go to news main
David Hodgson co‑founded Hollo Medical with Dal grad Sara Fedullo
Posted by
Miles Anderson
on July 5, 2023 in
News
It's not every day a medical student has the spare time to compete in global competitions for their startup business, but David Hodgson found a way — and then won.
The Hollo Medical co-founder, who graduated from Dal Med School in late May, recently took home a $50,000 first-place prize competing in the Global Student Entrepreneurship Awards (GSEA) against 1,100 other business-minded students from around the world.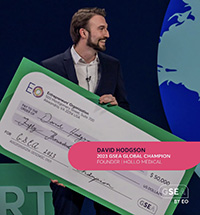 Hodgson's big win brings added recognition to Hollo's key innovation — the Bre-Z Chamber, a unique pocket-size asthma inhaler chamber that 'enables portability and optimal drug deposition' at a fraction of the size of a conventional one.
Right: Hodgson holds a big cheque representing his startup's $50,000 prize.
"We got a huge boost of momentum from this that I think is going to accelerate things so that we can bring this to all of the markets that we were hoping to initially," says Hodgson, who invented and developed the Bre-Z with co-founder Sara Fedullo (BEng'21).
Hodgson was one of only six competitors to reach the final stage of the global competition, which was centred around delivering a pitch on Start It Up — a YouTube series created by the Entrepreneurs' Organization to uplift young entrepreneurs to help share their innovating start-up businesses on a global stage.
With only a five-minute pitch followed by 10 minutes of Q&A by the show's three judges, Hodgson found a way to inspire them all during the Start It Up season finale that's well on its way to garnering a million views.
"This competition is so unique, they say it is 70% of the entrepreneur and 30% the business," says Hodgson. "They really lift you up as a person which can really get lost in some of the other entrepreneurship competitions."
Strength in numbers

Before Hollo Medical had a physical product in hand to advertise, Hodgson searched for ways to fix the problem he found with these inhalers during his degree. With the help of Dal's innovation programs and entrepreneurship resources such as Dal Innovates and Shift Key Labs, the business was able to lift its feet off the ground.
"My first step when I had the initial idea for Hollo was not to start a business, it was to solve a problem I saw during my medical degree," says Hodgson, who also has a degree in mechanical engineer.

"I reached out to someone at Dal, and that opened the door to everything I got involved in."
Hodgson and Fedullo co-founded Hollo in 2022 to reduce issues individuals with respiratory diseases face when it comes to getting the right dose of medicine with each pull off an inhaler.
The startup's recent success is supported by its many moving parts. Fedullo, who is also Hodgson's spouse, plays a major role in the company behind the scenes, which has been a big piece of the puzzle for the company's growth.
"One thing you discover when you are starting a company is its more than just the technical problem solving, and everyone has their strengths that you need to tap into," says Hodgson. "She has strengths that I could never dream of, and she brings them to the table every single day, which is why she is just as deserving as I am for the recognition."
The duo continues to work together closely to provide anyone with asthma a practical device they feel comfortable using and can toss in their pocket with ease.
"Our biggest goal is to make this accessible as quickly as possible and to make the biggest impact we can," says Hodgson.