Empowering healthcare leaders of tomorrow
»
Go to news main
Dalhousie Medical School offers innovative leadership elective to residents
Posted by
Kate Rogers
on November 2, 2023 in
News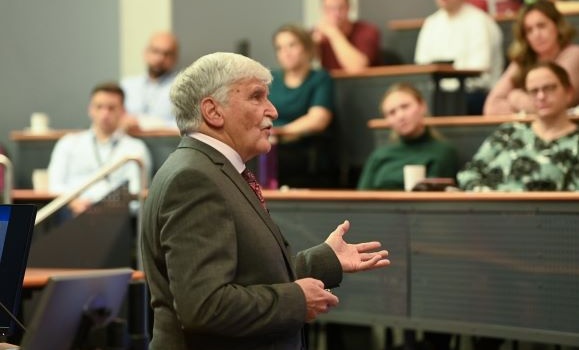 An initiative at Dalhousie aimed at nurturing the next generation of healthcare leaders is empowering residents with invaluable skills in health and academic leadership.
The leadership elective, developed by Dr. David Bowes, Assistant Dean, Postgraduate Medical Education and co-led by PGME Curriculum Specialist Jenny Acuna and Evaluation Specialist Dr. Cindy Shearer, is a four-week rotation made available to residents in any specialty and year of study, that provides opportunity for them to explore essential skills in healthcare and academic leadership.
"In medical school and residency, there's increasing recognition of the importance of leadership skills and training," says Dr. Bowes. "It's very important to have physicians who are trained in leadership to improve educational and healthcare systems."
The elective, which was first run as a pilot in fall 2022, was developed in response to a growing appetite for training in skills required of physician leaders. After an enthusiastic response from the first cohort of residents, the leadership elective has become a permanent offering for postgraduate learners.  
"We have to engage physicians in leadership and give them the tools that they need to be successful," says Dr. Bowes. "The hope is that we're going to be graduating trainees who are more engaged in leadership and able to change the world."
A comprehensive learning experience
Residents participating in the elective receive a comprehensive learning experience, incorporating classroom-based workshops and leadership-based projects. The program's success is made possible through the support and collaboration of sponsors, including Doctors NS, MD Management, and Scotiabank, who are committed to enriching the leadership journey of Dalhousie residents.
This year, thanks to Doctors NS, residents received the added benefit of professional coaching, delivered by non-physicians specializing in the area. This unique and highly valuable experience provides residents with feedback on their strengths and weaknesses and offers opportunities and solutions for improvement.  
Dr. Courtney Gullickson, a practicing pediatrician and recent Dalhousie graduate, completed the leadership elective last year. With some previous leadership experience, and a strong interest in the area, she saw the elective as an incredible opportunity for dedicated time in the curriculum to focus on skill development and to connect with other residents also engaged in leadership.
"I believe that leadership skills are used daily by physicians regardless of whether you hold a formal leadership position," says Dr. Gullickson. "These are skills that we use to advocate for patients, navigate difficult conversations on the wards, and work within interdisciplinary teams."
Dr. Gullickson says the elective also allowed time to reflect on physician wellness both on a systems level, and a personal level, and encourages residents to participate even if they do not see themselves as a leader.  
"I think every single resident could benefit from this elective and it's a unique experience in the residency journey," she says. "It acts as a great pause for reflection and is an opportunity to learn a new skill set that you can then apply to your clinical life." 
A visit from the General
Though her time in the program as a resident is complete, Dr. Gullickson recently returned to emcee an especially important leadership elective session. 
On a Tuesday afternoon in October, leadership elective residents, along with nearly 80 others, gathered in the Tupper Medical Building at Dalhousie to hear from author, public speaker, leadership consultant, international advisor, former Canadian Senator, and founder of the Dallaire Institute for Children, Peace, and Security, Lieutenant-General the Honorable Roméo A. Dallaire. The retired General, whose courage and leadership as Force Commander during the United Nations Assistance Mission for Rwanda during the 1994 genocide earned him the Order of Canada, spoke with both humility and humour, addressing the resiliency of healthcare professionals during the COVID-19 pandemic, and the importance of serving as physicians. 
"You are entering a service to other human beings," said General Dellaire. "Do not expect people to say thank you. You will experience hurt, but that's part of it. You are part of the process to make revolutionary changes."  
For an hour and a half, General Dellaire shared stories and anecdotes from his celebrated military career, and drew parallels between military and medicine, both critical areas of service. His firsthand accounts of managing complex and high-pressure situations, making critical decisions, and remaining resilient in the face of overwhelming adversity, proved not only inspirational but also highly instructive. General Dallaire underscored the indispensable connection between effective leadership, resilience, and personal well-being.
"Survive and thrive, and take control of the decision-making process," General Dellaire encouraged the residents. "There is no better time to serve than now."
Impacting patient care 
The presentation marked the end of the leadership elective for the second cohort of residents. Dr. Bowes is eager to build on the success of the first two years and hopes the work he is doing will make a difference.  
"It takes a lot of people to make the system better," says Dr. Bowes. "But to be part of that and to introduce things that are going to improve physician training—that has clear impacts on patient care, and ultimately, on how the health system functions."