Exams
Illness and accommodations for exams
Sometimes circumstances arise that make it difficult to pass—or even attend—an exam. If you've become ill or there's been a serious, unexpected disruption in your life, we may be able to help.
When you are ill
If you've been sick and you feel unprepared for an exam, we can help you request a deferral. Depending on the situation, you may be required to have a doctor's note though time may not always allow for this.
Deferral Process with form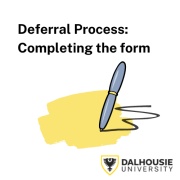 Please reach out to Student Affairs to discuss deferral questions and, if you wish to proceed, complete the Exam Deferral Request Form [PDF - 61 kB]. Send this form to Student Affairs for signing. After this step you will need to submit the form to UGME@Dal.ca. Once the request form is submitted to UGME, your request will be reviewed by the Associate Dean at your respective campus. The Associate Dean will inform you if your request is approved.
To review the deferral process step by step click here.
If you're granted a deferral, your transcript will show the word "DEFR" until you write the exam and earn a grade. UGME will connect with you to ensure clarity on when your deferral exam will take place and what the format will be.
If you fail
Failing one exam isn't the end of the world. If it happens to you, you'll need to write a supplemental exam in July at a time set by the UGME office. You must pass this supplemental exam to be promoted to the next year. Although your transcript will show your original grade, your supplemental grade will be recorded as well.
We are accommodating
Student Affairs works closely with Dalhousie's Student Accessibility and Accommodation office. If you have an identified learning challenge that requires some form of academic or non-academic accommodation, you need to talk to us.