Service recognized
»
Go to news main
Pathology technologist celebrates 37 years with Dalhousie
Posted by
Pathology
on October 17, 2022 in
Community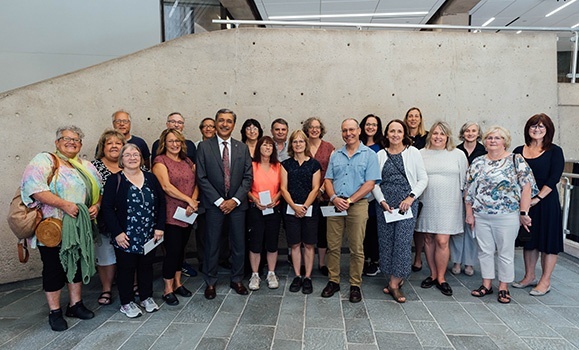 Though Pathology Chief Technologist Patrica Colp has been with Dalhousie for 37 years, she was recognized by the university only last week for 35 years of service.
This was no oversight. Colp's official 35th anniversary was in 2020, but due to then-emerging COVID-19 pandemic, the Milestones Tea Ceremony — held every year for those who have had 25, 35, and 45 years of service to Dalhousie University — was delayed two years.

Colp joined over 60 other staff and faculty in early October to be honoured with a commemorative pin reflecting their service given to them by Dalhousie President Dr. Deep Saini.
Thank you, Patricia, for all your hard, dedicated work and everything you have done for the Department of Pathology over the years!