New
»
Go to news main
Diagnostic performance and radiation dose of reduced vs. standard scan range abdominopelvic CT for evaluation of appendicitis
Posted by
Alexandra Dowhanik, Elena Tonkopi, Candice E. Crocker & Andreu F. Costa
on April 15, 2021 in
Abdominal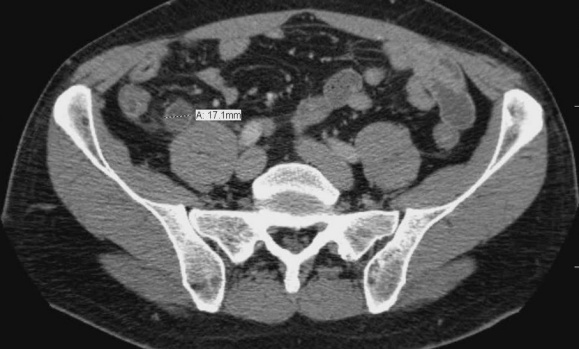 Congratulations to Dr. Alexandra Dowhanik, Dr. Elena Tonkopi, Candice E. Crocker & Dr. Andreu F. Costa on their latest pucliation. See full text. 
Abstract
Objective
To compare the diagnostic performance and radiation dose of reduced vs. standard scan range CT in diagnosing appendicitis.
Methods
We retrospectively evaluated 531 consecutive adults who underwent emergency contrast-enhanced CT for abdominal pain or suspected appendicitis between July 2018 and March 2019. One hundred eighty-one young adults (mean age, 26 ± 6 years) were imaged from L2 to the symphysis pubis (reduced protocol). A total of 350 older patients (mean age, 55 ± 17 years) and those with a wider differential diagnosis were imaged from the diaphragm to the ischium (standard protocol). The reference standard was histopathology (surgical cases) or 3 months of medical record follow-up (nonsurgical cases). Sensitivity, specificity, and accuracy were calculated. Mean dose-length products (DLP) were compared (t-test). Using an anthropomorphic phantom, organ doses were measured on CT scanners with (scanner 1) and without (scanner 2) automatic voltage selection; effective radiation doses were calculated.
Results
The frequency of appendicitis was 57/181 (31.5%) and 80/350 (22.9%) in the reduced and standard groups, respectively. Results of the reduced and standard protocols respectively were as follows (95% CI in parentheses): sensitivity, 98.2% (90.4–99.9%) and 100.0 (95.3–100.0%); specificity, 99.2% (95.6–100.0%) and 99.6% (97.9–100.0%); accuracy, 97.8% and 97.4%; mean DLPs, 363 ± 191mGy∙cm and 633 ± 591mGy∙cm (p < 0.0001). Phantom-based measurements of effective dose were 47% lower on scanner 1 (4.64 vs. 2.48 mSv) and 26% lower on scanner 2 (4.68 vs. 3.45 mSv) with the reduced protocol.
Conclusion
For young adults with clinically suspected appendicitis, a reduced scan range CT protocol is as sensitive, specific, and accurate as a standard scan range CT and imparts significantly less radiation dose.
Key Points
• A reduced scan range CT protocol in young adults with high suspicion of appendicitis demonstrates similar diagnostic performance as a full-range abdominopelvic CT in undifferentiated adult patients.
• The reduced scan range CT protocol imparts significantly less radiation dose: 57% based on dose-length product data and 26-47% based on anthropomorphic phantom data.