»
Go to news main
Dal's former finance director takes new role as medical school's chief operating officer
Posted by
Melanie Jollymore
on January 19, 2018 in
News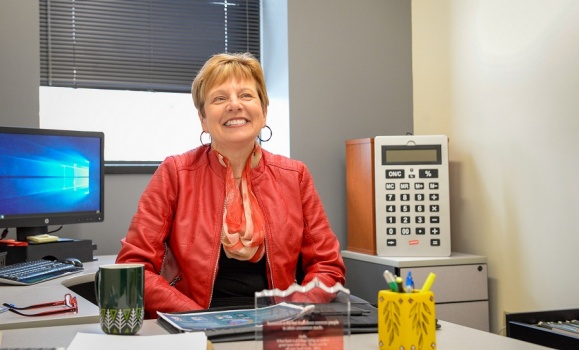 In January 2018, Linda became the medical school's first-ever chief operating officer. Reporting to the Dean of Medicine, Linda leads, directs and manages the operational functions of the medical school—including governance, finance, human resources, communications, IT, facilities and space planning. At the same time, she works with the faculty's senior leadership team, departments and units to ensure that planning, policies, systems and processes are working effectively and efficiently together to support the faculty in implementing its strategic plan, #DalMedForward.
Linda brings more than 25 years of senior leadership experience in the public sector to the medical school's team. Prior to joining Dalhousie University as director of budgets and financial analysis in 2013, Linda was chief financial officer for the Nova Scotia Department of Health and Wellness. Before that, she was director of financial services for district health authorities and physician services, so she brings in-depth knowledge of the health care system to her new role.
Learn more about Linda's vision for her new role at Dalhousie Medical School through a Q&A:
Q. What is the essence of your new role as chief operating officer?
A. I will be working closely with the dean, Dr. David Anderson, and the senior leadership team to oversee all aspects of the medical school's operations, from the business side. 
By creating the chief operating officer role, the medical school is putting a specific high-level, high-priority focus on operations—essentially, the underlying systems and processes that support the delivery of our academic programs and achievement of our mission. This includes finance, of course, as well as human resources, IT, facilities, space planning and communications. A big part of my job is to identify and correct any inefficiencies in the systems and processes in all of these areas, so that everything runs as smoothly and cost-effectively as possible. This will involve working closely with Dalhousie University's central administration to ensure our policies, procedures and processes are aligned and working well together. 
At the highest level, I'll be overseeing the operationalization of the medical school's strategic plan, #DalMedForward. This means working with the Dean's Office, departments and units to help them set step-by-step goals, put action plans in place, and establish performance indicators and tracking mechanisms to monitor progress and measure results. 
On top of this, there is a huge external aspect to this role, as the medical school's teaching, research and clinical activities are so tightly connected to the health authorities, governments, medical societies and many other partner organizations in the three Maritime Provinces. There's a lot to it!
Q. What are your top priorities in your new role? 
A. My first priority is to get the overall lay of the land. I'm well into the process of meeting with all of the departments and units, so I can gain a deeper understanding of their operations, their issues, and their aspirations. Most of all, I want to learn directly from people what I can do to help them solve their problems and seize their opportunities. 
Another priority at the top of my agenda is to establish a system for rapid and regular financial reporting. We will need to establish new systems and protocols for financial reporting, with consistent key indicators and reporting points across all departments and units. Such a system will generate monthly and on-demand reports that allow us to carefully track spending against budgets and compare patterns over time. Essentially, I will be making sure that senior leaders and managers have crucial financial information at their fingertips, when they need it, to make timely, well-informed, strategic decisions. I've already jumped into the budget meetings, and met with the people who report directly to me in the Dean's Office, so we're on our way! 
I also feel that raising the medical school's profile and stature with all of our stakeholders—including health authorities, governments, and the Maritime community at large—is an important priority. In particular, I'd like to amplify the message about the ground-breaking research that's happening here, to help build a stronger base of support.
Q. What are the greatest challenges facing Dalhousie Medical School? 
A. The medical school faces several layers of challenges. The first is to do with the larger societal challenge we are all facing, as our population in the Maritimes becomes the oldest in the country with the highest rates of chronic disease and risk factors for chronic disease. We are charged with the responsibility of educating the physician workforce to meet the increasingly complex and pressing health care needs of our population. But we have to do far more than that, as we all know. We have to be leaders in developing entirely new models of care, so we can meet patients' needs more efficiently and effectively, and we have to play a powerful role in encouraging wide-scale behavioural change, so that future generations will be healthier. 
Because of our central role in delivering patient care and educating physicians in the region, we must work seamlessly with nearly 20 teaching hospitals and many more family medicine teaching sites across the Maritimes, as well as three sets of medical societies, physician colleges and provincial governments—not to mention the public, who receive care in the clinical setting but also play an important role in countless research projects as well as in such teaching endeavours as the volunteer patient program. 
And then there is the complexity of our funding streams—which includes university and government funding and alternative funding plans, student fees, research grants and overheads, and gifts—and the very high and rising costs of running a leading medical school. It's complicated and requires sophisticated systems and a strong stakeholder commitment to our mission.
Q. What particularly relevant knowledge and skills do you bring to this role? 
A. I'm an accountant by training, but I bring many years of much wider experience in senior leadership, business planning, negotiation and conflict resolution to the medical school. 
Most recently, as Dalhousie University's finance director, I helped lead the multi-year strategic planning process for all of the faculties. I understand the university's overall goals and the opportunities and constraints it faces as a whole, and how all of the faculties fit within this larger picture. I also know what the university wants and needs from faculties in terms of financial reporting. 
I think this is a very useful perspective to have, coming into the Faculty of Medicine. It allows me to apply what I learned working with faculties at the university level to my work with departments at the medical school—particularly in terms of how I can help them put their plans into action. 
Before joining academia, I worked for more than 20 years with the Nova Scotia Department of Health and Wellness—most recently as chief financial officer, responsible for a $4 billion budget. In various roles with DHW, I have led the business planning process for the previous nine health authorities and the IWK, overseen health infrastructure projects, and negotiated some very tricky contracts, including alternative funding plans. Over the years, I've had the opportunity to work with primary care, long-term care, hospital services and emergency health services. I know the territory well, from a very high level but also in a great deal of detail on the ground. 
My new role at the medical school feels like a perfect match—an opportunity to combine my university and health experience with my financial management and leadership know-how to really make a difference!
Q. What are you most looking forward to in your new role?
A. I am really looking forward to getting to know the people in the Faculty of Medicine better. By all indications, we have an amazing team of brilliant and dedicated individuals working here. I know I am going to enjoy working with them and helping them reach their goals. 
I'm also looking forward to learning more about the academic side of the faculty, including the research, and to meeting the team at our partner organization, Dalhousie Medical Research Foundation. I'm learning a lot about academic medicine already, as a member of several academic committees. This is all new to me and very interesting and exciting. 
Something else I know I will really enjoy is reconnecting with my former contacts in our key partner organizations, including the IWK, NSHA, the Department of Health and Wellness, Doctors Nova Scotia, and others I worked with in my government days. I'm also looking forward to meeting our stakeholders in New Brunswick and Prince Edward Island and creating those new relationships that are so important to our mandate as the medical school for the Maritimes. 
Above all, I'm looking forward easing and facilitating the administrative component of the faculty's work, so that research, teaching and clinical activities can run as smoothly and efficiently as possible, to the benefit of everyone within the faculty and everyone we serve.
Q. How do you maintain your energy and balance in such demanding positions as you've held over the years? 
A. I take a very healthy and active approach to life. I enjoy noon-time runs with colleagues, going to Dalplex, doing yoga, and working out with weights. I also enjoy snowshoeing, golf, biking, hiking, and other outdoor activities. The whole balanced approach to work and life keeps me healthy, focused and productive!