»
Go to news main
Med students give community organizations a helping hand
Posted by
Colin Hodd
on May 15, 2018 in
News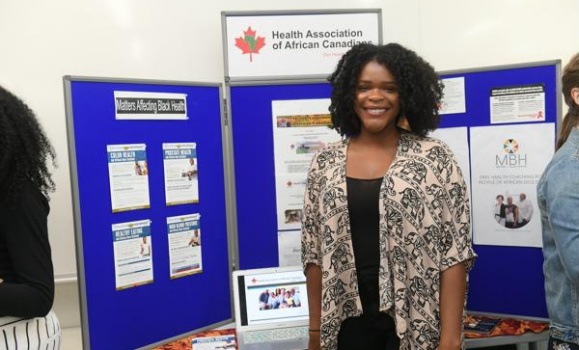 It's no secret medical school can be all-consuming. At times medical students feel like they're living in lecture halls, hospitals, libraries and labs. With the recent advent of Dalhousie Medical School's Service Learning Program, these busy students are now also spending time in seniors' homes, food centres, needle exchanges and a host of other locations where grassroots community groups are providing much-needed services and supports.
Dalhousie Medical School's Service Learning Program is part of #DalMedForward, the school's five-year plan to achieve excellence in medical education while serving and engaging the broader community. Managed by the Global Health Office, the program matches second-year medical students with community partners to give students a taste of what medical practice might look like outside the clinic or classroom, while helping them learn about the wider community's needs and resources to inform their future practice.
"It's really a chance to connect the medical school with community organizations in a meaningful way so that the experience produces mutual benefits," says Sarah Peddle, manager of the Service Learning Program. "Our students hear a lot in lectures about the social determinants of health and the need to take a holistic approach to health care. This offers them a chance to connect classroom-based learning to real-life contexts. I'm always impressed by the ways that medical students and community partners are able to co-create such impactful contributions."
Serving diverse community needs
Students and community organizations partnered on more than a dozen initiatives. To name just a few accomplishments, this year's collaborations advocated for harm reduction and peer navigation with the Mainline Needle Exchange, mounted a workshop on how to access and navigate the Canadian health care system at the Halifax Refugee Clinic, and organized flu clinics at community pharmacies for clients of the Immigrant Services Association of Nova Scotia (ISANS).
Among these partnerships was a serendipitous pairing of second-year medical student Malik Ali with the Dartmouth North Community Food Centre, a project of the Dartmouth Family Centre that creates a place where people can grow, cook and share food.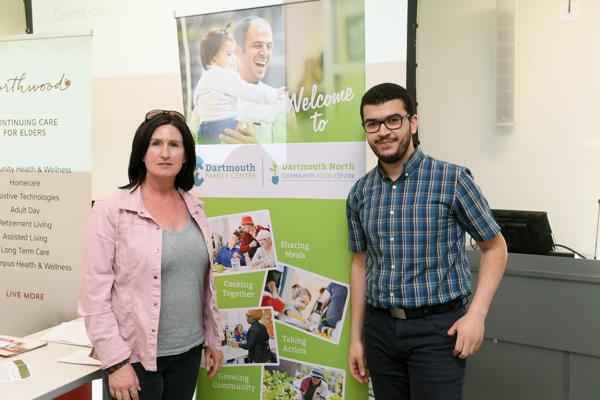 Caralee McDaniel, Dartmouth North Community Food Centre, and Malik Ali, second-year medical student
The Service Learning Program is based on asking the community to identify its priorities. So, Ali was matched to help with a weekly walking group.
"I did not know about the walking group or that they didn't have a structured alternative to walking on bad-weather days," says Ali. "But when I met with the staff at the food centre, they told me about this walking group and some of the challenges they face."
"Our aim is to create accessible spaces for people who have barriers to being physically active in mainstream gyms and things like that," says Caralee McDaniel, who coordinates the walking group for the centre. "When we first started the walking group, the idea was that we'd go for a walk every week, but this is Halifax and the weather isn't always going to allow that."
Ali's background before starting med school was physiotherapy. Together with a physiotherapist friend, he devised an exercise program for the walking group that they could follow when the weather acted up. In order to maximize the benefit to the centre, Ali and McDaniel knew the program would have to be inexpensive, target all ages and abilities, be teachable by a non-physiotherapist volunteer, and have a method for progression.
"Balancing those four core principles was one of the hardest parts of coming up with the exercise program," says Ali. "We started off, I don't want to say small, but it was the first step on the ladder and there's a lot more to be done."
The food centre provides nutrition and opportunities for exercise. But health is about more than that McDaniel sees that the walking group has brought tremendous change in people's live.
Malik Ali leads participants in the Dartmouth North Community Food Centre's walking group in rainy-day exercise program he devised for them.
"We know we have a large and growing population of single older people who live alone and on a fixed income," she says. "But through the walking group they've made friends and their health has improved. It's important to provide a sense of belonging and opportunities to socialize."
The importance of first-hand experience
For Ali, his experience with the Service Learning Program has driven home the real-world importance of holistic approaches to health—a concept that was not so easy to grasp in the form of a lecture.
"It's a totally different experience when you're actually out there in the community. This idea of having medical students out experiencing different aspects of the social determinants of health builds your understanding and confidence to work with patients from all backgrounds," he says. "These experiences build your character and guide you on the right path to knowing what's most important for your patients in the future."
Since embarking on this project, the Dartmouth Family Centre has received $1,500 from the Dartmouth Community Health Board for new walking poles, $200 from the Global Health Office for resistance bands, and $10,000 in funding from the Chronic Disease Innovation Fund. Eleven members of the walking club have registered for the Blue Nose Marathon. McDaniel sees initiatives like the Service Learning Program as a way to put people in touch with resources that they might have thought out of reach.
"It's great to see this shift to clinicians wanting to be in the community and experiencing it firsthand, rather than out of a textbook or lectures," she says. "It's helping us provide our clients with resources they wouldn't otherwise be able to get. Our work with Malik has exceeded our expectations."