»
Go to news main
Dal PhD grad to pursue cancer immunology and therapy research at Stanford
Posted by
Melanie Jollymore
on June 22, 2018 in
News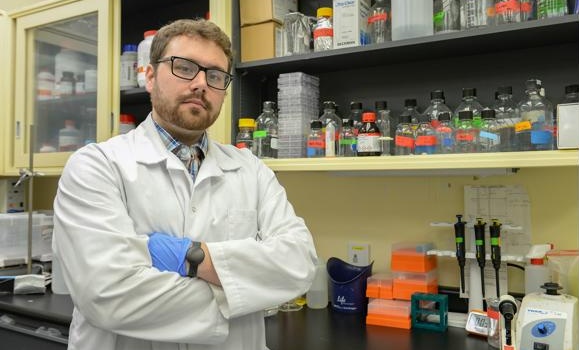 Dalhousie Medical School is training exceptional young scientists in the vitally important fields of cancer immunology and immunotherapy.
"Cancer is difficult to eradicate in part because of its ability to hide from the body's immune system," says Derek Clements, PhD, who received his doctorate degree from Dalhousie this month. "Therapies that override this ability and elicit a strong immune attack against the tumour are one of our best modern-day treatment options."
The now-Dr. Clements received the Graduate Student Excellence in Health Research Award from the Faculty of Medicine at its 20th annual Graduate Student Research Day this spring for the high quality of his research, which explored the role of white blood cells, known as myeloid cells, in ovarian cancer and how to manipulate them to fight this deadly cancer.
Clements will continue his efforts to understand how myeloid cells influence cancer outcomes, as a postdoctoral fellow at Stanford University in California.
Another recent Dalhousie PhD graduate specializing in cancer immunotherapy—Dr. Simon Gebremeskel—recently attended the Nobel Laureate Lindau Meeting in Germany and is heading to Stemcell Technologies in Vancouver, a company started by Dalhousie graduate and cancer researcher, Allen Eaves.
"Our faculty is very strong in the area of cancer immunology and immunotherapy, which attracts some incredibly talented young scientists to come and work with us," notes Dr. Roger McLeod, Dalhousie Medical School's associate dean of research. "We're extremely proud of our recent graduates' accomplishments."
A prestigious Frederick Banting and Charles Best Canada Graduate Scholarship Doctoral Award funded Clements' PhD studies at Dalhousie. The Canadian Institutes for Health Research gives out just a handful of these "special recognition and support" awards each year.
Clements first began his work in cancer immunotherapy as an honours students in microbiology and immunology at Dalhousie, volunteering in the lab of Dr. Patrick Lee. Now retired, Dr. Lee is famous around the world for his discovery that a common virus—the human reovirus—can infect and kill cancer cells without damaging nearby healthy cells.
"I found the virus work to be fascinating," says Clements, who later embarked on graduate studies with Dr. Lee and then-postdoc Dr. Shashi Gujar, a recent recipient of $3.2 million from the National Institutes of Health (U.S.) to develop immune therapies for melanoma. "While reovirus stimulates our immune system to kill cancer, it also drives the accumulation of myeloid cells which can hamper therapy. We've recently identified an enzyme responsible for this action and targeting it could make virus-based cancer therapy more effective."
20 years of graduate student excellence
In the 20 years since Dalhousie Medical School launched its first Graduate Student Research Day, it has given out 20 awards of excellence. These exceptional graduates have since gone on to highly successful careers in industry, government and academia. Today, these Dal graduates are teaching and conducting their own research programs at universities all across Canada and around the world. They're also working in such organizations as the Montreal Neurological Institute, the U.S. Food and Drug Administration, the King Faisal Specialist Hospital and Research Centre in Saudi Arabia and the International Society for Stem Cell Research.