News
»
Go to news main
Accreditors rate Dal Med residency programs excellent overall
Posted by
Melanie Jollymore
on December 11, 2018 in
News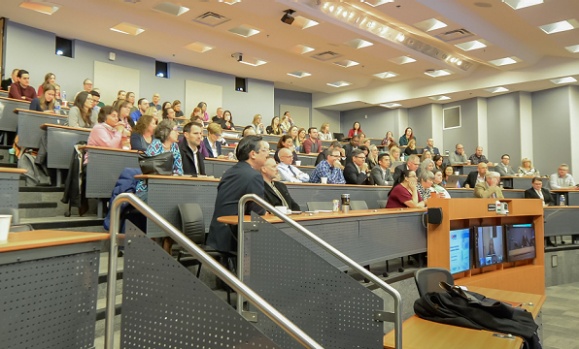 Dal Med's residency training programs have received a preliminary stamp of approval from the Royal College of Physicians and Surgeons of Canada and the College of Family Physicians of Canada, following the site visit in early December that marked the culmination of years of preparation for this accreditation.
"With the weeklong accreditation site visit, the institutional review team completed their in-depth review of 52 of our residency training programs," notes Dr. Andrew Warren, associate dean of Postgraduate Medical Education (PGME). "By all accounts, we had excellent overall results. Most programs received the top rating of 'accredited with follow-up at the next regular survey' in eight years. This is a testament to the structures and processes we have built to support our PGME training programs… it is certainly cause for celebration!"
Dalhousie will receive final reports from the two colleges in the spring—with customized recommendations for each of the 52 programs reviewed, as well as the institution as a whole —after the reports have been ratified by accreditation committees at the Royal College and College of Family Physicians.
The accreditation review team noted a number of leading practices and innovations that set Dal Med apart from other Canadian medical schools. These include its clinical grade cadaver program, program director performance management process, and the Quality Improvement-Patient Safety Task Force. The reviewers also praised the medical school for its socially accountable, data-driven approach to assigning quotas to its residency programs based on advanced modelling of the population's need for various specialties in the coming years. These projections are conducted in partnership with governments through physician resource planning discussions and committees.
Mastering a late-breaking challenge
Dalhousie's residency training programs have been preparing for this year's accreditation review since the last site visits six years ago, primarily by making and documenting the recommended changes. But then just last year, the colleges released new accreditation standards to reflect the shift to competency-based medical education across Canada, the changing health care and educational environments, and the changing expectations of Canadians.
"The colleges made substantial changes to their accreditation standards, as well as to the system by which these standards are assessed," Dr. Warren says. "Dalhousie is the first medical school in Canada to be accredited according to these new standards and processes."
The new standards and system required residency program directors, administrators and committees to make extensive changes not just to their accreditation submission documents and the way they were submitted, but also to develop brand new policies and procedures in many different domains, including governance, curriculum development and delivery, assessment, patient safety and quality improvement.
"The biggest changes to the standards are the addition of substantial and stringent requirements to demonstrate how residency programs are ensuring patient safety and embedding quality improvement in every area of operations," notes Dr. Warren. "Our faculty, staff and residents pulled out the stops to address these and all the other new requirements in a very short span of time. Our PGME accreditation manager, Carolyn Hicks, was a tremendous support to everyone… they are all to be commended for their efforts."
In spite of the challenge of having to respond to brand new standards with just one year of prep, Dalhousie's dean of medicine, Dr. David Anderson, was pleased by the opportunity.
"We'd rather Dalhousie Medical School be the first medical school to be judged using the new standards than the last with the old," said Dr. Anderson at the initial meeting with the RCPSC and CFPC accreditation teams. "It is really to our advantage to be early adopters of these new standards. Our learners, teachers and ultimately our patients will benefit from the increased stringency and focus on patient safety and quality improvement, in particular."
Dal's associate dean of postgraduate medical education, Dr. Andrew Warren (left), and dean of medicine, Dr. David Anderson (right), chat with Dr. Glen Bandiera, chair of the Royal College on-site survey team for Dalhousie, and Dr. Kathy Lawrence, chair of the College of Family Physicians' on-site survey team for Dal.
Collegial cross-country effort
Dal Med's residency programs received support from the Royal College of Physicians and Surgeons of Canada and the College of Family Physicians in preparing for this latest accreditation. Both colleges sent their experts to Halifax on several occasions to conduct workshops and seminars with program directors, administrators and faculty to assist with preparations. In the months leading up the recent site visit, program directors and administrators hosted their own sessions to ensure everyone was ready.
"It's a very supportive process," says Dr. Warren. "We received a lot of information and advice from the colleges to help us do our best, and now that we've been through the process with the new standards, we are going to be helping other medical schools in Canada get ready for their own on-site visits."
Dr. Warren and Carolyn Hicks shared their insights into preparing for accreditation under the new standards with residency program directors and administrators from all across Canada at a national conference this fall. Dr. Warren will also be conducting a pre-review of residency programs at the University of British Columbia medical school to help them prepare. And, he is deputy chair of the review team that will visit the next Canadian medical school to be accredited, McGill.
"We are all working together with the common goal of improving family medicine and Royal College specialty training in Canada," Dr. Warren says. "I believe that Canadian medical schools provide the best residency training in the world, and there is always, always room for improvement. The end of our accreditation visit marks the beginning of a new era of Canadian postgraduate program accreditation focused on continuous quality improvement."