News
»
Go to news main
Dal 200 flashback: celebrations and connections
Posted by
Staff
on December 12, 2018 in
News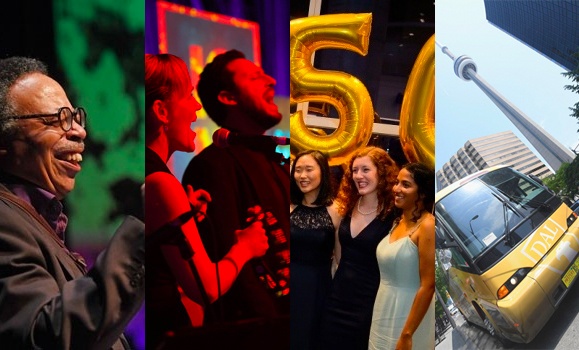 Though Dal 200 officially kicked off January 1 with New Year's Day skates in Halifax and Truro, its ceremonial beginning was on February 6. On that day — the anniversary of Lord Bathurst granting permission to create Dalhousie College — Dal held its Bicentennial Launch, gathering together poets, musicians and other performers for a survey of Dal's past, present and future.

It would hardly be the last big gathering of the year. Each banquet, gala or ceremony held through the year took on special significance, weaving the strands of the university's history together into the broader anniversary moment. Here were a few of the most notable celebrations.
Bicentennial Launch
Guided by George Elliott Clarke's epic poem, "The Story of Dalhousie," and featuring President Florizone's Bicentennial Address alongside many student and alumni performers, the February 6 Bicentennial Launch offered an artistic journey through Dal's history, highlighting the individuals and ideas that have shaped its 200-year legacy.
"The Bicentennial Launch was one of the most well organized events I have witnessed a long time. The selection of artists and the way the stories were narrated by the different artists present were perfect. People were giving great comments around me. The former Lt. Governor of Nova Scotia Honourable Mayann Francis was at our African Heritage month event and she was at awe of Dr. Clarke's narration... The whole event covered the past, present and future of Dalhousie, and highlighted the importance diversity and inclusion at the university." —  Oluronke Taiwo, Black Student Advisor
Read more: "The best is yet to come": Dal 200 launches with poetry, reflection, celebration
Ignite: Dal's Third Century
    Held at the new Halifax Convention Centre, the Ignite gala was the marquee event of Homecoming 2018. A capacity crowd of 1,200 guests got to learn about the impact Dal teaching and research is poised to make in its third century not just in Halifax or Nova Scotia, but across the country and around the world.
"The Dalhousie Ignite dinner highlighted several big research initiatives for the next century. It was great to see that the university wants to play a part in addressing global challenges such as food security, health, sustainable energy, and climate change. As one of the featured researchers, I was very honored to be given the opportunity to present my work in front of such a large and distinguished audience."" —  Mita Dasog, Assistant Professor, Department of Chemistry
Read more: Igniting Dal's third century
Medicine 150
   
It wasn't just Dalhousie, as a whole, celebrating a milestone year: Dalhousie Medical School marked its 150th anniversary in 2018. Throughout the year the Faculty of Medicine celebrated its innovators and looked to its future, culminating in the big Medicine 150 gala in November.
"Our DalMed150 Anniversary Weekend was a huge success! It was a pleasure to be able to come together and celebrate the memories, experiences and achievements of our school. While we do have a tendency to look forward, the Dal Med 150 celebrations have provided us with an opportunity to look back, and to appreciate the vision and dedication of those who went before us to establish Dalhousie Medical School and help it grow into the renowned institution it is today." — David Anderson, Dean, Faculty of Medicine
Read more: An anniversary to remember
Coast-to-Coast

All aboard! Held in three legs - April, June and September - the Coast to Coast tour brought Dal 200 celebrations across Canada. With events in 13 communities, concluding in Halifax for Homecoming 2018, the tour allowed alumni a unique opportunity to take part in Dal's big year.
"I was honoured to be asked to speak in my hometown of St. John's at Dalhousie's Coast to Coast tour. It was an opportunity to reconnect with friends from my Dal days and to meet new ones. I realize now that Dal graduates are like Newfoundlanders: we can be found working anywhere in the world but we always maintain our connection to home." —  Marina Sexton, Dentistry alumna
Read more: Coast to Coast highlights (and more highlights!)
More Dal 200 flashbacks