News
»
Go to news main
Making history: Meet Jo Napier, the artist behind the Dal Med Innovator portraits
Posted by
Kenneth Conrad
on January 21, 2019 in
News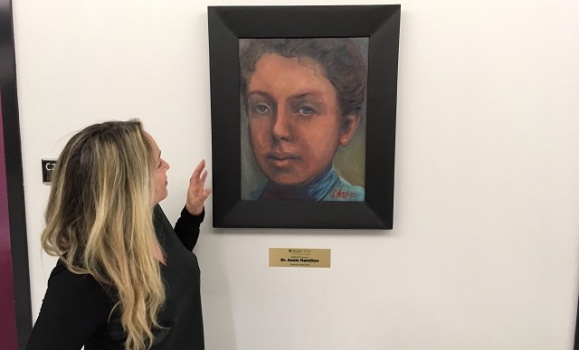 If you've recently visited the Dalhousie Medical School Dean's Office, you've likely noticed some new faces.
Displayed proudly in the hallway hang the portraits of the Dal Med Innovators: 12 men and women recognized during the medical school's 150th anniversary for their everlasting contributions to medical education at Dalhousie. 
The portraits, hand-painted by Halifax artist Jo Napier, were displayed at a luncheon to honour Innovators and their families and at the DalMed150 Celebration Gala at the Halifax Convention Centre before being moved to their now permanent home on the second floor of the Clinical Research Centre.
Art (and medicine) runs in the family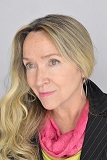 Napier, whose brother Luke and late father Robert are both Dalhousie Medical School alumni, was a journalist before shifting gears and deciding to pursue art as a career path, taking classes at Vancouver's Emily Carr University of Art + Design and the Nova Scotia College of Art and Design.
Introduced to art by her father, Napier recalls him painting to unwind in the evenings when he served as a family doctor in Bonavista, Newfoundland. Today, Napier's adopted daughter, Julia, inspired her niche of portraits of pioneering women.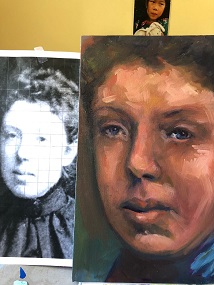 "When we adopted our daughter Julia, from China," Napier says, "I realized she'd never be 'from' Nova Scotia, but rather 'of' Nova Scotia. I wanted to tell her stories of girls and women who weren't born here but who did great things here, and I couldn't think of any!"
After two years spent researching the subject, Napier created her Great Women of Nova Scotia: The Nova Scotia Nine portrait collection, which featured Viola Desmond, Marie-Henriette (Granny) Ross and Anna Leonowens, among others. The series was eventually purchased by the Royal Bank of Canada for its national art collection and resides in the 14th floor boardroom of RBC Dominion Securities in Purdy's Wharf.
That project was followed up with two Great Women of STEM (Science, Technology, Engineering and Math) portrait collections: "Female Chemistry" and "Great Women of the Ocean, Earth and Sky," featuring women who won Nobel Prizes, created our star classification system and mapped the ocean floor – while raising a family, in some cases.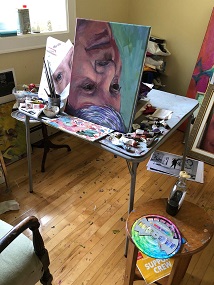 Napier recalls a moment, during her third portrait collection's showing at the Chase Gallery in the Nova Scotia Archives, that left a lasting impression.
"I noticed a woman standing in front of one of the portraits, crying. I asked her what was wrong, and she said, 'I didn't know any of this.'
"I understood her to say that, maybe her life, her choice of study, would have been different had she known these career paths were available to her. She was standing in front of my portrait of Elsie MacGill, a Canadian, and the world's first female aircraft engineer.  It was an extremely moving thing, and now I paint female STEM pioneer portraits with her in mind, as well as my daughter."
Crafting the Innovators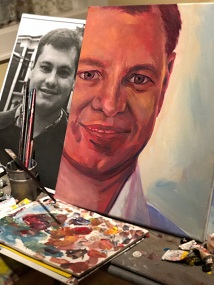 Napier says her goal for the Innovator portraits was "not to create a picture-perfect image of the person, but to capture or convey something about their spirit."
Her method of placing large photos of her subjects around her house allowed her to form connections with people she'd never met.
"At a certain point, I feel like I know the person. I feel connected to them. I feel like I have a sense of what they're like. Not so much their bio, but their spirit; all the subtle, unique elements of their face.  I try to absorb a sense of that."
In painting Margaret Casey, Napier tried to capture "her generosity of spirit and innate kindness." Nuala Kenny's face contained "a deep spirituality" that Napier sought to bring out. She connected with a feeling of "essential free-spiritedness" when she studied Joni Guptill's photo. "I wanted her hair to be wild, her smile to be … still filled with hopefulness, youthful verve."
She switched from oil-based brush paint to oil pastels in order to better bring out Dr. Richard Goldbloom's personality. "Playful pastel colours let me capture the exuberance of his spirit."
Promoting women in science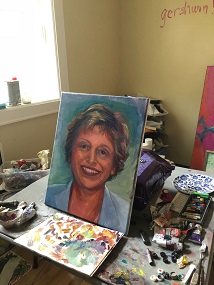 Now that the Innovator portraits have been completed ("I was exhausted at the end, but happily so," she says), women in STEM is Napier's primary focus.
She's launched her own company, Great Women Productions, to produce short, one-on-one video "interviews" with the subjects of her portraits to be shown at conferences and as educational tools.
"It's a fun, creative and subtly powerful project. We're exploring STEM paths through the female experience; delving deep into research papers and biographies, letting these pioneers share their thoughts on their personal and professional development from a female perspective."
Napier envisions a different world when her daughter is old enough to pursue a career of her own.
"I want young girls my daughter's age to know that medicine, science, engineering – this is women's work!"