News
»
Go to news main
Women's History Month 2021: Immunologist Jeanette Boudreau on Being a Women in her Field
Posted by
Alison Auld
on October 18, 2021 in
Research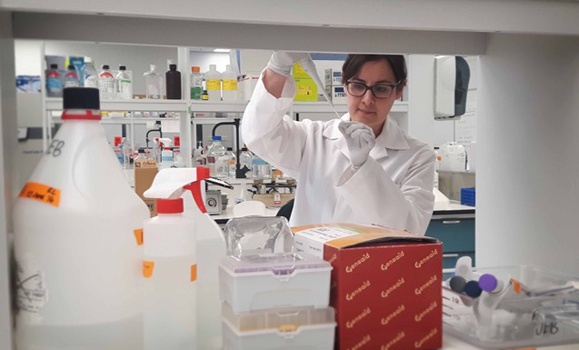 This October, as part of our coverage of Women's History Month in Canada, we ask a few of Dalhousie's many amazing researchers to reflect on their experiences as women working across a range of different fields.
This week, learn more about Jeanette Boudreau, an assistant professor in the Department of Microbiology and Immunology and Department of Pathology in the Faculty of Medicine.
What is your main area of research?
I'm an immunologist with a focus on developing immunotherapies for cancer and other diseases. The immune system works so well to protect us from disease almost all of the time, and there are many lessons that the immune system can teach us. I work mostly on a subset of immune cells called natural killer (NK) cells, which are the Swiss Army knives of the immune system. They have many conserved pathways with which they can surveil the health of other cells, and they use them in combination to detect damaged, infected ordiseased cells.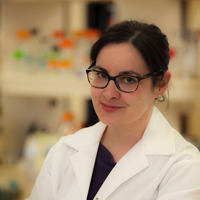 My research team studies human immunology and immune system genetics and their roles in disease. We look at how these features change in healthy people compared to those with disease, or among patients with cancer that respond or not to particular treatment. We use machine learning, computational assessments, primary donor and patient samples and high-parameter tools to wring out the clues that help us to target disease.
What has it been like being a woman working in your field?
I think I was about 30 and in my post-doc before it really occurred to me that I was perhaps judged differently for being a female. I have a very supportive family and have had fantastic mentors. Although there were substantially more women in my grad school cohort, they were less present among the post-doc cohort and even further underrepresented at the faculty level. The inherent, learned and usually unconscious biases remain, so as a woman in science I see it as my responsibility to be a strong mentor to young women and other groups underrepresented in academia, and to be a voice for change among my colleagues.
Has it become easier for women to pursue research in this area and what remains to be done to encourage more women to join the field?
In some ways, academia has made strides to improve outcomes for women, but much remains to be accomplished. Programs with scholarships and learning opportunities aimed at women have helped. There are more women in science now than ever, but they are still underrepresented at higher ranks and administrative positions. This is especially true among minority groups. Some of this will be met with time -- there are fewer women who have been in academia for long enough to reach these positions -- but there also need to be changes in the way that women are judged and evaluated. The playing field isn't yet equal and women are held to a higher standard.
Certainly, the more often women are seen in authority positions, the easier it is for young women to pursue STEM careers. In Canada, long maternity leaves and an ability to share time off work with one's partner lessen the time that one needs to take away from her career. Science and research keep moving forward though, so it's tough to really take time away. Women and their partners could be better supported throughout these transitions. Beyond infant care, improved support for childcare would assist women because they are disproportionately impacted by school closures and other care-related issues. Academic conferences are beginning to offer childcare — expanding these types of initiatives makes it more feasible for a mother to travel and keep up with her field.
Of course, all of these initiatives need the whole-hearted participation of everyone in academia. It is not inclusive if a woman is shamed for using these supports, taking time off or returning to work after having a kid. In my case, someone literally said, "For shame!" when I said I would come back at six months. I'd heard many comments about how people don't like to hire women of childbearing age because they'd just end up getting pregnant and taking time off, so I was probably very sensitive to this when I became pregnant. My husband took of every Monday for the first six months of my daughter's life to give me a break and a chance to check in on my lab. It was abundantly obvious that there was a double standard in taking time away for a newborn between men and women. While I challenged as to my commitment as a researcher, my husband was repeatedly praised for making the decision to spend time with his daughter!
What advice would you give young girls and women who are interested in pursuing a career in this field?
I think my advice really would extend to anyone striving for a career in science. If you have the interest and aptitude, go for it! Get a good mentor (or a few) that you can trust not only to lead your education, but that can also help you to design your career and balance it with your personal life. Network to find the colleagues with expertise that you need and remember that even at the academic ranks, science is a team sport. Don't be afraid to send emails and knock on doors to get the experience that you'll need, but be respectful, deliberate and directed in your approaches. I think most academics are eager to support young trainees (I am!), but we're also really busy people!