»
Go to news main
Doctor for a Day at DMNB returns for a fourth time in virtual workshop
Posted by
Allie Fournier
on December 20, 2021 in
News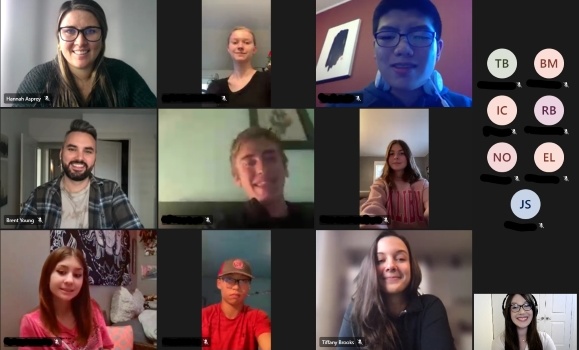 The Doctor for a Day at DMNB: Virtual March Break Workshops that took place earlier this year were so successful that Dalhousie Medicine New Brunswick was pleased to partner again with the Under One Sky Friendship Centre and the Dalhousie University Global Health Office's Indigenous Health in Medicine program to offer the fourth Doctor for a Day at DMNB event that took place virtually on November 19, 2021.  
This three-hour online session hosted on Microsoft Teams provided an opportunity for 15 interested high school-age students from New Brunswick* to explore the study of medicine at Dalhousie University with a focus on Indigenous health.  
Together, the planning committee built on the feedback received from the Doctor for a Day at DMNB virtual March break event and developed a workshop that dedicated more time to two topics of interest to students: the MCAT and radiology.  
The November 19 event began with a brief admissions presentation hosted by Carolyn Doyle, Dalhousie Faculty of Medicine Admissions & Student Affairs, and then moved into a 45-minute session entitled "All Things MCAT" with Mercedes Stemm, Indigenous Health in Medicine Program Coordinator. Mercedes led the group through a thorough explanation of the different components of the MCAT and guided participants through a few practice questions at the end.
"I found this so informative," writes one student in their anonymous feedback form at the end of the workshop. "It really helped take the worries and unknowns away, so I can know what to plan for."  
Next up, the Doctor for a Day at DMNB student leads since 2019, Tiffany Brooks and Jenny Melanson (DMNB Class of 2022), facilitated a 45-minute virtual radiology skills session that introduced participants to different kinds of fractures, the concept of displacement, and the steps to assessing an X-ray. The session concluded brilliantly with an interactive component that asked participants to match sports injury videos with the corresponding X-ray.  
"I loved how engaging it was," shares one participants. "It was really fun to guess what image went with what video. I've learned I really like radiology!"
After a short break, Dr. Brent Young, Academic Director Indigenous Health and Assistant Professor Dalhousie Faculty of Medicine, joined the group for a Q&A session. Participants were encouraged to submit questions for Dr. Young in advance and they did not disappoint, sending in a multitude of questions for Dr. Young on his experience preparing for med school, in med school, and after med school. His candour and warm presence were a hit with students who raved about the Q&A session.
"LOVED IT!" writes one student in their anonymous feedback form.  
"He was really helpful and explained his answers with really great details, which helped me understand his answers even better," writes another. "I love how his answers were natural and he wasn't just reading from a sheet of paper. It was great."  
Welcome packages with a journal and pen from Dalhousie Medicine New Brunswick, a medicine pouch from the Under One Sky Friendship Centre, and supplemental materials for all the workshops were mailed to participants in advance of the event and certificates of completion were sent after the workshop.  
"The notebook and pen were so awesome, I was so excited to receive them!" shares one participant of their welcome package. "My mom loved my reaction so much that she sent a photo to the Under One Sky Friendship Centre. They made me very excited to attend the workshop and made me want to save them for when/if I go to Dal!"  
* Preference was given to students who identified as Indigenous.