News
»
Go to news main
Dalhousie‑led global cancer immunotherapy initiative to combat cancer
Posted by
Kate Rogers
on April 4, 2022 in
News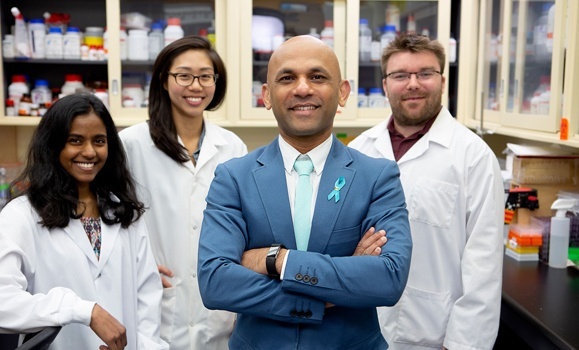 A Dalhousie researcher is poised to lead a cancer treatment revolution through global partnerships.
Dr. Shashi Gujar, recently appointed Executive Director, Cancer Immunotherapy, Innovation and Global Partnerships, in the Faculty of Medicine at Dalhousie, is developing innovative immunotherapy options for diagnosis, prevention, and treatment of cancers.
Cancer immunotherapies are a form of precision medicine that train our immune system to fight cancers and don't have the usual harmful side effects of traditional treatments like chemotherapy and radiation. Dr. Gujar is developing various forms of cancer immunotherapies such as cancer vaccines, cancer-killing viruses, and light-activable anticancer drugs. Through strategic international partnerships, Dr. Gujar will leverage the resources needed for his ground-breaking research enterprise to rapidly advance cancer immunotherapy discoveries in clinics and save lives sooner.
The global COVID-19 pandemic has demonstrated that medical innovations can be developed more quickly than previously shown. Accelerating the discovery and development process requires prompt access to highly qualified personnel, sufficient patient populations for clinical testing, and immunotherapy manufacturing facilities, components not available in Atlantic Canada, and limited across the country. Through global partnerships Dr. Gujar will work to overcome these regional challenges and limitations to drive innovation and accelerate the translation of exciting medical discoveries in patients.
"We know that we need major improvements in how we diagnose, prevent and treat cancer, and more importantly, we need it faster," says Dr. Gujar. "We don't have time to wait for another 15 years for every innovation to be translated in patients, and so we are working with global partners to access the best of the best capacities in the world."
Access for all
Dr. Gujar has established formal partnerships with various academic, clinical and industry leaders around the world, including those in India, France, Germany, Denmark, and the United States. This initiative is set to take the lead in driving the rapid development of new cancer immunotherapies and to make these therapies available and affordable to patients around the world.
"Cancer immunotherapy is very expensive right now," says Dr. Gujar. "We are working with true global partnerships hoping we will be able to create affordable cancer immunotherapy that will be available not only for Canadians, but to all the global citizens worldwide. We want all people to have access to these amazing therapies."
A world leader in cancer care
Dr. Gujar is positioned to take Dalhousie University from a world-class to a world-leading institute in the field of cancer immunotherapy. He would like to see this important research create opportunities to work in partnership with global organizations, including the World Health Organization (WHO) and the United Nations (UN). From a strategic perspective, this initiative will align the Faculty of Medicine's future directions not only with Dalhousie University, but with the international players who are pushing for better human health.
Though he looks forward to sharing Dalhousie's exciting work, Dr. Gujar reiterates the importance of collaboration and contributing to the greater good.
"We know success cannot be achieved by working in silos," he says. "But when we work together as a global community, we can do amazing things."
As Executive Director of Cancer Immunotherapy, Innovation and Global Partnerships, Dr. Gujar's initial assignment has been made possible with the generous support from Dalhousie Medical Research Foundation (DMRF).