News
»
Go to news main
Rooted in community: Dalhousie innovators celebrated for their impact in Nova Scotia and beyond at Discovery Awards
Posted by
Andrew Riley
on November 24, 2022 in
News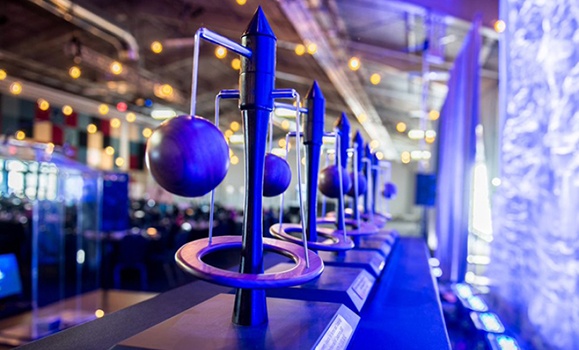 Last night's 20th annual Discovery Awards, co-presented by Dalhousie, was a moment to celebrate the university's innovators who are inspiring the next generation of Nova Scotian scientists and strengthening the province through their efforts.  
Winner in the category of Emerging Professional, Dr. Souvik Mitra of the Faculty of Medicine was recognized for his research and clinical work that has had a direct impact on the lives of premature babies suffering from heart defects in Nova Scotia and around the world. Biology researcher Dr. Arunika Gunawardena won in the category of Science Champions for her leadership of the Atlantic Science Links Association and efforts to connect grade-school students with leading-edge science education.
"The outstanding achievements of tonight's finalists are helping to put Nova Scotia at the forefront of global innovation and building the capacity of our future leaders," said Dr. Alice Aiken, vice president research and innovation in her opening remarks at the event.
"Partnership with our community is critical to our success as a university, and central to Dalhousie's strategic plan. When it comes to building the strength of innovation in Nova Scotia and Atlantic Canada, we are all in this together, from the initial spark in a child's mind at the Discovery Centre to the transformative discoveries taking place at our universities."
Dalhousie alumnus Mo AlGermozi, co-founder, president & CEO of Nova Scotia-based Graphite Innovation Technologies, won the award for Innovation in recognition of his company's revolutionary eco-friendly protective coatings for ships that reduce fuel consumption and greenhouse gas emissions.
Researcher and orthopaedic surgeon Dr. Ron El-Hawary was nominated in the category of Professional of Distinction for his pioneering work championing new surgical techniques, as well as his award-winning mentorship of future medical professionals. Dr. Amina Stoddart from the Faculty of Engineering was nominated in the category of Emerging Professional for her work with Halifax Water to ensure the safety of our wastewater.
Dalhousie had two nominees for the Public Impact Award, including Dr. Jennifer Llewellyn from Dal's Schulich School of Law who was recognized for her role in enhancing the province's justice system and expanding the application of a restorative approach. Dr. David Percival from the Faculty of Agriculture was recognized for the economic impact of his research that has helped grow and strengthen Nova Scotia's wild blueberry sector.
The annual Discovery Awards gala raises funds to support the Discovery Centre, a not-for-profit interactive science museum in Halifax, Nova Scotia with a mission to stimulate interest, enjoyment and understanding of science and technology.
Read on to learn more about Dalhousie's award winners and nominees.
Award winners
 
Emerging professional
 
Faculty of Medicine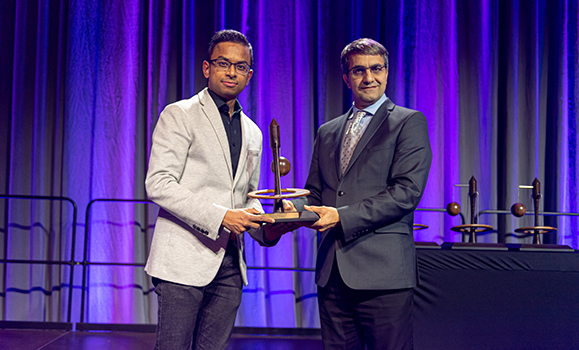 Dr. Souvik Mitra is a professor of pediatrics and neonatologist at IWK Health. His commitment to assessing clinical practice to drive research that improves patient care distinguishes him as an emerging leader in neonatology. His recent work has had a direct impact on the lives of premature babies and their families globally. Dr. Mitra's primary research revolves around the management of the patent ductus arteriosus (PDA), a common heart condition in preterm infants with potentially devastating complications and poor surgical outcomes. Dr. Mitra's research on the best treatment pathway for PDA saw a major shift in PDA treatment policies locally, nationally, and internationally, as he demonstrated that what was the most widely used treatment, was in fact, not optimally effective. This work garnered significant media attention and changes in clinical practice that saw a 21 per cent absolute reduction in need for heart surgery for PDA in preterm infants in the two years following a practice change. Dr. Mitra's dedication in this area has resulted in better, safer care for preterm babies as well as reduced costs to the healthcare system for unnecessary surgeries.
Science Champion
 
Faculty of Science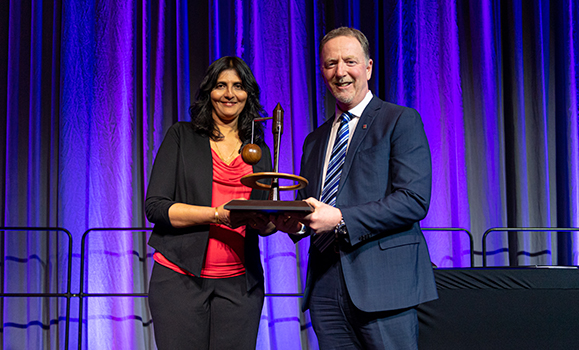 Dr. Arunika Gunawardena studies programmed cell death in plant development, a method plants use to dispose of unneeded or abnormal cells. She brings her love of science to her role as president of The Atlantic Science Links Association (ASLA), where she leads the organization's mission to provide outreach programs for students from primary to grade twelve, and builds bridges between the scientific community, schools and the public. Among other capacity-building initiatives, she has focused significant effort on supporting teachers in the Nova Scotia school system by arranging science conferences, visits to laboratories and other experiential learning opportunities. In 2019, she established ASLA's science contest for junior high school students in Nova Scotia – the first of its kind in the province. Funded by Dalhousie University's Faculty of Science, Engineers Nova Scotia, and NSERC, the contest aims to inspire students to consider study and a career in STEM.
Innovation
 
Mo AlGermozi, Co-founder, President & CEO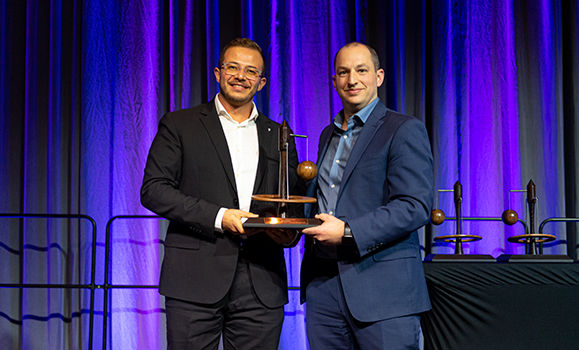 Graphite Innovation Technologies (GIT) was founded by Dalhousie University engineering alumni Mo AlGermozi and Dr. Marciel Gaier. Their company produces revolutionary eco-friendly protective coatings for ships that reduce fuel consumption and greenhouse gas emissions. They also develop coatings to minimize underwater noise pollution. In 2000, GIT was awarded a $2.4-million Transport Canada contract to work on a project that has shown initial results of a 20 per cent reduction in fuel consumption and a four to six decibel reduction in noise pollution. The company is also leading a $4.6-million Ocean Supercluster project aimed at further developing and commercializing smart protective coatings. Today, GIT serves customers around the globe.
Nominees
 
Professional of Distinction
 
Faculty of Medicine
Dr. Ron El-Hawary is chief of orthopaedics at IWK Health Centre and professor in Dalhousie's Department of Surgery. He is a leader in innovation in paediatric scoliosis. Committed to finding opportunities for improvements in care, Dr. El-Hawary was the first in North America to use the ApiFix technique, giving children suffering from scoliosis greatly enhanced mobility. This less-invasive surgery reduced operating time to half compared to other methods and allows for a shorter recovery time. A passionate teacher, he has mentored approximately 100 medical students, 65 residents and 35 surgical and research fellows. In recognition of his efforts in developing future leaders, he was awarded the 2020 Culture Changer Award by the Canadian Federation of Medical Students and the 2019 Clinical Teaching Award by Dalhousie's Orthopaedic Residency Program.
Emerging professional
 
Faculty of Engineering
Dr. Amina Stoddart, a professor in Dalhousie's Department of Civil and Resource Engineering, is applying her expertise in wastewater treatment to help advance the state of the art in water utilities.  In 2020, Dr. Stoddart was awarded a highly competitive, internationally peer-reviewed 3-year, $1 million Collaborative Research and Development (CRD) Grant with Halifax Water from the Natural Sciences and Engineering Research Council of Canada (NSERC) focused on wastewater surveillance and wastewater treatment optimization. This award is one of the largest CRD grants ever awarded to a faculty member at Dalhousie University. The goal of her research is to improve the effluent quality of the wastewater systems operated by Halifax Water. Through a series of studies Dr. Stoddart and her research team will identify chemical treatment optimizations, illuminate fouling mechanisms, test new technologies for disinfection, and assess discharge of contaminants of emerging concern, including microplastics.
Public impact
 
Schulich School of Law
Professor Jennifer Llewellyn is a Fellow of the Royal Society of Canada and the Chair in Restorative Justice at Dalhousie's Schulich School of Law. An international expert in the theory and practice of restorative justice, her work has been ground-breaking for justice systems and other social institutions. It has affected justice reforms, human rights protection, public inquiries, disciplinary processes, international peacebuilding, and reconciliation. Prof. Llewellyn has been integral to shifting Nova Scotia toward a human-centered approach across systems and services – with a particular focus on those who are vulnerable or marginalized. Under her direction the Restorative Research, Innovation and Education Lab  is quickly becoming the provincial centre for collaborative efforts to improve the wellbeing of Nova Scotians through a restorative approach.
Faculty of Agriculture
For the past 26 years, Dr. David Percival's research has been instrumental in growing and strengthening the wild blueberry sector in Nova Scotia. As director of Dalhousie's Wild Blueberry Research Program he collaborates closely with industry, positively impacting growers, harvesters, and exporters across the province and beyond. His research has helped improve almost every facet of production, including soil fertility, plant nutrition, disease management, organic production, bioactive and bioproduct development, vegetation management, double cropping, floral bud development, and berry yields. In recent years, he has focused on using remote sensing technology to make site-specific and precise decisions, reducing costs for growers and decreasing potential environmental impact. His work has made a substantial contribution to the quadrupling of the annual wild blueberry harvest, to make it the province's largest agricultural export with an estimated annual economic impact of over $100 million annually.