Dermatopathology Fellowship
The Dermopathology Fellowship is a one year opportunity for a graduated resident who completed training in Anatomical Pathology or General Pathology to further train in the subspecialty of Dermatopathology with some exposure to clinical Dermatology.
Program highlights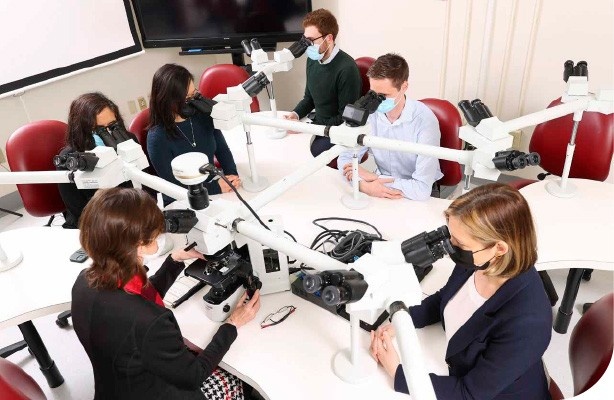 There were very limited training opportunities in Canada for this badly needed subspecialty… most Canadians still had to go to the States for training. I hoped to do something to correct this deficit.
— Dr. Noreen Walsh
To contribute to the need for subspecialty training in Dermatopathology in Canada, a one-year Dermatopathology Fellowship program was established at the Department of Pathology in Halifax by Dr. Noreen Walsh in July 2012.
The Royal College of Physicians and Surgeons of Canada has not officially recognized any dermatopathology programs in Canada. In order for graduating fellows to receive an official credential, Dr. Walsh approached the International Committee for Dermatopathology-European Union of Medical Specialists (ICDP-UEMS) to seek approval of the Halifax site as a registered training centre in this discipline. After a site visit and comprehensive evaluation of the quality of the learning opportunity, ICDP-UEMS officially approved the Halifax program. It is the first and remains the only ICDP-UEMS-accredited fellowship in Canada.
The first fellow joined the program in 2013, Dr. Jonathan Lai, followed by seven more in the years before Dr. Walsh's retirement in July 2022. The program continues under the helm of Dr. Sylvia Pasternak. These highly qualified subspecialists are now working all across Canada, in British Columbia, Saskatchewan, Manitoba, Ontario and Nova Scotia, filling a national gap in dermatopathology.
The COVID-19 pandemic brought an unexpected change in 2021, when senior Dalhousie pathology resident Dr. Ryan DeCoste was unable to pursue a fellowship in New York as planned. There was already a fellow in the program for 2021 — Dr. Glenda Wright — but the Department of Pathology moved quickly to find a way to accommodate Dr. DeCoste as well, training two dermatopathology fellows at once for the first time ever.
How to apply
Candidates eligible to apply to the Program include those certified in Anatomical Pathology or General Pathology by the Royal College of Physicians and Surgeons of Canada (RCPSC), or individuals eligible to sit for the RCPSC qualifying exams in those disciplines.
Applications should include a letter outlining the individual's professional aspirations and a current copy of their curriculum vitae (including a list of 4 referees with whom the applicant has worked in the past 4 years).
Following a process of short-listing, which takes place during the month of June of the year prior to commencement of the academic year in question, candidates would be expected to undertake a site visit to Halifax for interviews and for exploration of benefits offered by the Program.
Applications should be sent to Program Director Dr. Sylvia Pasternak.
Contact Information