Dermatopathology Fellowship
Program highlights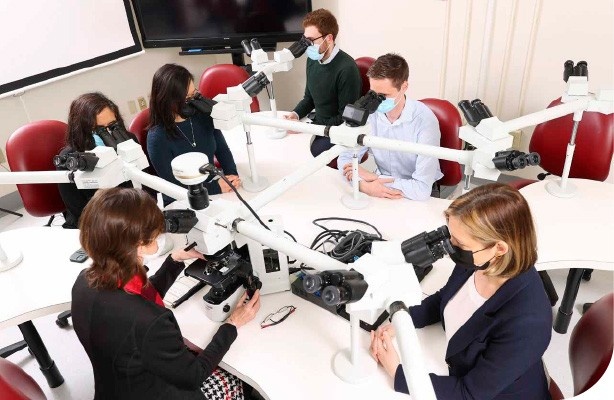 The Fellowship program was established at the Department of Pathology in Halifax by Dr. Noreen Walsh in July 2012 in an attempt to contribute to the need for subspecialty training in Dermatopathology in Canada.
The Royal College of Physicians and Surgeons of Canada has not officially recognized any dermatopathology programs in Canada. For graduating fellows to receive an official credential, Dr. Walsh approached the International Committee for Dermatopathology-European Union of Medical Specialists (ICDP-UEMS) to seek approval of the Halifax site as a registered training centre in this discipline. After a site visit and comprehensive evaluation of the quality of the learning opportunity, ICDP-UEMS officially approved the Halifax program. It is the first and remains the only ICDP-UEMS-accredited fellowship in Canada.
The first fellow joined the program in 2013. After Dr. Walsh's retirement in July 2022, the program continues under the helm of Dr. Sylvia Pasternak. Graduates from the program are now working across Canada, in British Columbia, Saskatchewan, Manitoba, Ontario and Nova Scotia, filling a national gap in dermatopathology.
How to apply
Candidates eligible to apply to the Program include those certified in Diagnostic and Molecular Pathology or Diagnostic and Clinical Pathology by the Royal College of Physicians and Surgeons of Canada (RCPSC), or individuals eligible to sit for the RCPSC qualifying exams in those disciplines.
Applications should include a letter outlining the individual's professional aspirations and a current copy of their curriculum vitae (including a list of 4 referees with whom the applicant has worked in the past 4 years).
Applications should be sent to Program Director Dr. Sylvia Pasternak. Deadline for applications are May 31 of the year prior to the commencement date. A site visit to Halifax, for an elective rotation and for exploration of benefits offered by the Program, is highly encouraged.
Dermatopathology Team
Dr. Sylvia Pasternak
Dermatopathology Fellowship Program Director
ICDP-UEMS Board Certified
Dr Thai Yen Ly        
American Board of Dermatopathology Certified
Dr Jennette Gruchy
ICDP-UEMS Board Certified
Dr Ryan De Coste
ICDP-UEMS Board Certified