»
Go to news main
Mentors Matter: Taking students to new heights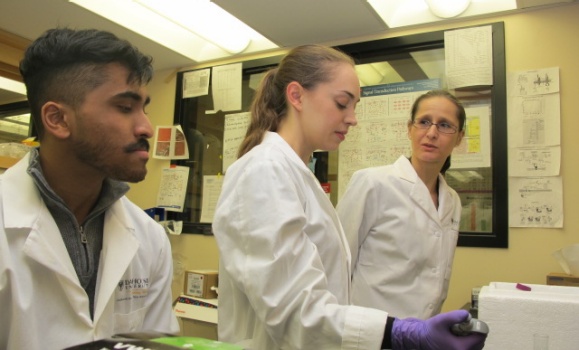 Two Dalhousie Medicine New Brunswick students are seeing the very real benefits of having a strong mentor. The members of the Class of 2019 have recently had their research results published in a peer-reviewed open access journal, PLOS.
Amy Brown and Intekhab Hossain, both medical students in their third year, have recently co-published their paper with the support and encouragement of their Research in Medicine (RIM) mentor, Dr. Petra Kienesberger.
The paper, titled Lysphosphatidic acid receptor mRNA levels in heart and white adipose tissue are associated with obesity in mice and humans was the result of many hours spent in the laboratory with guidance from Dr. Kienesberger. A cardiovascular researcher at Dalhousie Medicine New Brunswick, Dr. Kienesberger focuses her research on obesity and its impact on heart disease. She is part of a group of researchers and clinical physicians, called IMPART, who are working to provide health care teams with decision-making tools that will help them to assemble the most appropriate teams of specialists to meet patient needs, to provide truly patient-centred care.
Mentorship
Mentorship is a highly valued process of knowledge transfer in many industries, especially research, with many levels of reward for the mentee. Both students credit their mentor, Dr. Kienesberger, for their success with the project and being able to complete the RIM requirements within their first two years, half the allotted time. "She held us to a high standard, which gave us responsibility and ownership over our project," Amy recalls.
The Research in Medicine program provides medical students with the opportunity to learn the intricacies of research through a mentorship learning experience. This not only includes the technical aspects of conducting research, but also the professional aspects. "Dr. Kienesberger asked for accountability from us not by demanding it, but by practising it herself… This influenced us to also take responsibility for our communication, tasks, deadlines, etc.," Intekhab explains.
Research
Amy and Intekhab's research focused on what types of receptors are present in cardiac tissue, the role obesity plays in the presence of these receptors, and if they are correlated to outcomes after cardiac surgery. As medical students they were very excited about this project as it lays the groundwork for potential new treatments and therapies tailored to the needs of the individual patient.
"The idea is that we've found the ingredients for someone to develop a recipe that can offset the negative effects of obesity with drugs/treatments and reduce the length of stay in hospitals," explains Amy. Their research focuses how to influence the metabolic profile of the patient instead of addressing the disease profile. This type of patient-tailored therapy is becoming the focus of translational research.
Amy and Intekhab's study required them to work with both laboratory and clinical data. For Amy the research project supported her clinical background and her academic background in molecular biology. "It was the perfect marriage of my interests," Amy says.
For Intekhab, it was her first introduction to laboratory science: "I hadn't done lab work before and was looking forward to challenging myself, but I wanted to be supported. Dr. Kienesberger was well prepared and great as a mentor."
Lasting Impact
Both Amy and Intekhab have developed great respect for their mentor, Dr. Petra Kienesberger, the IMPART lab at Dalhousie Medicine New Brunswick and the impact that mentorship can have. Intekhab plans to take what he has learnt from watching Dr. Kienesberger into residency and beyond. "As Petra did with us, at the beginning of my interaction with future students as a mentor, I will get to know their baseline experiences and expectations. This will help me tailor my teaching to maximize their learning experience."
The impact on both Amy and Intekhab goes far beyond the research accomplishment itself. They have learned the value of mentorship and how to be a mentor. They both had such a positive experience that they highly recommend Dr. Kienesberger to any future RIM students.