News
»
Go to news main
PROPELLING NOVA SCOTIA'S HEALTH PRIORITIES: Research Nova Scotia awards grants geared to send researchers in important new directions
Posted by
Andrew Riley
on January 5, 2022 in
News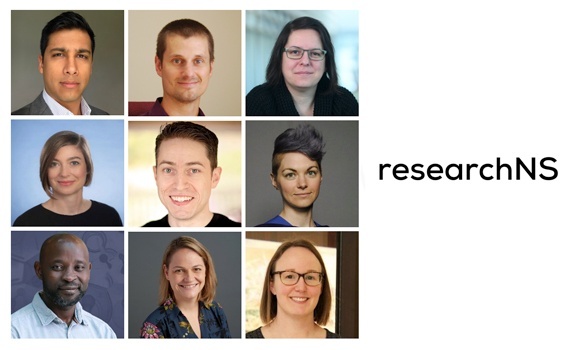 Nine new programs of health research will take flight at Dalhousie thanks to new funding awarded by Research Nova Scotia's New Health Investigator Grant, announced in late December 2021.
The grant provides two years of support of up to $100,000 for researchers within the first five years of their academic appointment. Dalhousie researchers won nine of the 15 grants provided for the 2021-22 academic year, earning close to $900,000 of the funding provided by Nova Scotia's Department of Health and Wellness.
"Research Nova Scotia's support ignites health innovation at Dalhousie and sets up our newest researchers to make significant contributions in their fields," says Alice Aiken, vice-president research and innovation. "It's exciting to see our people empowered to pursue new lines of inquiry in areas that have a direct impact on Nova Scotians. From cancer care and COVID-19 recovery to sexual violence and the effects of vaping, we are now better equipped to tackle these health issues affecting people in our province and beyond."
New Health Investigator Grants support researchers who are engaged in work that aligns with the Province of Nova Scotia's health research priorities. The funding supports the establishment of independent programs of research, with the goal of spurring the productivity necessary to obtain long-term funding from national and external agencies.
Learn more about the funded projects:
Counteracting the sexual violence facilitated by technology
Technology-facilitated sexual violence encompasses behaviours such as online sexual harassment, gender- and sexuality-based harassment, cyberstalking, and image-based sexual abuse. Like the consequences of in-person sexual violence, those victimized by sexual violence through technology experience long-lasting physical and mental health outcomes. Despite the significant harm, little research has been conducted to understand and combat the issue. Dr. Blais will apply a public health framework to gain an accurate picture of the scope, magnitude, and consequences of technology-facilitated sexual violence in Nova Scotia with the goal of increasing access to victim services and reducing victimization overall.
Understanding cognitive abnormalities in COVID-19 survivors
Since the outbreak of the COVID-19 pandemic, a growing number of reports have shown the neurological consequences of the virus, including cognitive impairments in survivors. Based on preliminary data, Dr. Hernandez-Castillo expects that at least 15 per cent of survivors have developed some cognitive deficit. But currently there are no clinical guidelines that consider neurological impacts of COVID-19. To help guide their creation, Dr. Hernandez-Castillo will systematically evaluate brain abnormalities resulting from COVID-19 by analyzing a large sample of data from clinical assessments, cognitive scores, and brain magnetic resonance imaging.
Using data-driven solutions to improve childhood cancer treatment
Pediatric cancers are the leading cause of disease-related death among children. To meet this challenge, Dr. Karakach focuses on Wilms Tumor, the most common childhood cancer of the kidney. Although treatment plans for Wilms Tumor now allow survival rates of up to 95%, some survivors experience life-long adverse effects from chemotherapy, negatively impacting their and their families' quality of life, and placing increased strain on the healthcare system. Dr. Karakach will explore new data-driven solutions to help parents and physicians make informed, personalized treatment plans for Wilms Tumor patients that reduce adverse drug effects.

Creating a pre-surgery program to fight fragility
While heart surgery is a life-saving procedure, frail patients are at a high risk of experiencing major health problems following their operation. They can wait up to six months to undergo surgery and are often more sedentary during this time, becoming increasingly frail. Community-based cardiac rehabilitation is offered to patients after their heart surgery, however the same is often not true for those waiting to receive it. Furthermore, COVID-19 has created a barrier to in-person care. Consequently, Dr. Kehler's research will focus on creating a pre-surgery program to fight fragility that can be delivered online.
Supporting the physical rehabilitation of dementia patients
Most residents in long-term care live with dementia, which increases the risk for negative outcomes like impaired mobility, falls, and fractures. However, residents with dementia are less likely to receive rehabilitation than those without because many rehabilitation providers such as physiotherapists and occupational therapists may not feel prepared to work with them. The aim of Dr. McArthur's project is to develop a theory-guided, evidence-based training program for rehabilitation professionals working in long-term care to support rehabilitation for residents with dementia.
Understanding memory impairments that come with bipolar disorder
People with bipolar disorder suffer from recurrent highs and lows of mood, suicidality, and problems with memory. Dr. Nunes aims to better understand the brain mechanisms of memory impairments in bipolar disorder. To do this he will use computer simulations of brain circuits to study hyperactive brain cells which are thought to cause bipolar disorder-related memory deficits. He will use the simulations of healthy and hyperactive bipolar neurons to better understand their impact on memory performance in patients with bipolar disorder. His circuit simulations will shed light on whether responders to different mood-stabilizing treatments could show distinct memory impairments.
Measuring the effects of vaping on our lungs
Young adults in Nova Scotia have the highest rates of vaping in the country. It is unclear whether vaping causes permanent damage to the lungs. It has been difficult to measure the effects because the breathing tests that are commonly used cannot detect early lung damage. Dr. Stanojevic has already shown that a novel breathing test can detect early lung damage in children with lung disease many years before traditional breathing tests. In this study, her team will investigate whether this novel breathing test can identify early lung damage in people who vape.
Empowering the elderly to improve their overall health
One way to determine a person's overall health is to measure their frailty level. The frailer a person is, the more likely they are to develop health problems. Dr. Theou is responding by developing a new program that will engage inactive people beyond the age of 65 with some level of frailty. Her program will aim to empower them to improve their overall health through tailored physical activities and coaching, improving quality of life and reducing the burden on the health system.
Alison Wallace, Faculty of Medicine
Working to reduce radon exposure and lung cancer
The purpose of this project is to study the prevalence of residential radon exposure in lung cancer patients and its association with the development of the disease. Radon is the chief carcinogen relevant to one in five lung cancer patients who are never-smokers, encompassing more then 25,000 North Americans annually. A sizeable Canadian population are exposed regularly to alpha particles via radon inhalation, emphasizing the need to understand the health consequences of ionizing radiation. This project aims to do just that.