Joanne
Gusella
Assistant Professor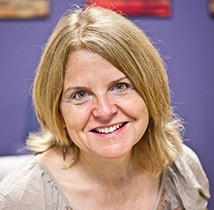 Email:
gusellaj@gmail.com
Phone:
902-422-6517
Mailing Address:
Halifax Professional Centre
Suite 422, 5991 Spring Garden Rd
Halifax, N.S. B3H 1Y6

Research Topics:
Eating disorders
Child and adolescent mental health
Family therapy
Emotion
Maudsley Family Based Therapy
Emotion Focused Based workshops for parents
Education
1981-1986 Ph.D., Clinical Psychology, Queen's University, Kingston, Ontario
1979-1981 M.A., PsychologyCarleton University, Ottawa, Ontario
1976-1979 B.Sc., First Class Honours in Psychology, Carleton University, Ottawa, Ontario      
Research interests
Dr. Joanne Gusella's research interests include evaluating the efficacy of Family Based Therapy for youth with eating disorders and the efficacy of education and support workshops for parents of youth with eating disorders,  based on principles of Emotion Focused Family Therapy.
Selected publications  
Stillar, A., Strahan, E., Nash, P., Files, N., Scarborough, J., Mayman, S., Henderson, K., Gusella, J., Connors, L., Orr, E., Marchand, P., Dolhanty, J. & Lafrance Robinson, A. (in press) The Influence of Carer Fear and Self-Blame When Supporting a Loved One with an Eating Disorder. Eating Disorders: Journal of Treatment and Prevention.
Norris, M., Strike, J., Pinhas, L. , Gomez, R., Elliott, A., Ferguson, P., & Gusella, J. (2013) The Canadian Eating Disorder Program Survey – Exploring Intensive Treatment Programs for Youth with Eating Disorders, J Can Acad Child Adolesc Psychiatry, 22:4, 310-316.
McVey, G., Gusella, J., et al. (2009). A controlled evaluation of web-based training for teachers and public health on the prevention of eating disorders. Eating Disorders: The Journal of Treatment and Prevention, 17:1-26.
Gusella, J., Goodwin, J., van Roosmalen, E. (2007). "I want to lose weight": Early risk for disordered eating? Paediatrics & Child Health, 13(2), 105-110.
Gusella, J., Clark, S., van Roosmalen, E. (2004). Body Image Self-evaluation Colouring Lens: Comparing the Ornamental and Instrumental Views of Adolescent Girls with Eating Disorders. European Eating Disorders Review, 12: 223-229.
Selected awards and honours  
2010 - As Team Leader for the Eating Disorders Clinic, accepted Team Award for Excellence in Patient and Family Centered Care at the IWK Health Centre
2006 - Research grant from IWK ($4, 000.00) for a research project aimed at learning more about the needs and experiences of nurses caring for youth with anorexia nervosa in our Health Centre, led by nurse Arra-Robar.
2003-2006 - Canadian Institute of Health Research, 3 year grant awarded to Dr. Gail McVey and Dr. Joanne Gusella ($267,750.00) Evaluation of a web-based program designed to evaluate the dissemination of best practice models in the primary prevention of disordered eating.
1998-2002 - Social Sciences and Humanities Research Council of Canada (SSHRC; Principal Investigator, $30,000.00) to develop and evaluate a school-based program for the prevention of  unhealthy weight regulation and body image issues.
2001- Best Poster Award ($250.00) at the Dalhousie University 11th Annual Department of Psychiatry Research Day, Feb. 9 for "Body Image Self-Evaluation Colouring Lens: Comparing the Ornamental vs. The Instrumental Body Views of Adolescent Females".
Memberships
Member of Canadian Psychologists Association (CPA)
 Member of Association of Psychologists of Nova Scotia (APNS)
Registered in Nova Scotia (NSBEP)
Member of Eating Disorders Association of Canada (EDAC)
Member of Nova Scotia Eating Disorder Treatment Network
Canadian Partnership on Eating Disorders (CanPed)      
Teaching
oneinfive.ca Eating Disorders: A Day in the Life of a Psychologist by Dr. Joanne Gusella
2014 Family Physician Refresher on Evidence Based Family Therapy for youth with Anorexia Nervosa (and Bulimia) November 27th, WTCC Halifax
Emotion Focused Family Therapy, for  psychology interns with Dr. Laura Connors
2002-2013 Motivational assessment and treatment of youth with eating disorders. Talk given to interns yearly
1992-on Lectures/Seminar on assessment and treatment of youth with eating disorders for pediatric, and psychiatric residents on Eating Disorders
Lectures/Tutorial for 1st year medical students and Ph.D. students  in clinical psychology                                    Adolescent development, behavior and mental health issues
Service & Activity
2015 Hosted Dr. James Lock who presented on Family Based Therapy for youth with Eating Disorders, as part of a 2 day training at IWK
up 2015 Co-chair of Psychology for You series, a free public lecture series presented by psychologists at the IWK for parents  (and  professionals) on a variety of topics of public interest
2012 IWK Stars Ambassador Award for contributing a song to inspire the care, and caregivers at the IWK
2011Chosen to participate in the National Prevention Strategy meeting in Toronto, Nov. 17-18, under the leadership of Dr. Gail McVey