Andrea
Murphy
Associate Professor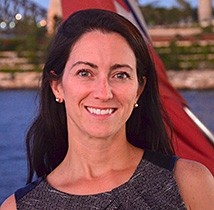 Email:
andrea.murphy@dal.ca
Phone:
902-494-1643
Mailing Address:
Room 206, Burbidge Building
5968 College Street
PO Box 15000
Halifax, Nova Scotia, B3H 4R2

Research Topics:
Child and adolescent mental health
Mental health services and outcomes
Pharmacotherapy

Education
BA/BSc (University) BScPharm, Dalhousie University
PhD (University) Doctor of Pharmacy, University of British Columbia
PDF (University) Drug Use Management and Policy, Dalhousie University
Research interests
Dr. Murphy's program of research is primarily in health services and health outcomes. She focuses on several areas including mental health, health professionals' role revisions, transitions in care, and rational use of medicines and especially psychotropics. The majority of her research projects include mixed methods designs.  
Selected publications  
Murphy, A.L., Gardner, D.M., Kisely, S., Cooke, C., Kutcher, S., & Hughes, J. (in press) System struggles and substitutes: a qualitative study of general practitioner and psychiatrist experiences of prescribing antipsychotics to children and adolescents. Clinical Child Psychology and Psychiatry.
Pollmann, A.S., Murphy, A.L., Bergman, J.C., & Gardner, D.M. (2015) Deprescribing benzodiazepines and Z-drugs in community-dwelling adults: a scoping review. BMC Pharmacology and Toxicology.16:19. DOI: 10.1186/s40360-015-0019-8

Murphy, A. L., Gardner, D. M., Chen, T. F., O'Reilly, C. L., & Kutcher, S. (2015). Community pharmacists and the assessment and management of suicide risk. Canadian Pharmacists Journal. 148(4), 171-175. DOI: 10.1177/1715163515587554
Murphy, A.L., Gardner, D.M., Kisely, S., Cooke, C., Kutcher, S., & Hughes, J. (2015) A qualitative study of antipsychotic medication experiences of youth. Journal of the Canadian Academy of Child and Adolescent Psychiatry. 24(1), 61-69.
Gorman, D.A., Gardner, D.M., Murphy, A.L., Feldman, M., Belanger, S.A., Steele, M.M., Boylan, K., Cochrane-Brink, K., Goldade, R., Soper, P.R., Ustina, J., & Pringsheim, T. (2015) Canadian Guidelines on Pharmacotherapy for Disruptive and Aggressive Behaviour in Children and Adolescents with Attention-Deficit/Hyperactivity Disorder, Oppositional Defiant Disorder, or Conduct Disorder. Canadian Journal of Psychiatry. 60(2), 62-76.
Murphy, A.L., Gardner, D.M., Kutcher, S.P., & Martin-Misener, R. (2014) A theory-informed approach to mental health care capacity building for pharmacists. International Journal of Mental Health Systems. 8:46.