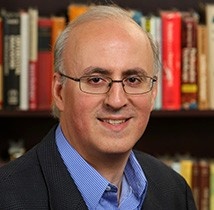 Email:
allan.abbass@dal.ca
Phone:
902-473-2514
Mailing Address:
Department of Psychiatry
Administrative Suite 7101B, Room 7510, AJLB
5909 Veterans' Memorial Lane
Halifax, NS B3H 2E2

Research Topics:
Anxiety disorders
Major depressive disorder
Personality disorder
Somatoform
Related Information
• Personal/research website
• Full listing of publications

Education
BSc Ottawa University
MD: Dalhousie University
FRCPC: McGill University, University of Toronto
Research Interests
Dr Abbass' major research in the area of psychotherapy. He has published outcome research in the areas of depression, personality disorder, anxiety disorders and somatoform disorders. He has led several meta-analyses including a Cochrane review. His research in the area of brief psychotherapy has led to new clinical implementations locally, nationally and internationally.  
Selected Publications
Abbass A, Kisely S, Town J et al. Short-term psychodynamic psychotherapies for common mental disorders. Cochrane Database Syst Rev. 2014
Abbass AA Sheldon A, Gyra J and Kalpin A. Intensive Short-term Dynamic Psychotherapy of Personality Disorders: A Randomized Controlled Trial. J Nerv Ment Dis 2008;196: 211–216
Abbass A, Bernier D, Town J.   Intensive Short-term Dynamic Psychotherapy Associated with Decreases in Electroconvulsive Therapy and Briefer Admissions on Adult Acute Care Inpatient Ward. Psychotherapy and Psychosomatics 2013;82(6):406-7. doi: 10.1159/000350576.
Abbass A, Rabung S, Leichsenring F,  Midgely N, Refseth J Psychodynamic Psychotherapy for Children and Adolescents: A Meta-analysis of short-term psychodynamic models. Journal of the American Academy of Child and Adolescent Psychiatry 2013 Aug;52(8):863-75. doi: 10.1016/j.jaac.2013.05.014.
Abbass A, Town J, Driessen E Intensive Short-term Dynamic Psychotherapy: A systematic review and meta-analysis of outcome research. Harvard Reviews of Psychiatry, 2012 Mar-Apr;20(2):97-108
Selected Awards and Honours
Named Visiting Professor of Psychotherapy at the Tavistock, London UK 2018
Award for Excellence in Education: The Association of Chairs of Psychiatry of Canada, 2001
Teacher of the Year: The Department of Psychiatry Resident's Association, Dalhousie University, 2002
Award for Outstanding Contributions to Continuing Education: Dalhousie Faculty of Medicine R A Putnam Award 2005
Douglas Utting Award for major contributions in the area of Major Depression. Montreal Qc. 2013
Teaching
Provision of international training programs in short-term psychotherapy in several countries
Publication in psychotherapy education methods using online and videotape methods
Hosts international trainees from several countries
Developed unique education content for training physicians in recognizing emotional factors in medical presentations