Benjamin
Rusak
Professor Emeritus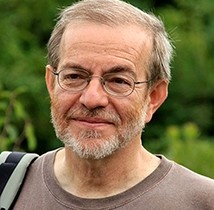 Email:
rusak@dal.ca
Phone:
902-473-2433
Mailing Address:
Department of Psychiatry Research
8th Floor, Room 8215, AJLB
5909 Veterans' Memorial Lane
Halifax, NS B3H 2E2

Research Topics:
Chronobiology and sleep
Circadian rhythms
Mood disorders
Neurodegenerative diseases

Education
BA (University of Toronto)
PhD (University of California, Berkeley)
Research interests
Dr. Rusak investigates mechanisms regulating circadian rhythms and sleep, and the application of knowledge of these mechanisms to issues in human health. Current research interests include how sleep and circadian rhythms affect cognition, mood and the risk of developing psychiatric disorders.
Selected publications  
Rusak, B. and Groos, G. Suprachiasmatic stimulation phase shifts rodent circadian rhythms. Science, 215:1407-1409, 1982.
Rusak, B., Robertson, H.A., Wisden, W. and Hunt, S.P. Light pulses which shift rhythms induce gene expression in the suprachiasmatic nucleus. Science, 248:1237-1240, 1990.
Bernier, D., Bartha, R., Devarajan, S., MacMaster, F.P., Schmidt, M. and Rusak, B. Effects of overnight sleep restriction on brain chemistry and mood in women with unipolar depression. Journal of Psychiatry and Neuroscience 34:352-360, 2009.
Profitt, M., Deurveilher, S., Robertson, G.S., Rusak, B., Semba, K. Disruptions of sleep-wake patterns in the stable tubule only polypeptide (STOP) null mouse model of schizophrenia. Schizophrenia Bulletin, 42(5):1207-1215, 2016. doi:10.1093/schbul/sbw017.
Wescott, D. L., Morash-Conway, J., Zwicker, A., Cumby, J., Uher, R., Rusak, B. Sleep in offspring of parents with mood disorders. Frontiers in Psychiatry, (10):1-8, April, 2019. doi: 10.3389/fpsyt.2019.00225.
Selected awards and honours
Fellow, Royal Society of Canada, Academy of Science, 1999-
University Research Professor, Dalhousie University, 2002-2007
Distinguished Scientist Award, Canadian Sleep Society, 2011
Dalhousie Medical Research Foundation Max Forman Senior Research Prize, 2012
Heinz Lehmann Award, Canadian College of Neuropsychopharmacology, 2013
Service & Activity
Member, Advisory Board, Institute of Circulatory and Respiratory Health, CIHR, 2004-2013    
Member, Life Sciences Advisory Committee, Canadian Space Agency, 2006-2009
Member, Research Advisory Committee, NS Health Research Foundation, 2007-2017       

Member, Division of Life Sciences Committee for the Selection of New Fellows, Academy of Science, Royal Society of Canada, 2010-2011           
Interim Chair, Board of Directors, Canadian Depression Research & Intervention Network, 2013-2016