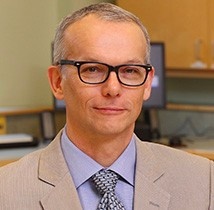 Department of Psychiatry
,
College of Pharmacy
Email:
david.gardner@dal.ca
Phone:
902-473-4955
Mailing Address:
QEII Health Sciences Centre
Room 7517, AJLB.
5909 Veterans' Memorial Lane
Halifax, NS B3H 2E2

Research Topics:
Psychopharmacology
Psychoeducation
Collaborative mental health care
Community pharmacy
Related information
Education
BSc Pharmacy (University of Toronto)
MSc Community Health and Epidemiology (Dalhousie University)
PharmD (University of British Columbia)
Research interests
Professor Gardner is interested in improving the care and health of people living with mental illness. His research focuses on improving the safe and effective use of psychiatric medications, providing improved physical health care to people with mental illness, and increasing the capacity of care in the community. He is working with community pharmacy to support people in their communities to achieve good health outcomes and a high quality of life. His research ranges from pharmacoepidemiological studies to program implementation and evaluation.
Selected publications  
Gardner DM, Teehan M. Antipsychotics and their Side Effects. Cambridge University Press: Cambridge, UK. 2011.
Gardner DM. Competent psychopharmacology. Can J Psychiatry 2014; 59(8): 406-11.
Murphy AM, Gardner DG, Kutcher. Implementing changes in prescribing practices. In: The Science and Ethics of Antipsychotic Use in Children. Elsevier: New York. 2014
Murphy A, Gardner D, Kutcher SP, Martin-Misener R. A theory-informed approach to mental health care capacity building for pharmacists. Int J Mental Health Systems 2014; 8: 46. doi:10.1186/1752-4458-8-46.
Gardner DM, Murphy AL, O'Donnell H, Centorrino F, Baldessarini RJ. International consensus study of antipsychotic dosing. Am J Psychiatry 2010: 167 (6): 686-693.
Selected awards and honours
Dr. Jessie I. MacKnight Award for Teaching Excellence in Pharmacy, College of Pharmacy, Dalhousie University. Received: 1999, 2000, 2006, 2011, 2014.
Province of Nova Scotia Volunteer Awards.  2014 Provincial Volunteer Award. Halifax, NS. Received: April, 2014.
Canadian Pharmacist of the Year Award. Canadian Pharmacists Association. CPhA National Conference, Whistler, BC. Received: June, 2012.
AFPC National Award for Excellence in Education, Association of Faculties of Pharmacy of Canada. Received: 2009.
Teacher of the Year Award, Department of Psychiatry, Faculty of Medicine, Dalhousie University. Received: 2004.